Tucked in the Arabian Gulf, the Kingdom of Bahrain oozes magnificence with its rich history and culture. And the charisma extends to its cuisine too. Bahrain has a distinctive cuisine influenced by the communities thriving in the island in the past and present. The culinary culture is a mix of Arabic, Persian, African, Balochistan and even European cuisines. Thus, a trip to Bahrain is a journey for food too. 
When in Bahrain, we can assure you that you are going to experience a gastronomic affair like no other. Bahrain is home to iconic restaurants where some serve authentic and traditional cuisine and others offer a huge variety of global dishes. Now it's your turn to try these places out.
1. Al Waha Restaurant At Gulf Hotel
Experience a gastronomic feast of delicacies from all around the world at Al Waha Restaurant. It remains open throughout the day. Along with the delectable spread, the ambience with modern touch set the mood perfectly. You absolutely have to head here.
Where:Gulf Hotel Bahrain
When: 7 AM to 11 AM
Also read: 8 Things You Can & Must Bring Back Home From Your Bahrain Travels
2. Tapas Restaurant At Sofitel Bahrain Zallaq Thalassa Sea & Spa
Get ready to spend some lavish moments and gorge on heavenly dishes at Tapas Restaurant. Nestled on the coast of Bahrain, enjoy magnificent views and relish delicious cuisines at this Spanish restaurant. From Mediterranean cuisine to European and Spanish cuisine, the choices are tempting.
Where:105 Zallaq Highway,Building 2015 Block 1055, Zallaq, Manama, Bahrain
When: 11.30 am to 12.30 am
3. Lanterns Restaurant
Lanterns Restaurant is a luxurious high-profile restaurant with 5 branches all around Bahrain. Running for over 30 years in Budaiya, this place holds a very special corner in every foodie's heart. With an amazing ambience boasting of the traditional setup, indulging in mouth-watering delicacies is a must here. Their spread of Asian cuisine, Indian delicacies, and a lot more will surely surprise you.
Where: Adliya
When: 12 PM- 2 AM
Where: Budaiya
When: 12 PM- 12 AM
Where: Riffa
When: 12 PM- 12 AM
Where: Amwaj
When: 12 PM- 2 AM
Where: LNT
When: 12 PM- 2 AM
4. Mumbai Spice
You must have guessed by now what Bahrain's Mumbai Spice has in store for you. Just like its name, this restaurant is where you need to be if you are craving Indian cuisine in Bahrain. With Indian dishes, you also get a lavish spread of Asian cuisine and the yummiest fast food options. Do you know what is the best part about Mumbai Spice? They have tonnes of choices for guests who prefer vegetarian or vegan options.
Where: Bahrain Mall, Manama Bahrain
When: 9 AM to 12 AM
Also read: Bahrain: This Is Your Ultimate 4-Day Itinerary For Things To Do, Where To Stay & More
5. Bay View at the Four Seasons Hotel Bahrain Bay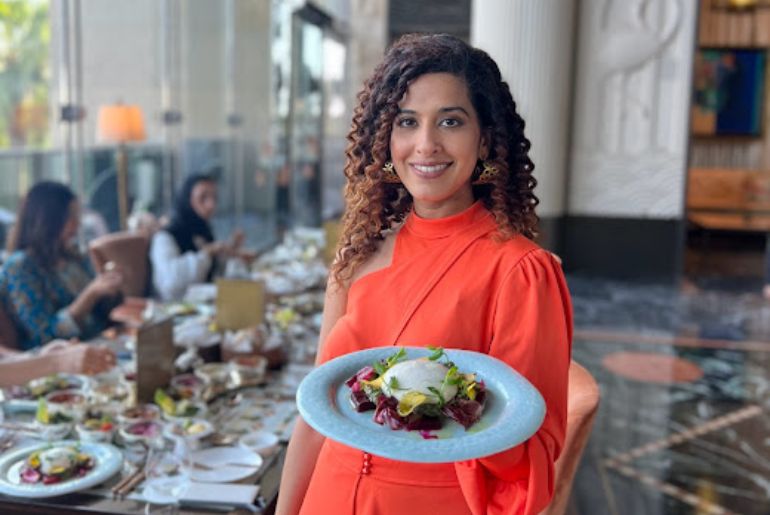 Savour authentic Asian flavours, delectable seafood, tempting sushis and much more at the Bahrain Bay Kitchen inside Four Seasons Hotel, Manama. The menu is all about experiencing different cuisines with a local touch.Relish homemade noodles and a wide assortment of desserts amid the steller set-up of the restaurant. 
Where: Bahrain Bay, Manama, Bahrain
When: 7 AM to 11 AM
6. Raju Bhai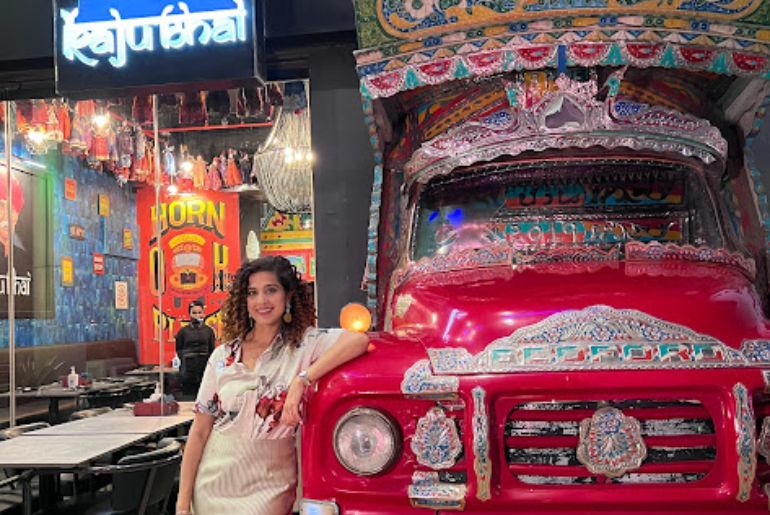 We can all agree on one thing that every Indian misses Indian food on international trips. Well, when you are in Bahrain, Raju Bhai will satiate all your homely cravings. Known for serving delectable modern Indian cuisine, Raju Bhai is indeed a must-visit. From Biryanis to Lassis, from Butter Chicken to Butter Naan, you can grab a bite of the most coveted Indian dishes here.
Where: 4655, Manama, Bahrain
When: 12 PM to 1 AM
Also read: 15 Things To Do In The Kingdom Of Bahrain, The Dreamy Island Nation!
7. Haji's Cafe
Start your day feasting on traditional Bahraini breakfast in Haji's Cafe. Nestled in the heart of Manama at Bab Al-Bahrain, this cafe was built in 1950. Haji's Cafe must be on everyone's itinerary to taste the best authentic Bahraini breakfast. Choose from a huge spread of traditional Bahraini dishes here.
Where:  Road No 471, Bab Al Bahrain, Manama 304, Bahrain
When: 5:30 AM to 9 PM
8. Raazji Restaurant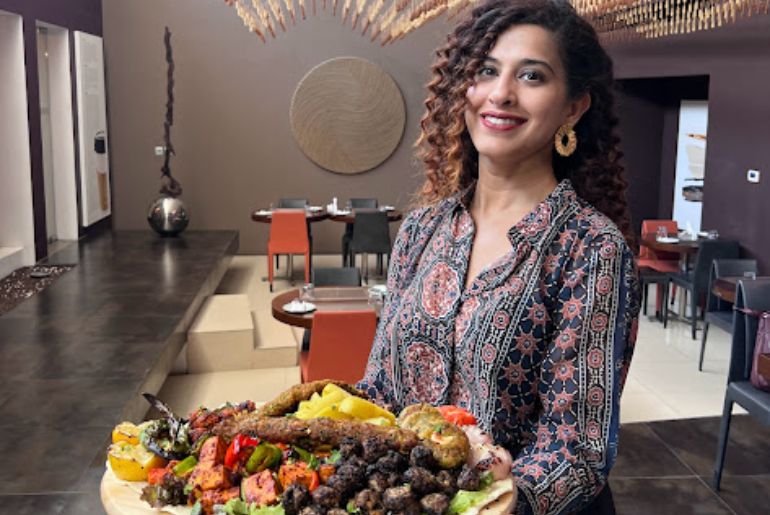 When in Bahrain, enjoy the most authentic Bahraini food in Raazji Restaurant. The restaurant celebrates the culture and diversity of the country with its mouth-watering dishes. Experience deliciousness in each and every bite of your food. We are sure that you won't be disappointed after relishing a traditional lunch here.
Where:House of Coffee, Al Muharraq,Bahrain
When: 8 AM to 10 PM
9. Naseef Restaurant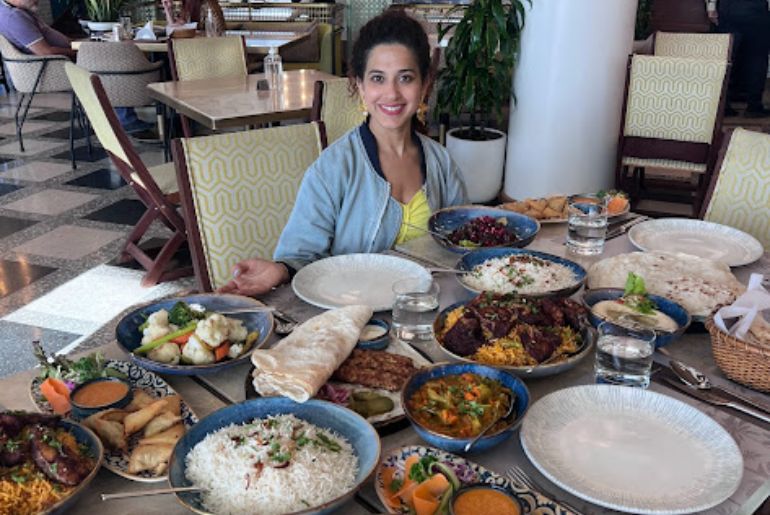 Naseef Restaurant has been winning people's hearts in Bahrain with its lavish options of tempting delicacies since the 1920s. Choose your favorite delicacies from a wide range of authentic Bahraini and Arabic food. The culinary experience of relishing food here is simply phenomenal.
Where: Bab Al Bahrain suq Seef Mall, near Gate 7, Manama Bahrain
When: 8 AM to 10 PM
Now that the most crucial part of your Bahrain itinerary is sorted, when are you planning a holiday here? Also, make sure to let us know about all your culinary adventures at these restaurants.
Cover Image Courtesy: Internal