Like to eat at unusual places? These quirky restaurants across the globe should be on your list. From fun places to interesting experiences, I am enlisting 10 Indian & Global bizarre culinary experiences worth your adventurous palate.
1. Innato Tenerife, Canarias
Quick, check-in your smartphone, strip, and find yourself the nearest table. Confused? You have just entered Innato, a newly-opened restaurant in Spain.
Savour their aphrodisiac menu and fulfil your dark fetishes as you dine naked just like the other diners! In fact, a dessert of drizzled melted chocolate and strawberries served on a naked model will ensure you leave with a happy ending.
2. Cabbages & Condoms, Bangkok
Found the first one exciting? Let's highlight a serious issue before we get ahead of ourselves – family planning. I am not saying it, Cabbages & Condoms is (see here)!
The restaurant aims to promote better understanding and acceptance of family planning and to generate income to support various development activities of the Population and Community Development Association (PDA)
Sorry we have no mints, please take a condom instead!
They also provide catering services to meet all requirements. Their food is guaranteed to not cause pregnancy.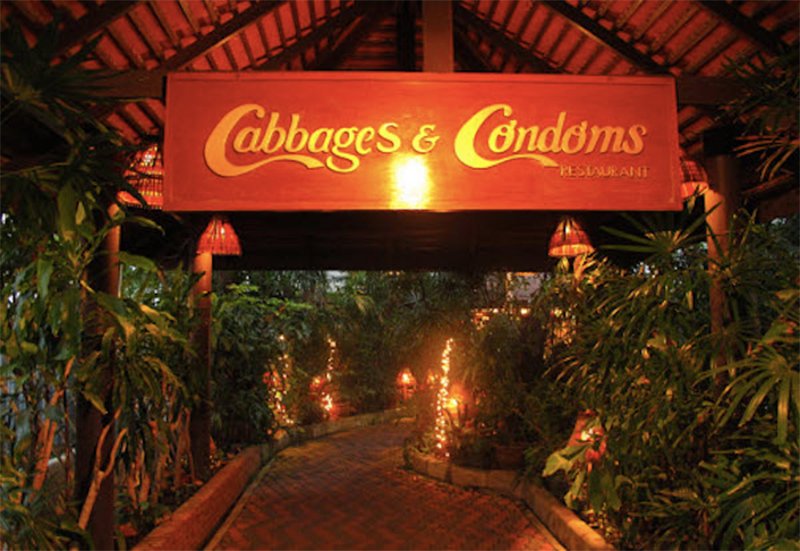 3. Nature's Toilet Cafe, Ahmedabad
Fancy being served hot while you are sitting on a pot? Taking inspiration from Taiwan, Kuala Lumpur, Moscow and located inside the Safai Vidyalaya next to the Sabarmati Ashram in Ahmadabad is India's first toilet-themed cafe!
It aims to spread the message of hygiene and the importance of toilets.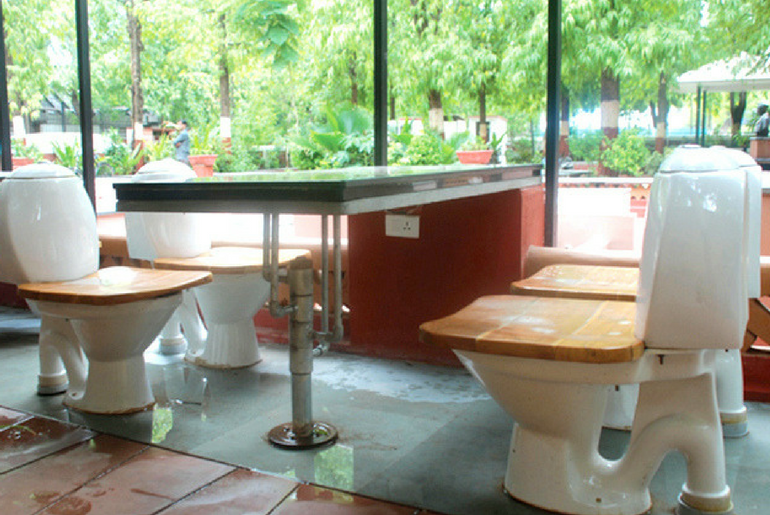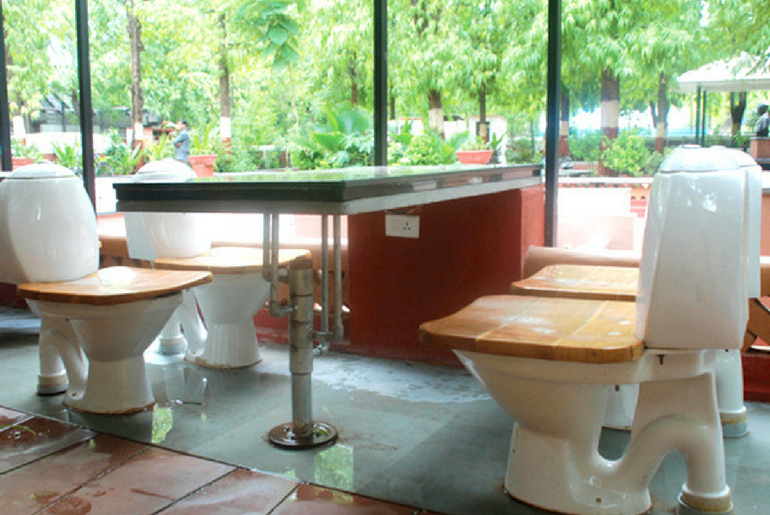 4. Heart Attack Grill, Las Vegas
In an attempt to fight anorexia, this restaurant lures you into getting on the weighing scale. Heart Attack Grill is a hospital-themed restaurant with waitresses dressed as nurses feeding anyone weighing over 160 kg for FREE!
Didn't cut it? No worries, the single, double, triple, & quadruple bypass burgers will get you there soon! So don your hospital gown and gulp it down else you might just get spanked by the nurse… er waitress!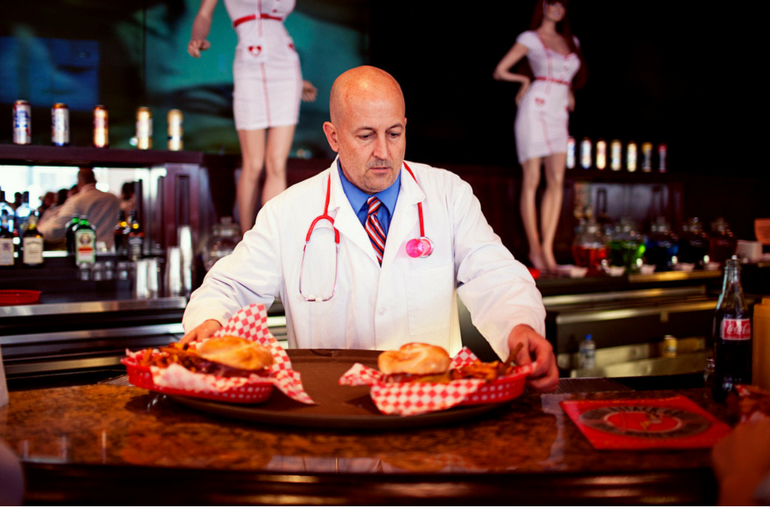 Where: 450 Fremont St #130, Las Vegas, NV 89101, USA
5. New Lucky Restaurant, Ahmedabad
Ask for a real amdavadi chai experience, the next time you are in Ahmadabad and people will direct you to New Lucky Restaurant. It's only when you enter do you notice its peculiarity! Around a dozen graves lay inside the restaurant and have been sealed off by iron grills. Next to these graves are perfectly laid tables and chairs where customers have their meals unperturbed!
Bustling with people all the time, you are very unlikely to feel anything supernatural around here. Call for some maskabun along with your chai when you go visit this one!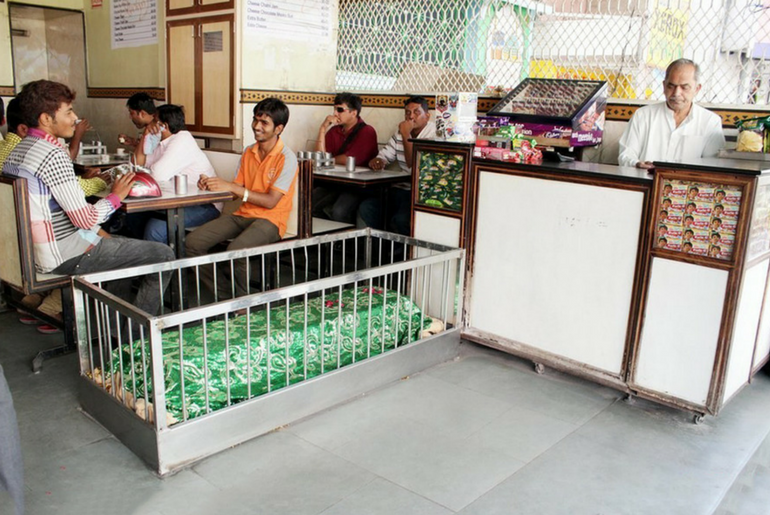 Where: Opposite City College, Lal Darwaja, Ahmadabad
Burn: ₹300 (for two)
6. Dialogue In The Dark (Multiple Cities)
Ever had food in pitch darkness with no clue whatsoever about what's on your plate? A humbling experience to help you understand the obscurities of the blind. DID is worth a one-time visit at least. Don't forget to order your food before you enter!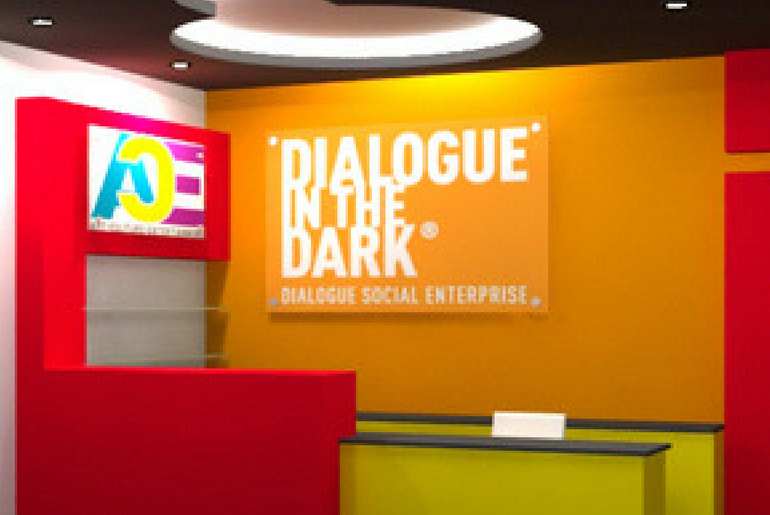 Burn: ₹1,300 (for two)
7. Hawai Adda, Ludhiana
An old phased out Air India A320 aircraft bought by a Sardar Ji converted it into a swanky restaurant in Ludhiana.
Hawai Adda is the first aeroplane themed restaurant in Punjab. Newly opened, it serves vegetarian food with fresh ingredients.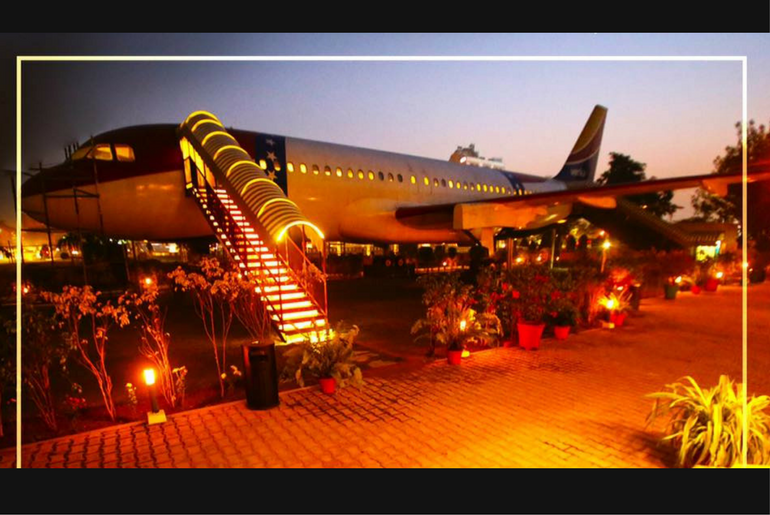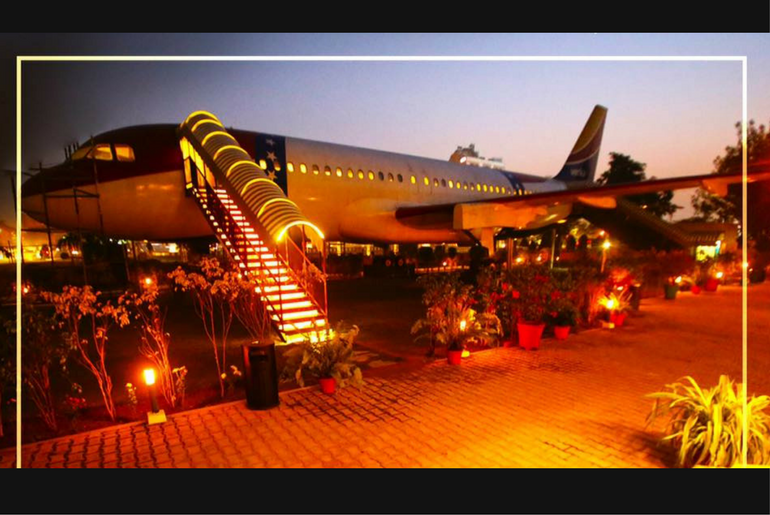 Where: Verka Park, Ferozpur Road, Ludhiana, Punjab
Burn: Rs 2,000 (for two, including drinks)
8. UFO Revolving Restaurant, Mumbai
A revolving restaurant finally opened for the ones living on the extreme opposite of South Bombay. The top floor of the building is shaped like a UFO with blue lights seeping through its glass windows. Apart from the music and waiter uniforms, every detail has been looked into to the t.
The only disappointment is the view considering it's a revolving restaurant.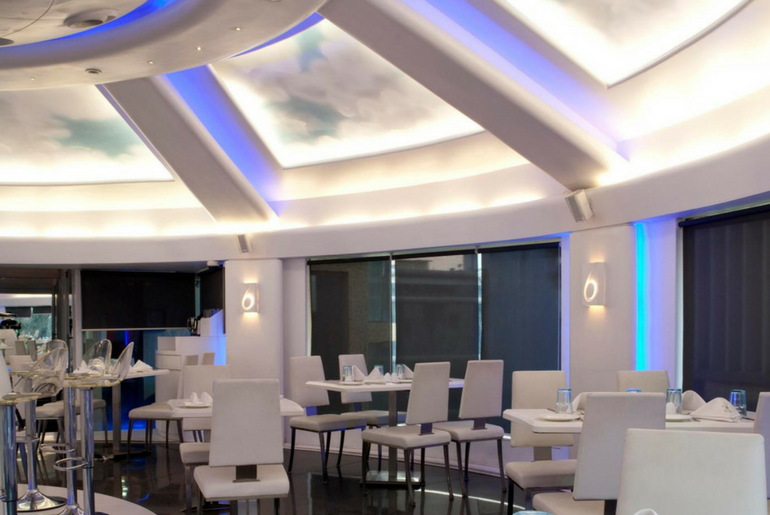 Where: 321-322, Dimple Arcade, Thakur Complex, Kandivali East, Mumbai
Burn: ₹1,500 (for two)
9. Ninja, New York City
Everyday Japanese dishes & sushi served in an original setting designed to resemble a Ninja village. Quick tables and super fast service make this Ninja restaurant worth a visit!
Some items on the menu have a big star next to it. Pick those for an entertaining night. Special shout-out to the show with the deadly coffee.
Finally, I would like to mention how amazing their bathrooms are with those heated toilet seats. Shit here totally ends well!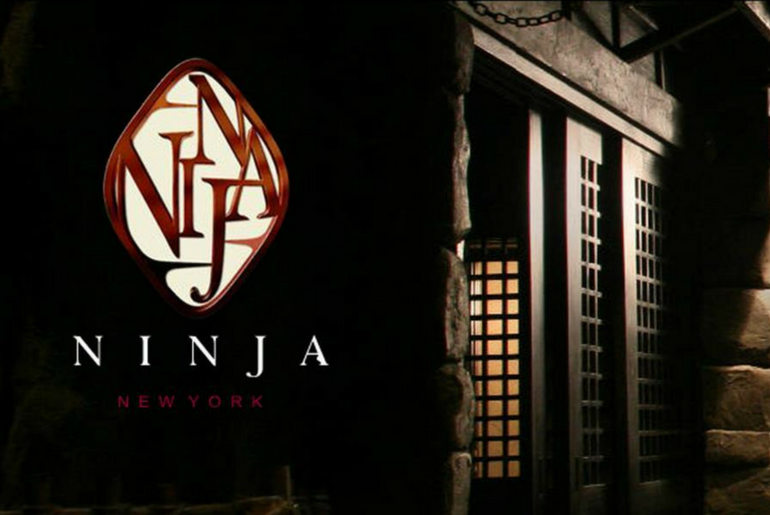 Where: 25 Hudson St 10013 New York
10. Cat Cafe Nekorobi, Tokyo
Nekorobi translates to cat lobby in English and is your chance to chill with 13 cats. Each of these has their online profile featuring kitty pictures, recent photos, & video updates.
Unlimited hot and cold drinks from the vending machine, access to PCs, I-pads, Nintendo Wii video games, books and mangas. As a matter of fact, indoor slippers and lockers are also provided.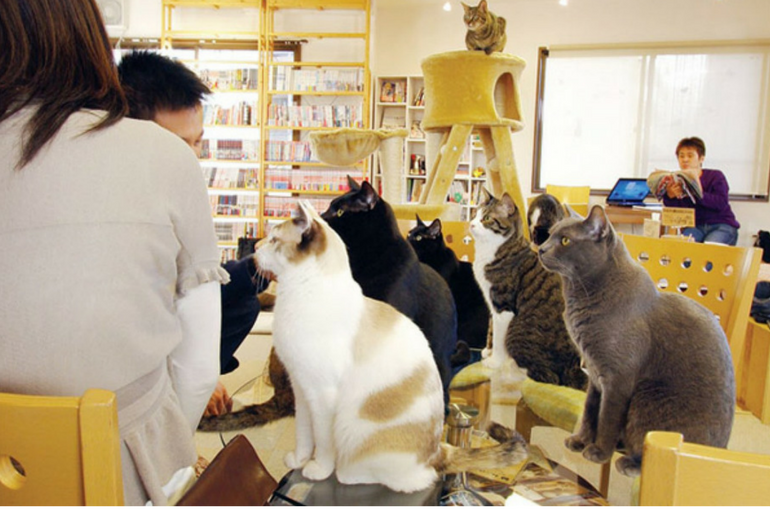 Where: 1−28−1, 3rd Floor Higashi-Ikebukuro, Toshima
LIKE Curly Tales on Facebook | Instagram | Twitter
You can subscribe to our newsletters.