The Coronavirus pandemic has created an immense amount of havoc around the world. But now, the silver lining seems to be rather close. Cases are slightly declining, businesses are re-opening, and malls are working at a 100 percent capacity. Even schools seem to plan on opening their doors in September! With all of these restrictions easing away, it looks like we can head outdoors finally. And what better way than spending some quiet time by the beach, with family and friends. Here's a list of all the camping sites now open in the UAE.
Meanwhile, here's a list of all the places now open in Dubai. 
But before you make a booking, know the rules:
Temperature scanners will be used for all visitors on arrival, and in public crowded areas.
Most beaches can only be used at a 30% capacity and guests must be at a 2-meter distance at all times
Face masks must be worn at all times except in villas or rooms
Towels will not be offered on the beach and must be brought from the room
People over the age of 60 and under the age of 6 will not be allowed in the restaurants
There is a hotel pandemic on standby at all times
Most swimming pools are closed unless mentioned otherwise
All Spas are closed
Some gyms are open and some are closed, depending on the hotel
Dubai
1. Al Maha
If you're interested in camping but not quite sure if the whole nature vibe is for you, then this resort is the place to go. This luxury hotel offers an upscale glamping experience. Enjoy the starlit sky and the outdoors, in a comfortable and lavish tent! You can book a bedouin suite tent at this 5-star hotel, and enjoy the authentic and elegant Arabian designs. Each tent comes with a private temperature-controlled swimming pool, however, for safety reasons the pool will be closed. The gyms are open with proper safety measures. Restaurants are open to all, however, children under the age of 10 will not be permitted to dine in the restaurant and can enjoy their meals at the tents. Rates start at AED 4,987.
Meanwhile if you're not up for a staycation, how about a movie date? A lot of theaters in the city are now open. Take a look at the list and watch out for the restrictions.
2. Nara Desert Camp
This campsite is located in the serene Arabian desert in a desert conservation reserve. This place is only open on weekends and offers an awesome camping experience. They offer a package that includes the following:
Outdoor activities (hiking, trekking, etc)
Live music
Yoga
Dinner and breakfast
Drive around the conservation reserve
Most activities are open to all. There are 10 tents to choose from. Each tent can hold up to four people.
Ajman
1. Bianky Beach Camp
This recently opened camp spot is a great place for a nice holiday. Depending on the type of experience you'd like, you can choose from the following type of tents.
 The basic traditional tent made from palm fronds
A bungalow,
Sea-view hut
VIP two-story majlis
They have a swimming pool which is open to all above the age of 6. They do not have a gym or spa, as the beach camp really does want to offer the most authentic camping experience possible. There are restaurants on the site as well as a bar. Rates start at AED 250. Meanwhile, in case you happen to plan a trip to Korea, here are 7 Experiences You Have To Try In Seoul, South Korea.
2. Caravana Al Zorah
This campsite has a unique concept. You'll find a plethora of caravans placed around a beautiful beach. The Caravan is fully equipped with beds, TV, Wifi, etc. There's also a BBQ place outside each caravan, volleyball area, and swing. There are also food trucks, restaurants, and supermarkets inside the campsite area. The following activities are also available:
Access to the pool
Outdoor cinema
Water sports
Horse riding
These are all open as of now. Rates start at AED 1,147.
Fujairah
1. The Retreat 
This hotel is located in Fujairah and is the perfect ecological camping spot. Everything in the hotel is made out of natural and eco-friendly materials. The landscaping around the retreat consists of indigenous trees and plants. All the wastewater produced in the camping site is recycled for irrigation, and the electricity is run by solar power. The camp is only open on weekends for now and can offer the perfect wellness weekend. The food served is organic, and the meals incorporate healthy herbs, fruit, and vegetables. The tents consist of 1-5 bedrooms for different families. There are reading and painting corners, guided hikes, etc. Prices start at AED 1,140.
And if you fancy staying in a farm house, here are Farmhouse Getaways From Dubai Under Three Hours
Ras Al Khaimah
1. Al Wadi Desert, The Ritz Carlton
This is one of the most upscale and lavish camping experiences you'll find! While the pool villas do resemble Bedouin-style tents, they are far from it. The villas are 5 stars and are quite luxurious from the inside. Hotel staff can put on a campfire for you, and there are lots of camping related activities available for you and your family. Picnics on Dunes, archery, falcon shows, and more await at this glamping spot. Due to the current situation, some activities may not be available, depending on the day and time. Prices start at AED 1,416.
But, if you're an adventure junkie, RAK has a lot to offer. Did you know Ras Al Khaimah Zipline Is Now Open To The Public?
In case you're looking for more beach resorts in RAK, take a look at these Ras Al Khaimah Beach Resorts Which Are Now Open For Staycation.
Sharjah
1. Kalba Kingfisher Retreat
This fancy retreat is on the east coast of Sharjah, close to Fujairah. There are 20 lavish tents on the site, and you can enjoy the sandy Fujairah beaches, with views of the Indian ocean. Mountains surround the campsite and offer breathtaking views. Each tent has its own private pool which is currently open to all, along with access to the beach, also open at a limited capacity. The restaurant also has a tent-like vibe and fire pits with small places to sit surrounding the site. All activities such as trekking, paragliding, etc, are closed for now. Prices begin at AED 1,100.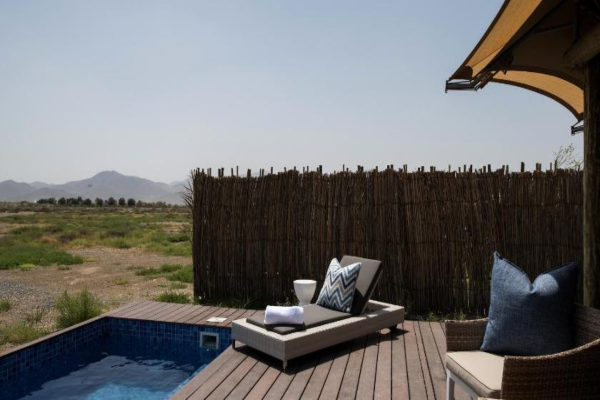 On another note, Sharjah Has Also Reopened Leisure & Eco-Tourism Destinations.
Umm Al Quwain
1. Dreamland Aqua Park
We all love fun amusement parks, and this one has its own campsite! You can choose to stay in a tent or a fancy wooden chalet! Meals are provided, including a scrumptious bbq dinner. Access to the pool and tennis court are both available at the campsite. The park is not open to children below 12 and adults above 60. Rates start at AED 550.