Dinosaurs, although a thing of the past has always amazed people in varied ways. Starting from obsessing over Jurassic films to researching their history, dinosaurs have found a place in the conversations of people of different ages. This summer, people from Chennai will get to experience the Jurassic world at Chenna's Dinosaur Festival initiative. The festival had previously taken place in other cities like Delhi and Mumbai.
Jurassic World Experience In Chennai
People who visit the dinosaur festival will witness life-size replicas of this World Class dinosaur exhibition. Apart from the glorious figurines, visitors can also learn more about these animals that once roamed the earth more than 65 million years ago.
Dates – 10th to 19th June 2022
Location – Chamshen Pologround in Chennai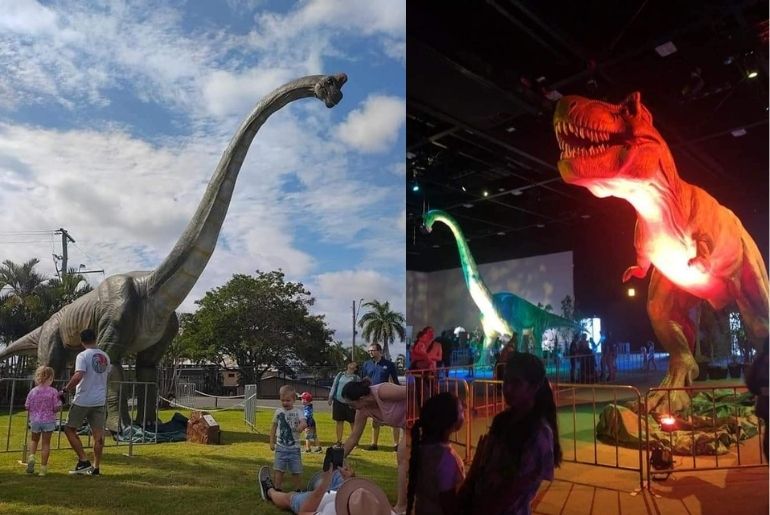 What's In Store For Kids?
The dinosaur festival exhibition is a fun and unique concept which will have a number of activities for children like fossil excavation, jumping castles and photographing these pre-historic figures.
Also Read – Spotted: Dinosaurs Are Now Flying Skyboards In Dubai
Different Dinosaur Species On Display
If you are ardent fans of Jurrasic World films or any dinosaur related content, this exhibition will be an intriguing one for you and your family. Isisaurus, Rajasaurus, Bruhathkayosaurus, Brachiosaurus, Tyrannosaurus Rex, and Triceratops will stand tall at this exhibition giving visitors a real Jurrasic World Experience.
If you are a true fan of dinosaur movies, then here is your chance to experience one in Chennai. Students of public schools can have free entry to the exhibition in Chennai on Fridays and Mondays.
Mumbai Is The Next Destination For Dinosaurs
Mumbai's dinosaur fans can have the Jurassic World Experience from 19th August 2022 to 30th September 2022, at the Phonix Market City Mumbai, Dublin Square, Kurla West.
Also Read – Indian Railways Partner With IIT Chennai To Build India's First Indigenous Hyperloop