What better way to start your day than biting into warm, fluffy pancakes! And with Pancake Day falling on 25 February, Dubai has a lot to offer for pancake fans. Clinton St. Baking Company, the famous New York bakery in Dubai is not celebrating pancake day but pancake MONTH, with 13 different varieties. Now, that also means you can gorge on endless varieties of pancakes throughout February.
What's It?
Pancake Day is around the corner and Dubai's cafes and bakeries have some really yummy plans. Clinton St. Baking Com-pany, Dubai's famous New York bakery is celebrating the dish with 13 different variants, all through the month.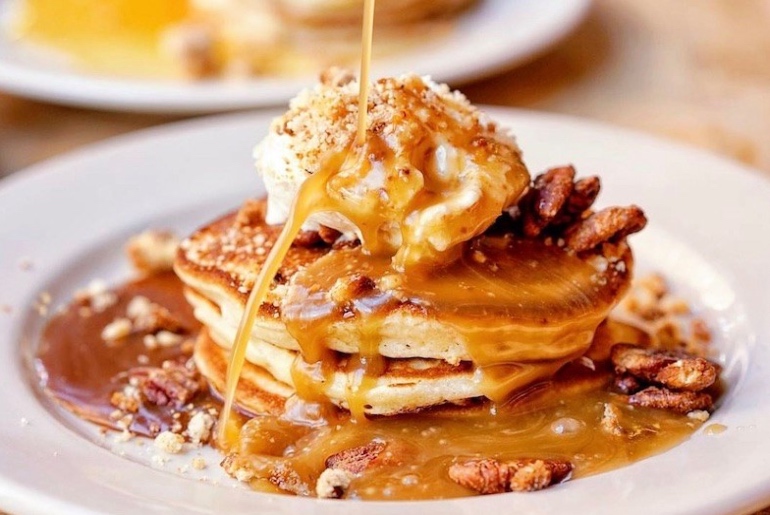 The bakery will whip a different kind of pancake everyday until the end of February. Pancake fans can gorge on the fluffy breakfast favourite with a range of toppings. Foodies can binge on pancakes loaded with caramelized apples, sweet and sour cherries, berries, roasted pecans, Japanese pumpkin, fresh lime, raspberry, passion fruit and much more.
The toppings will be available on a rotating schedule until 29 February. In case you're planning to head here this week, you can enjoy pancakes topped with Japanese pumpkin on 9, 10 Feb, and fresh lime & coconut on 11, 12 Feb. And, the bakery also has a Valentine's Day special. Celebrating the day of love, the bakery will offer pancakes loaded with fresh raspberries, chocolate chunks, raspberry caramel sauce on 13, 14, 15 February. Perfect way to celebrate love!
Pancake lovers, here's your chance to gorge on your favourite dish!
What Else?
Meanwhile, if you have a sweet tooth, here are 5 chocolate-y desserts you must try in Dubai.
1.
 

Nutella Crepe from Freez

If you're a Nutella freak, this one must already be on your top 10 guilty pleasures. Freez has been mastering this cult favourite and since its inception, food lovers cannot stop gushing about it. A classic crepe topped with dollops of Nutella and powdered sugar, it makes for one of the most choco-licious delights out there. Alternatively, you could also try their Kinder Crepe and fall in love all over again.

Price – AED 15 onwards
Where – Freez (Multiple outlets in UAE)
2.
 

Chocolate Decadence French Toast from Sugar Factory

French Toast – a breakfast delicacy, topped with chocolate and strawberries, is much celebrated all over the world. And if this  sounds like a delight for thy heart, its time you head to Sugar Factory. The cafe has designed this masterpiece of a dish that is one of the most popular chocolate delicacies in the region you cannot miss.

Price – AED 50
Where – Sugar Factory (Multiple Outlets)
3. Brooklyn Blackout from Black Tap Dubai
Offering the freakiest of the shakes with all things chocolate, this NYC based concept has been garnering all the love for their infamous monster shakes, with the chocolate variant being the most popular. Topped with chocolate ice cream, brownies and lots and lots of chocolate chips, this makes one salivate just by the looks of it.
Price – AED 69
Where – Black Tap (Multiple Outlets)