Every girl plans her dream wedding when she's about 6 years old. I was no different, except for one thing. Even at 6, way before I knew what a destination wedding was, I knew I wanted to get married on a beach with the waves as my backdrop and the setting sun as my mood lighting. I didn't care who I was marrying, but I definitely knew where I was getting married. My name is Natasha Monteiro and several years later, I finally did get my dream destination wedding, with my dream guy, on a beach and most importantly, on a budget! Here's my story.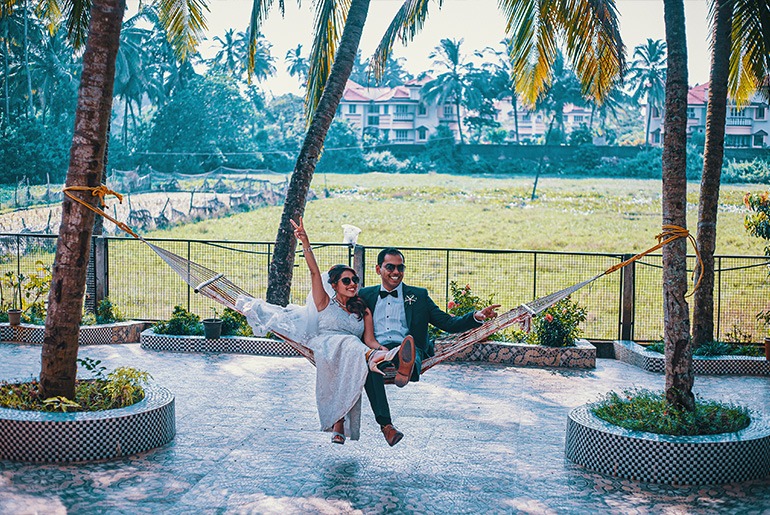 How To Pick A Destination For Your Wedding?
I'm a Mumbai girl, through and through. I've been raised and lived in the city through most of my life and I truly love this city. But a beach wedding in Mumbai would mean Gorai Beach or Juhu Beach or even Madh Marve – NONE of which are places you should think of even having a birthday party in, much less a full-fledged wedding. So thus started my predicament that if I did want my beach wedding, and if I wanted it to be on a budget, where would it be? And that's when it struck me, I LOVE GOA! With its palm tree-lined roads, salty air, golden sands and laid back attitude – what's not to love? After plenty of research and 2 trips to Goa, I finally zeroed on Benaulim Beach in South Goa.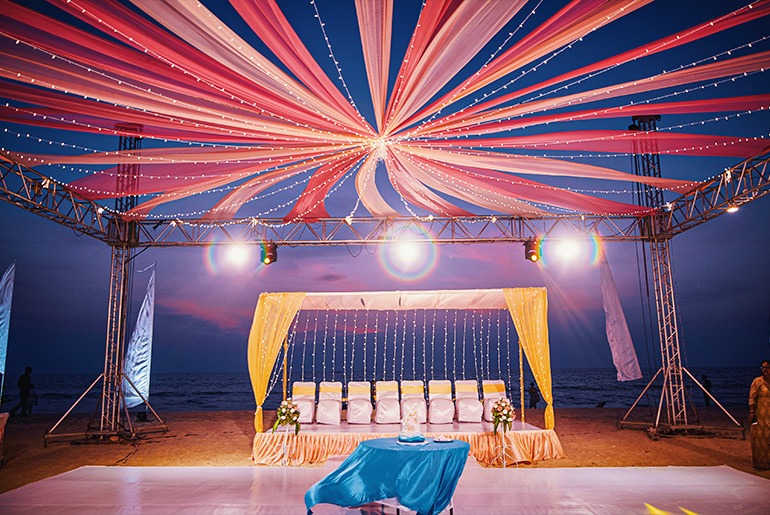 Wedding at Benaulim Beach, Goa
Benaulim Beach is a quiet little beach in South Goa that's mostly frequented by locals and Russians. It's not overly crowded like the beaches in North Goa and has just about a few restaurants. The beach is blessed with white sands and calm waters. It was perfect. My venue was decided but now I had to make it into a wedding hall. How was I going to convert this barren beach into a wedding without spending tonnes of money? Through Google of course and the power of social media. I started my research and boy, did I research hard. My bridesmaids, friends, family – everyone was trying to figure this out for me. There were two ways to go about this:
Have the wedding at a 5 star, where they do the set-up, food, decor and shell out lakhs of rupees or
Find a private contractor who would turn my beach into a mandap
Option 2 was obviously my choice, but that was just the beginning. Nothing in Goa is available online and I did not know where to start looking for contractors. After about 15 days, I'd almost lost hope, when fate had me connect with an old friend on Instagram who incidentally also got married in Goa. I told her of my predicament and she instantly shared all her contacts with me and that's when I met my contractor, Durgesh. He normally worked on Hindu weddings but he was more than happy to take up my Christian wedding. Durgesh was a Goa local who was a pro at the rules and regulations of the land. This was my first break. Durgesh took care of my decor, tables, license for the usage of the beach and all the tiny details I wasn't even aware of.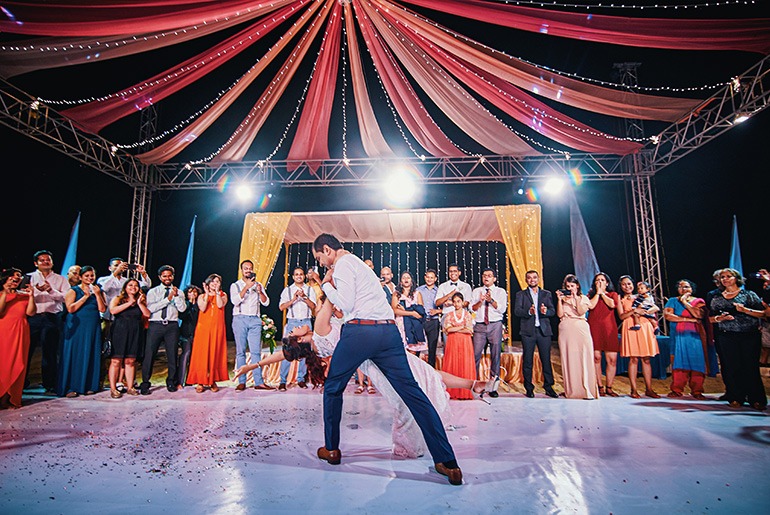 How To Select A Wedding Guest List?
Now that my decor was taken care of, I moved on to my next priority, my (now) husband's and my wedding outfits & the guest list. The key to having a budget wedding is to keep the guest list tight. I had a discussion with my parents about wanting to have a small, close-knit wedding. I think it's really important to keep your parents involved in your decisions because like you dream of a perfect wedding, they also dream of their child's perfect wedding. I convinced my mom and dad, as did my husband and both families were totally on board for having a limited guest list. We selected our guest list basis the people we were closest to and not on the basis of people we were obligated to invite. The result? Between the 2 families, we invited 150 people. 124 showed up because these were the people we were closest to and they cared enough to come all the way to be a part of our happiness. We didn't provide for travel or accommodation, except for a few select guests. Almos all the others paid for their own travel and accommodation. We, however, did give all our guests a range of stay options near the venue, across budgets.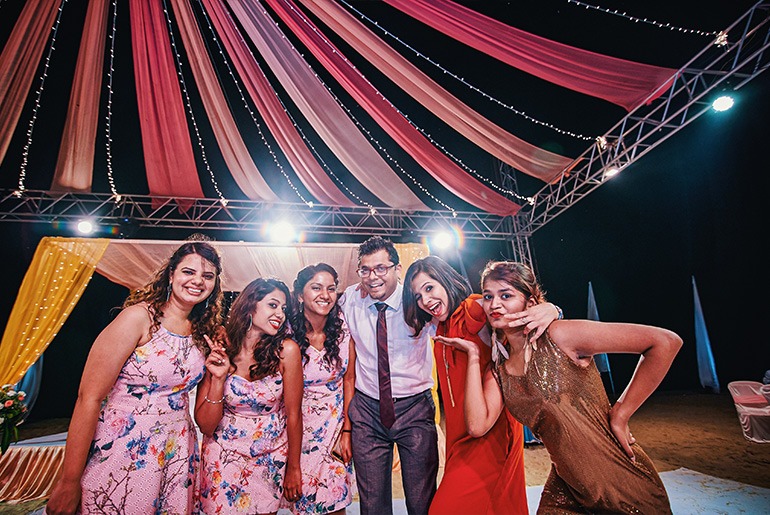 Budget Wedding Cards
To keep with the theme of the wedding, we wanted a Goan wedding card. My friend is a fabulous graphic designer and she created a beautiful wedding card for me. We sent all our 150 invitees the wedding card over Whatsapp and printed just about 20 cards to give to our first family. In a time when the world uses WhatsApp, this one was great on the budget. No paper got wasted, people didn't throw our cards into the trash and it was extremely personalized with us supervising every detail of the wedding card.
The cost of our wedding card? Just the great dinner we took our friend out to after she made us that card!
Budget Wedding Gown & Suit
This one I was really sure of. I wanted to dance at my wedding and I wanted to be comfortable without having to wear a dress that weighed 10 kgs & a veil that weighed another 10! So I opted for a simple, fitted wedding gown that I got stitched from a great tailor.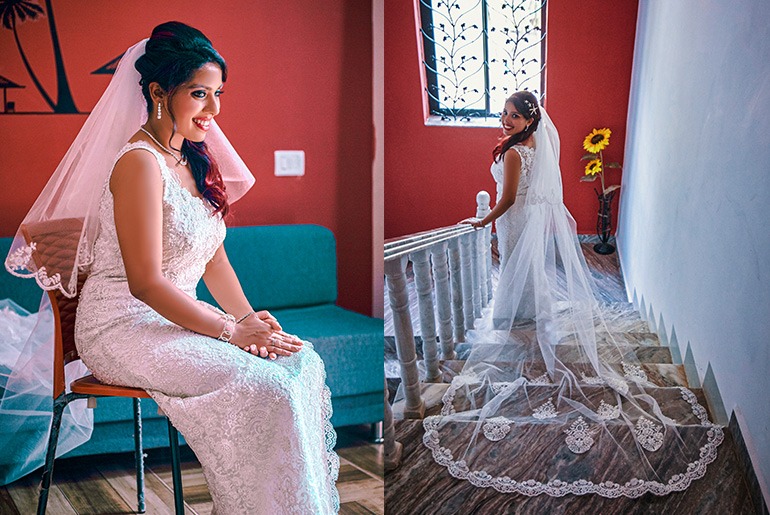 It was absolutely beautiful. I danced all I wanted. I did not have to lose weight to fit into the gown, I did not need 3 people to help me walk and I did not need any help to go to the washroom. I was comfortable and radiant and it showed! My entire gown with the material and stitching charges came to just Rs 22,000. My husband picked material for his suit and a tailor who did such a great job, that it fit him like it would a mannequin. The cost worked out to about Rs 11,000 with material & stitching.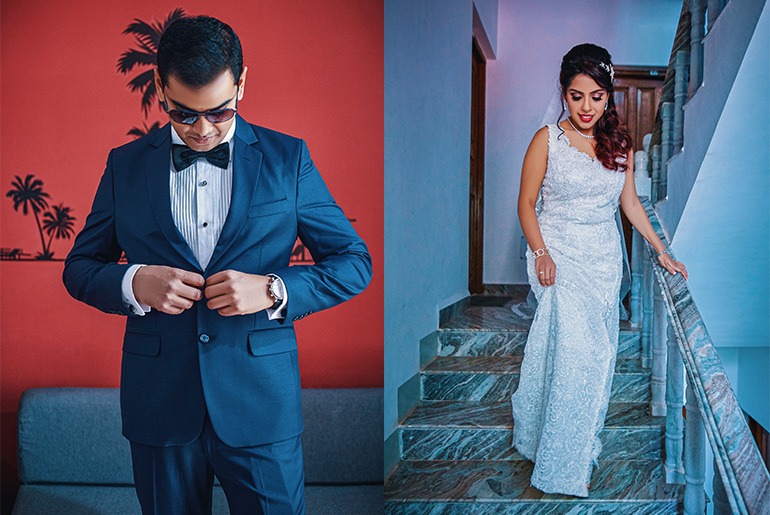 Wedding Food & Alcohol Cost
This was the one place my that husband and I were sure, we would not do any cost-cutting. Our guests were coming all the way to attend our wedding and we were going to give them the best meals they've had. We arranged for an amazing Goan caterer, who served the meals in a Goan themed buffet. There was everything from Goan bread to Sorpotel, mutton, chicken & even fish. We didn't go crazy with chaat counters and candy floss and 15 options but we did ensure that there was plenty of food options and that they would be perfect. Our food worked out Rs 160 per plate. Being a Mumbai, I couldn't believe that a premium option could be that cheap but the joys of doing a Goan wedding is – Goan rates!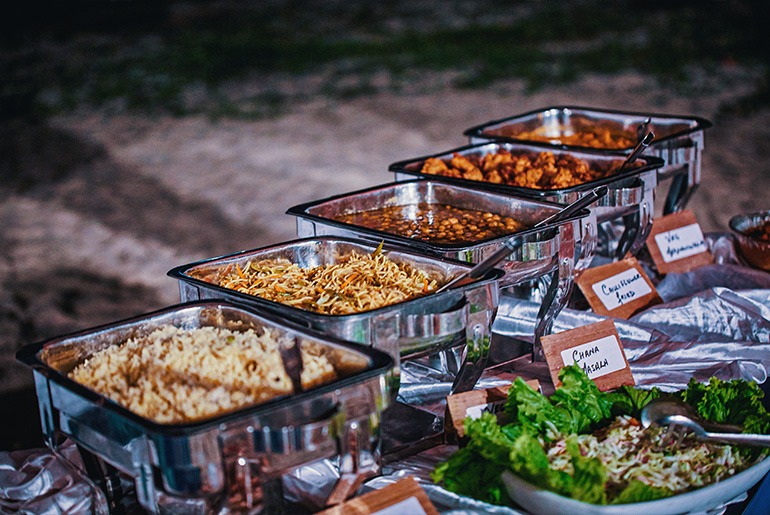 We got lucky with our alcohol supplier because he was a friend's relative and he owned 3 large alcohol shops in Goa. He gave us all the alcohol at a wholesale rate and that worked out fabulously for us. Plus, it helped that Goa already has super discounted alcohol rates and this was lower than those rates.
Goa Stay & Travel
While we did not pay for the stay of our guests, we did negotiate with 4 excellent hotels that were close to Benaulim Beach to offer our guests cheaper rates. We then gave our guests the options of staying. This worked out great because almost everyone chose a hotel that was walking distance away from the wedding venue. This meant that they did not need to hire vehicles to get around, nor did they have to worry about drinking and driving.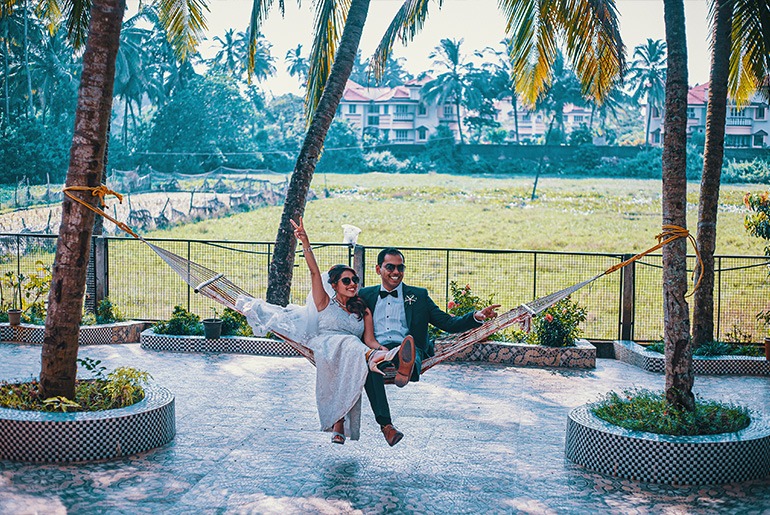 For my own wedding car, I ditched the boring luxury cars like the Jags and Mercs and instead went for a good ol' Goa jeep. I swear this one was one of the best decisions. Great photos and extremely cost-effective!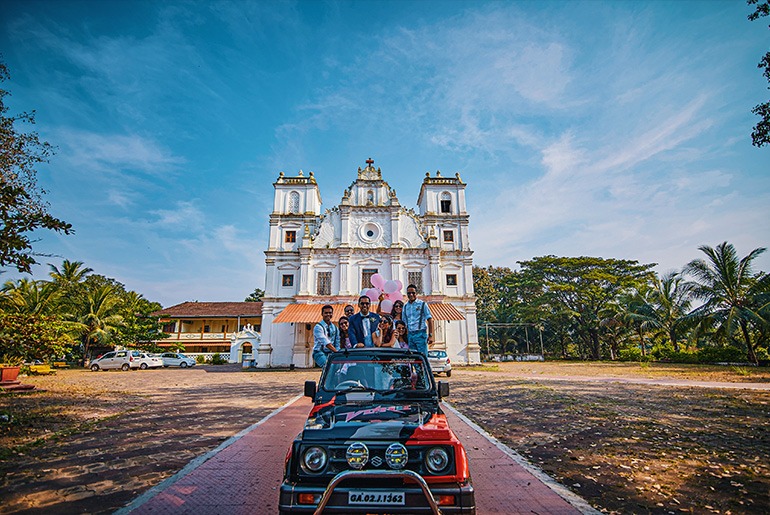 How To Choose A Budget Wedding Photographer?
Aaaah! Now this one can be tricky. With the craze of social media, a wedding photographer can run into lakhs! There's teh pre-wedding shoot, the wedding shoot, the post wedding shoot, the engagement shoot, and god knows what else. I did not want any of that. I wanted a photographer who took great candids – of my husband and me, the people who were there to celebrate with me and of moments that I wanted to remeber of my wedding day. I did not want to go back thinking I posed for that photo. I wanted to look back at my photos and say, hey remeber what we were doing here? This one was crazy.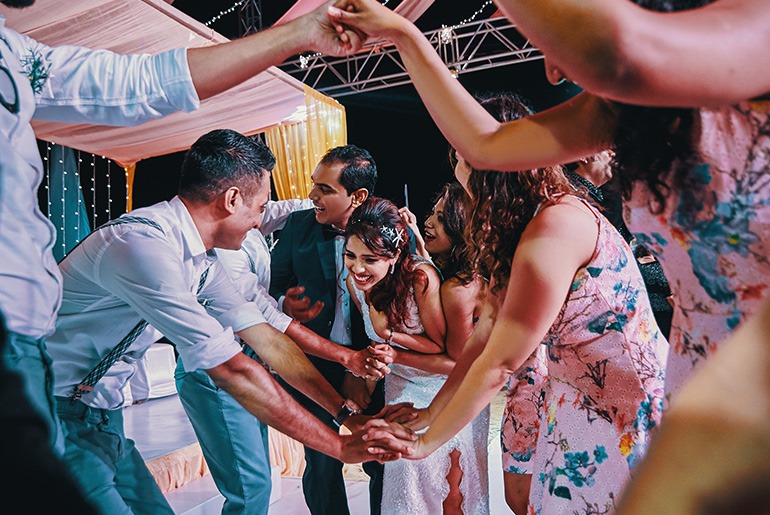 My photographer actually told me that I was the first bride he met who refused to pose for wedding pictures for more than 30 minutes (that was the time I'd allotted to him). Every other picture was a candid and every picture had a solid memory behind them. I paid Rs 60,000 for my entire wedding photography and videography.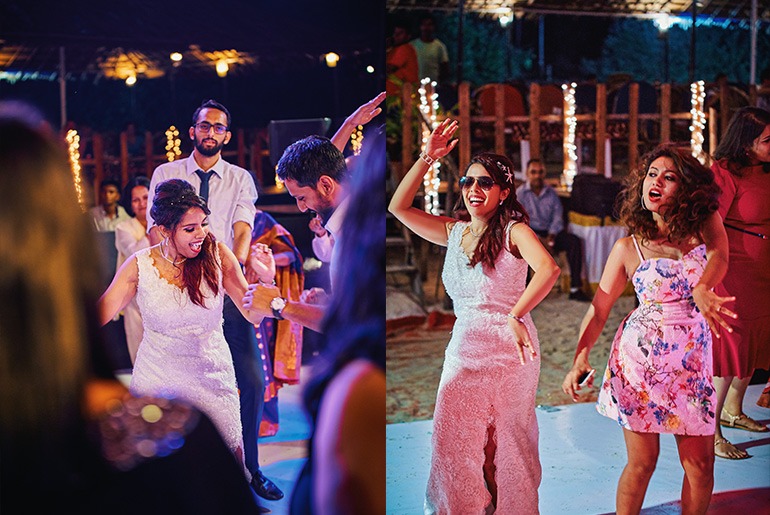 The Challenges Of A Destination Wedding
Having a Goan destination wedding did come with its own set of challenges. Goa is a slow place and not many of the vendors or people are very Internet savvy or have the sense of urgency that a metro city has. The guy who was making my bridal bouquet canceled 1 hour before my wedding and my friends rushed and got me a bouquet from a local flower guy (it did turn out great)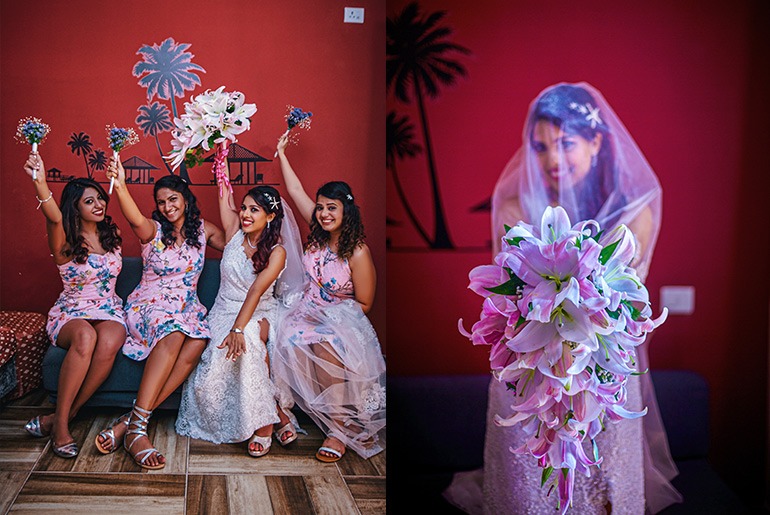 My husband and I handled all the vendors and wedding arrangements ourselves, which meant that we were the ones who were constantly running about and figuring things out all the way up to the day of the wedding. We did have full-time jobs and constantly travelling to Goa over the weekend did get exhausting.
With us handling all the arrangements to save cost, we also had vendors calling us on the wedding day, which can get a little taxing. Luckily, we had an amazing group of family and friends – all of whom were more than willing to help out.