Diwali season is upon us and one of the most auspicious days to buy gold and silver is Dhanteras. This year, Dhanteras falls on October 23, 2022, and the exchange rate and value of these metals are certainly going to skyrocket. Devotees worship Lord Dhanvantari and Goddess Lakshmi for wealth and happiness and it is customary to buy either gold or silver or any other precious metal on this day, according to a muharat!
But if you are someone not keen on buying gold or silver jewellery or coins or bars, then might we suggest that there are more golden things to buy this festive season. We at Curly Tales have listed down food items that contain real gold that will help you keep the customs intact, without actually buying the metal! Have a dekko!
These Food Items That Have Real Gold In Them
1. Gold Burger
View this post on Instagram
While we are enjoying restaurateur Zorawar Kalra's Jhalak on national television, one of his many ventures actually has a burger with a real 24K gold leaf on it. Mumbai's Louis Burger has two limited edition burgers called The Louis Grand Royale and the Truffletake Burger; both come with real gold vrak.
Louis Grand Royale is a double patty topped with shimeji mushrooms and English Cheddar. Whipped with Louis special sauce, this glorious burger comes with a gold vrak (gold leaf) on top! As for Truffletake, you get the goodness of shiitake mushrooms along with shimeji, truffle, truffle oil, English Cheddar, Parmesan, and signature gold leaf.
And yours truly coined it to be the Bappi Da of all burgers (those who know, know). Exquisite not only in taste but also in presentation, these burgers are a must-try, especially on Dhanteras.
Where: Louis Burger; Lower Parel and BKC, Mumbai; Delivery in select areas only
Cost: ₹888
2. Edible Gold Pizza
View this post on Instagram

We kid you not! This is one of the most gorgeous-looking pizzas ever! And taste-wise, too, it doesn't disappoint! Mumbai's newest delivery kitchen Slyce Pizza has a Truffle and Gold Pizza. This thin-crust, medium-sized pizza is mouth-watering. And, it comes with a generous topping of fresh mozzarella along with Sharp Cheddar, truffle shavings, white truffle oil and, you guessed it, edible gold leaves. Fancy some?
Oh, you certainly should! What better way than eating the gold you buy on Dhanteras?
Where: Slyce Pizza; Andheri, Bandra, BKC, Lower Parel, Powai; Mumbai. Delivery in select areas only
Cost: ₹1995 + taxes
3. Gold Cocktail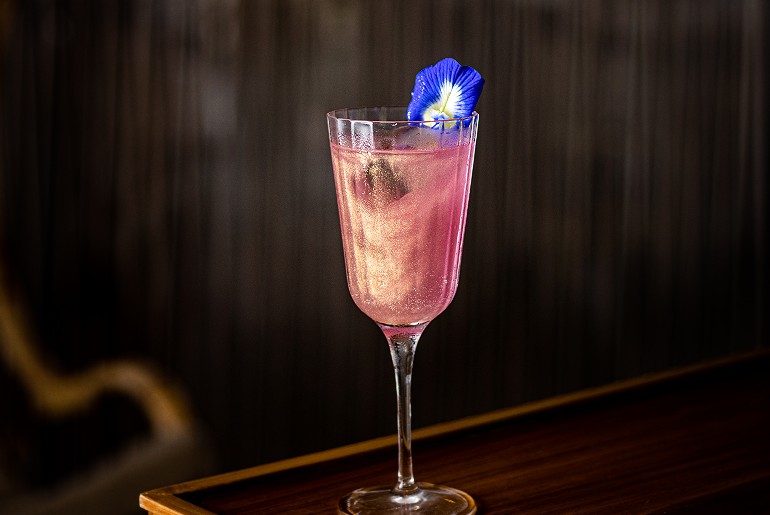 What's pink and has gold glitter in it? Well, this unique cocktail called Sci-Fi that is served at Pune's Butter Bar & Kitchen. The Pune eatery grabbed a lot of eyeballs when it announced this glittery cocktail that has sparkling wine, pea flower gin, basil, and elderflower. And, of course, edible gold dust.
It looks snazzy and tastes yum! This Dhanteras, sipping on this yummilicious cocktail toh banta haina!
Where: Survey No. 18/2A, Vasudha V-18, Unit R-1, Ground Floor, Balewadi High St, Pune, Maharashtra 411045
Cost: ₹500
Also Read: This Pune Bar Offers 24 Carat Drinking Experience With Gold Cocktail!
 4. Gold Paan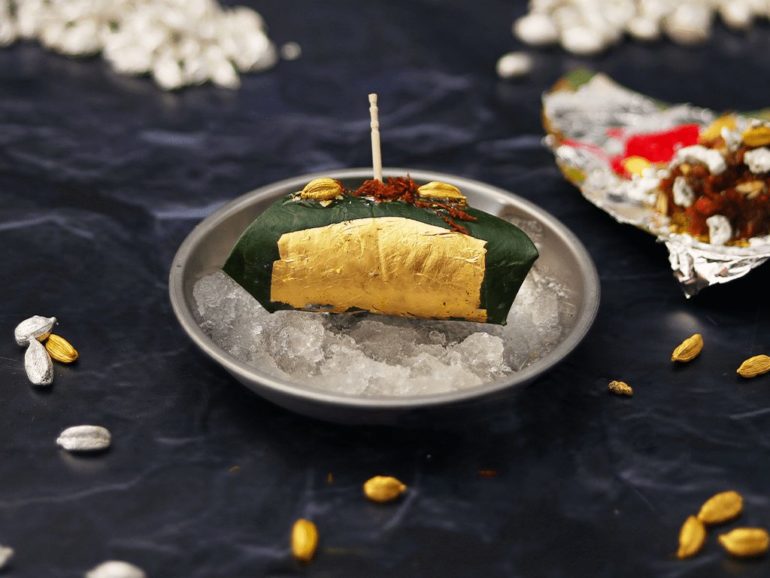 Trust one of Delhi's oldest and India's first paan parlour, Yamu's Panchayat, to come up with this. After being around for a couple of years, Yamu's Gold Ferrero Rocher Paan comes with real gold vrak. Available only at the Connaught Place outlet, this paan can also be ordered online in Delhi. They also have a normal Gold Paan. And for silver vrak lovers, there are many varieties too. Go, get chomp on some refreshing paans.
Where: Yamu's Panchayat, multiple outlets
Cost: ₹550 onwards
5. Gold Ice Cream
View this post on Instagram

Huber & Holly's 24-carat gold-plated ice cream was an instant hit amongst ice cream lovers ever since the chain's debut in India. Yes, the ice cream comes with real and edible gold and there are many patrons who love to swirl their tongues around this deliciousness. Available in many variants, all you gotta do is ask for a little gold! Be it the cone one or the huge tub, gold ice cream has our attention!
Where: PAN India
So, what are you waiting for? Have a hatke Dhanteras and here's wishing you all a very Happy Diwali! Let us know in the comments section below, which one of these edible gold dishes have you tried?
Cover Image Courtesy: Yamu's Panchayat & Slyce Pizza