Dining in the sky is not a new experience in Dubai. Being home to the world's tallest tower, Dubai-aites have been able to enjoy some truly bespoke dining experiences right in the clouds. But, hold on! With the world's tallest observation wheel – Ain Dubai, set to open in town this October, this concept is now set to reach new heights. Ain Dubai's Dine in the Sky concept will hit Dubai skies this October. Here's what foodies can expect from the all-new experience.
Enjoy The One-And-A-Half-Hour Experience During The Day, Night Or At Sunset
The 'Dine in the sky' experience is open through the day. Well, this means you can choose the time of the day when you want to go up into the clouds and enjoy a meal. Those who prefer dining in the day can pick breakfast or lunch options, while sunset lovers (like us) can opt for the evening ride. The whole experience lasts 38 minutes, roughly about one-and-a-half-hours, letting you soak in Dubai's beauty right from the skies. Oh and don't forget to spam your gram while you're up in the air.
As for the experience, guests can enjoy a private cabin with plush dining set up. By this we mean tablecloth, plush cutlery, folded napkins, and a whole lot of other elements that elevate the gourmet dining experience. Besides, all chairs face inward- so there's plenty of photo opps while you are seated or standing.
The cabins move at a slow pace, so you don't have to worry about feeling queasy or dizzy.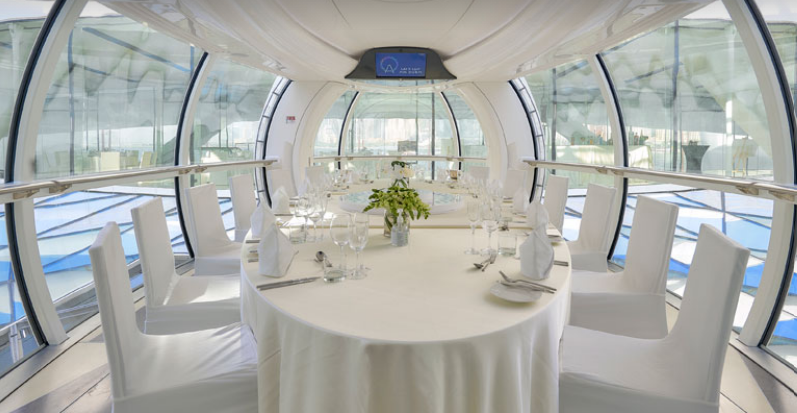 What's On The Menu?
Moving over to the food, the dine in the sky experience offer a lavish four course meal complete with appetiser, starter, main and dessert. You can also opt to just have the starter, main and dessert. Foodies can relish various cuisines upon request including Arabic, International and Asian. Each person can enjoy two drinks per rotation.
Start off your sky-high meal with Caprese vine tomato sweet basil and balsamic salad. Binge on glazed chicken breast with truffle mash and mushroom sauce for a main. Finally, seal your meal with a salted caramel chocolate fondant topped with hand-whipped vanilla ice cream and brittle.
And, the best bit is that all the cooking happens inside the private cabinet, which is equipped with two kitchens. A private butler and a chef will be at your service at all times and will also share details on how each dish was prepared. The experience is priced at about AED 4,500 for a group of eight, depending on the menu and beverage option chosen
Well, all in all this will be a bespoke dining experience, offering a view that changes by the minute and dishes that will leave an everlasting taste.
The World's tallest Ferris wheel- Ain Dubai is set to open doors on 21 October. Ticket prices start from AED 130 onwards. We're booking right away. What about you?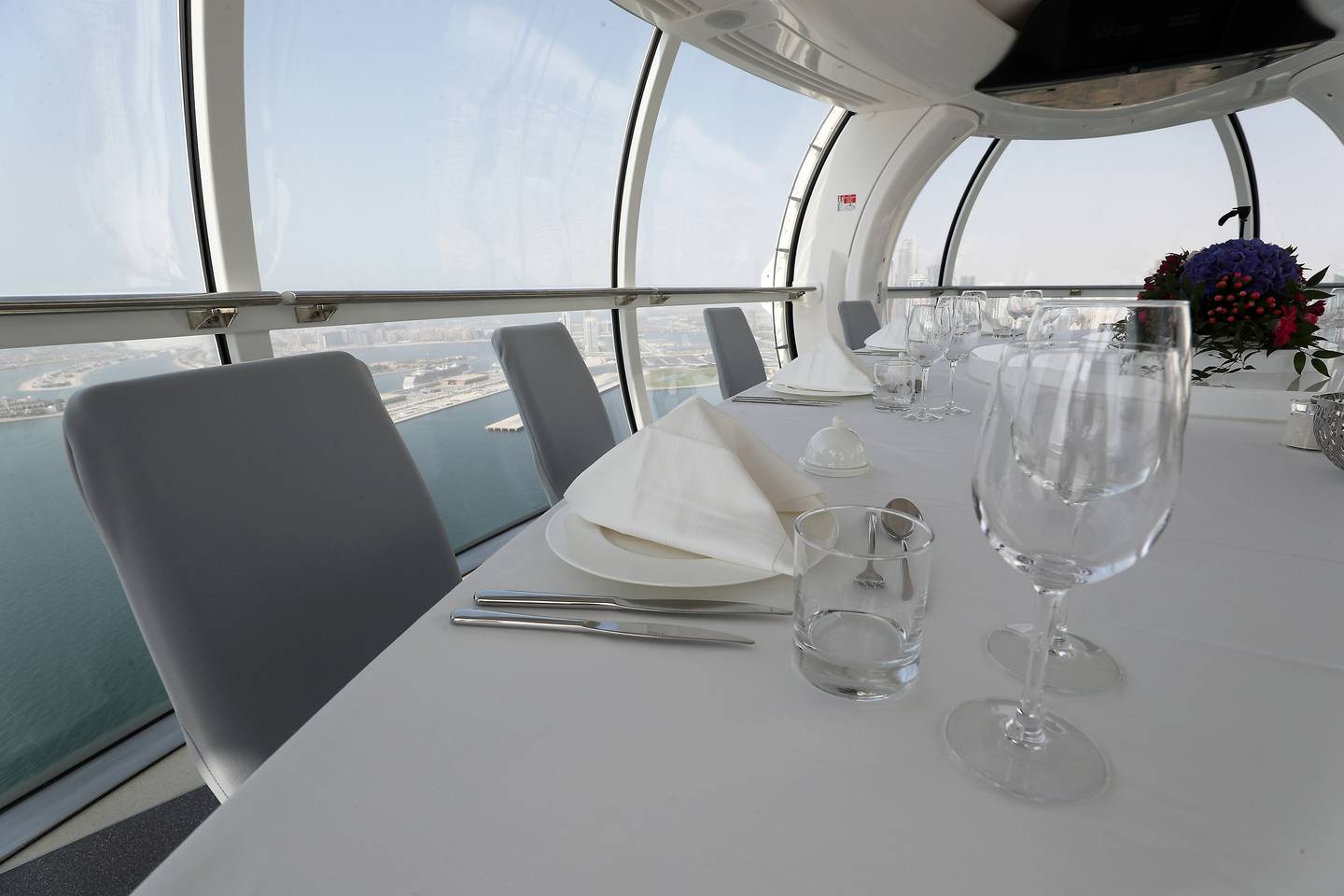 Deets
Where: Ain Dubai
Price: AED 4,500 for a group of eight
Contact: www.aindubai.com