Pune has a pretty established game of food. When it comes to new and innovative ideas, nothing can beat us Puneris at the game! We've not only created the special vada pav, and misal, but we're rising to the opportunity and expanding our reach to main course items and desserts as well. Try out the quirkiest dishes in Pune if you'd like some fun in your food –
1. Jaffles, Dezart
Introducing a twist to our classic waffle, the Jaffle served by Dezart in Pune is the new thing in town. Dezart near Deccan Gymkhana is famous for its unique desserts and coming from the same kitchen is the Jaffle. It is similar to a waffle sandwich but toasted and made with a 'jaffle iron'. The sandwich is sealed around the edges while the ingredients inside melt giving us a sinful taste.  At Dezart, there are plenty of Jaffles available for you to choose from. Try the Nutella and Mascarpone Jaffle– it is a crispy jaffle with yummy Nutella and Mascarpone cheese filling in it. Jaffles are served with ice cream scoops to improve the taste even more. Apart from that, try the Apple Cinnamon Jaffle with simmered apples and cinnamon vanilla over it.
Also read: We've All Tried Waffles, But Dezart In Pune Has Introduced 'Jaffles'
Address: Shop 5, Dr. Herekar Park, Opposite Kamla Nehru Park, Bhandarkar Road, Deccan Gymkhana, Pune
Phone: 020 30162284
Approx cost: ₹350 for two people
2. Oreo Double Trouble, Rock Stone Ice Cream Factory 
Calling out to all the chocoholics in Pune, Rock Stone Ice Cream Factory is serving the sinful Oreo Double Trouble from their 'classics' menu to give you the foodgasm of your life! A dessert and ice cream joint in Koregaon Park serves the most sinful ice creams in their 'classics' collection and the Oreo Double Trouble (₹140) is a definite delicacy. It could end up being your favorite dessert because of its Sweet Cream ice cream along with double Oreo cookies, choco fudge and choco chips. Doesn't that sound like #goals? As heavenly as it sounds, Rock Stone Ice Cream Factory has a bunch of other delights from the same section including – An Italian Love Affair, which has coffee ice cream, roasted almonds, kit kats, caramel sauce and topped with choco sticks. The Vanilla French Kiss is French Vanilla ice cream mixed with choco chips, cookie dough, choco fudge and caramel sauce.
Also read: Dessert Lovers! You Can't Miss Out The Oreo Double Trouble At Rock Stone Ice Cream Factory In Pune
Address: 31/1A-31/1B/5, Plot 332, Opposite Konark Residency, Lane 6
Phone: 020 30496161, +91 7276046161
Approx cost: ₹400 for two people
3. Pav Bhaji Sizzler, Gulab Jamun Cheesecake And More, The Leaf
From a whole menu section dedicated to fondues to pav bhaji sizzler and gulab jamun cheesecake, The Leaf in Shivajinagar will really whet your appetite. Pune's newest cafe has opened up in Shivajinagar and it is ready to offer some exciting twists to your regular dishes. Starting with the pav bhaji soup to pav bhaji sizzler, The Leaf has it all. They also have a separate section in the menu for fondues including the dal makhani fondue, chocolate fondue, classic swiss fondue and pav bhaji fondue. From the pizza menu, all the Gujaratis will be delighted to know that they have introduced the 'dhokla twist'pizza. Along with that, you can enjoy the 'chaat' pizza, and pav bhaji pizza. Coming to the desserts, The Leaf has its own charm with the Chocolate Soil Pot, the Jalebi twist, Gulab Jamun cheesecake and the Rose Phirni. 
Also read: Pune's Newest Cafe 'The Leaf' Gives A Unique Twist To Our Traditional Cuisine
Where: Yugay Plaza, Congress House Road, Opposite Balgandharv, Shivaji Nagar, Pune
Phone: 020 30162076
Approx cost: ₹800 for two people
4. Nutella 'Greedy' Shake, The Greedy Man Pizzeria
It might be a pizzeria, but the chef's signature dish is surely the Nutella 'Greedy' Shake. You can even try out their selection of Greedy Shakes that will make your mouth water in no time. Freshly prepared baked goods are used as toppings like cookies, brownies, chocolate pop-sickles, whipped cream, rainbow sprinkles, chocolate tarts, fudge bars, ice cream scoops, and kitkats.
Also read: Satiate Your Sweet-Tooth With 5 Best Places For Freak Shakes In Pune
Address: Baner and Kalyani Nagar
Approx cost: ₹600 for two
5. Chicago-Style Deep Dish Pizzas, Baked And Wired
Baked And Wired is known for its monster deep dish pizzas that are prepared Chicago style. The crown for uniqueness certainly goes to the 28 inch monster that they create. Their winner, the Chicago deep-dish pizza is a champion in all forms. Loaded with mozzarella cheese that will make your mouth water in the first sight, it is also topped with basil leaves and roasted tomato sauce. With the introduction of the 28 inch monster that is the Chicago deep-dish, this pizzeria has become a number 1 favorite of everyone in the city. People of Pune visit the pizzeria just to strike it off their bucket list.
Also read: Baked And Wired In Pune Serves Mammoth Chicago Style, Deep-Dish Pizzas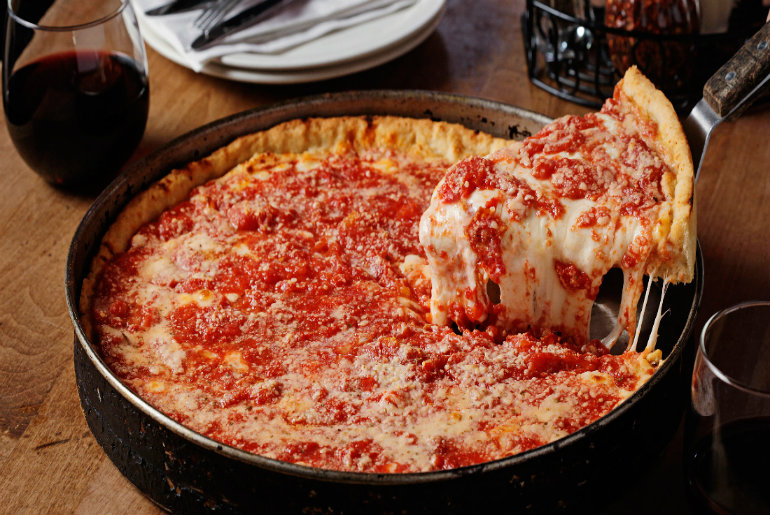 Address: Shop No. 3, Saniara Apartment, Opp. Erin Nagarvala School, Central Avenue Road, Kalyani Nagar, Pune
Phone: +91 8007865324
Approx cost: ₹800 for 2 people
6. Cheesecakes In A Jar, Frozen Bottle
Now you can be proud of 'bottling up' with desserts at this cool new dessert joint at FC road, Pune.  Frozen Bottle has a menu that will give you a variety of options to choose from (in a bottle!). If you're in the mood for some fruity love, go for their Fruit Medley with flavors like Berry Blast, Banana Caramel and Kiwi Krush. A whole section in the menu is dedicated for the choco lovers with Choco Indulgence. Try out the Oreo Cheesecake, Mint Choco Chip and Belgian Chocolate. The Modern Twist category in the menu comes welcoming unique flavors like Snicker Surprise, Banana Gulkand, and Mocha Swirl. 
Also read: Make Way For Cheesecakes In A Jar With Frozen Bottle At FC Road
Address: CTS 1216/2+3 Millenium Plaza Beside Pizza Hut Store Opp. Fergusson College, Naamdaar Gopal Krushna Gokhale Rd, Shivajinagar, Pune, Maharashtra 411004
Approx cost: ₹ 400 for two people
7. Edible Flower Cocktail, Gong
The Blooming Tea Spritzer is one of Gong's signature cocktails with Jasmine infused vodka, elder flower cordial and blooming tea served at restaurant Gong in Pune. Have you ever tasted a flower? Well, now you can have a flower cocktail with Gong's signature cocktails menu. The Blooming Tea Spritzer (₹545) is literally a flower that you can have! Another curation is The Holy Smoke, which is a mixture of cinnamon syrup and aromatic smoke. It is a mix of gin, raw papaya, Thai chilli and black pepper. You can also sip on some special curations at this place that use spiced rum and coffee liqueur to bring some much needed drama on the table.
Also read: Try Out This Edible Flower Cocktail That You Can Drink At Gong In Baner
Address: Gong, Shop 22/23, Balewadi High Street, Cummins India Office Campus, Baner- Balewadi Link Road, Baner, Pune
Phone: 020 65003501, 020 65003502
Approx cost: ₹1200 for two people
8. Brota, Brota
Make way for new age sandwiches with Brota, that serves an awesome combo of pita and sandwich near MIT College, Pune. The area near MIT college is always buzzing with the young crowd and new eateries are opening up way too often. So what's special about Brota? Only the fact that they have made up a food item which is literally a combination of sandwich and pita. Not only is this uber healthy, but the name has a nice ring to it as well. he Brota comes in vegetarian and non-vegetarian forms. They are brown bread pockets and have fillings of your choice. You can choose to go with a vegetable filling or a meat filling and then it ends up on a hot plate with butter and that's where it gets the lip-smacking flavor.
Also read: This Eatery Near MIT College Serves 'Brota' – A New Twist On Regular Sandwiches
Address: Brota, Near Ideal Colony, Paud Road, Pune
Phone: 088051 80553
Approx cost: ₹200 for two people
9.
Sorbet Desserts, Becky Bee's
When it comes to serving your sweet tooth, Becky Bee's in Pune has left no stone un-turned with their Passion Fruit sorbet, Anjeer Caramel & Quark Cheese ice cream sundae.  As much as they love to combine the flavors for their desserts, the Passion Fruit sorbet with Anjeer Caramel and Quark Cheese sundae (₹270) is definitely one of a kind. Served with multiple alternate layers of sorbet and ice cream topped with a scoop of ice cream and chocolate syrup, this dessert is bound to satisfy your sweet tooth. Head over to 3 outlets of Becky Bee's in Pune in – Hadapsar, Bibvewadi, and Magarpatta. Along with this magnificent dessert, you need to try out dishes from their menu section of 'Europe With America'. They combine classical European desserts and America, of course to give that super yummy taste.
Also read: Becky Bee's In Pune Has Combined Sorbets & Desserts To Give A Perfect Blend
Address
Hadapsar: 2nd Floor, East Block, Amanora Town Centre, Hadapsar, Pune
Bibvewadi: Shop 18, Gagan Samrudhi, Ganga Dham, Bibvewadi, Pune
Magarpatta: Seasons Mall, 3rd Floor Food Court, Magarpatta, Pune
Approx cost: ₹400 for two people
10. Colorful Lattes, One O Eight Cafe
Try One O Eight Cafe, Pune which provides lattes in a quite healthy way, in green, golden and pink color. The colors in the lattes are completely organic. The Green/ Matcha one is prepared with a help of green tea powder added to the base. So all health freaks and green tea lovers, you must definitely not miss on this one. The next Pink one is due to the addition of the healthy beetroot juice. Finally, the Golden one is because of the adding turmeric. Turmeric has an anti-oxidative and helping in aiding the healing process. Al the lattes are extra thick and creamy which adds on to the taste and flavor.  So all Latte lovers, you must definitely not miss this unique opportunity.
Also read: Get A Healthy Latte In Greens, Goldens And Pinks At One O Eight Cafe
Address:  Precious Gem Apartment, Lane Number 6, Meera Nagar, Koregaon Park, Pune, Maharashtra 411001
Contact No: +91 9011804770
                      +91 7875757507
Working Hours: 7 Am to 10 PM
Average Cost: ₹850 for two people