Dubai's Downtown, formerly known as Downtown Burj Dubai, is home to some of the country's most popular tourist attractions. Travellers may choose from a wide range of activities, and there's no shortage of things to do and see. During your trip to Dubai, you will come across this awe-inspiring location. Are you unsure about the best places to visit and activities to do in this city? When and where should a traveller begin and conclude their trip? There are a plethora of options available, so don't worry. In addition, we've put up this comprehensive guide to Downtown Dubai. Enjoy! 
About Downtown Dubai In a Nutshell 
There are historic Arabic-style buildings and skyscrapers in the Downtown neighbourhood of Dubai. In addition, a wide range of accommodations, dining, and retail establishments provide guests with a singularly memorable experience. Aside from that, you can find Dubai's top restaurants in the Downtown district, where you can sample cuisine from all over the globe. With your loved ones, savour every mouth-watering meal. Dubai's Downtown has also established a standard for environmentally friendly, long-lasting vertical neighbourhoods.
Downtown Dubai is unquestionably the most excellent part of Dubai, and you should not miss it!
View this post on Instagram
Also Read: Tik Tok Clips Featuring Dubai Get Most Views In The World
Unique Experiences That Downtown In Dubai Offers 
You can't see anything without going Downtown. Even in Downtown Dubai, you'll never run out of activities to keep you occupied. Here are the fantastic experiences that downtown Dubai offers to its visitors: 
1. Burj Khalifa 
With a height of 1,717 metres, the Burj Khalifa is the highest structure on Earth. The Downtown area it's one of the must-see sights. Is your vacation to Dubai complete if you don't pose in front of the Burj Khalifa? The heart of Downtown is this magnificent edifice, a triumph of contemporary engineering.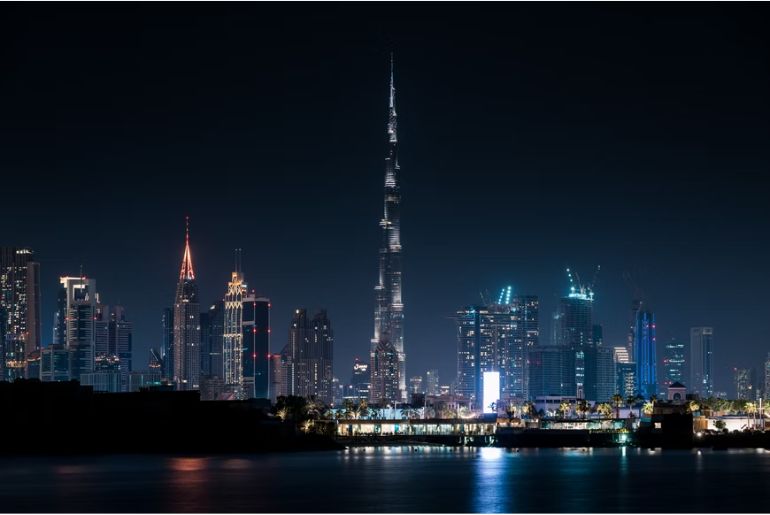 2. Dubai Mall Complex 
If you're ever in Dubai, don't say no to shopping. Because the malls in Dubai provide more than simply shopping to their customers. Enjoy shopping, entertainment, and more while visiting the Dubai Mall Complex. This is a great place to go shopping if you so choose. Relax by watching a movie with your family.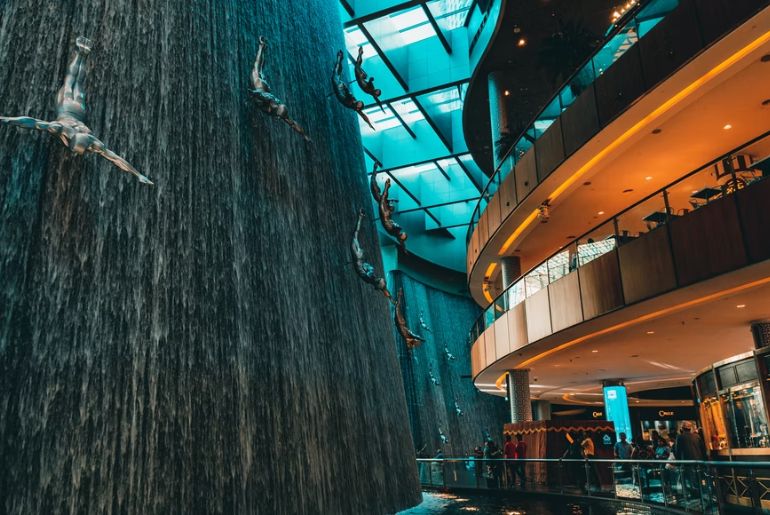 3. Dubai Fountain 
The most beautiful of them all, the Dubai Fountain, comes in at number two. This Downtown landmark, the world's biggest choreographed water fountain, has become a local landmark. During the Fountain Show, strike an elegant pose in front of the dancing fountains and enjoy their energetic antics. The most popular water display takes place in the evenings, so plan your visit accordingly.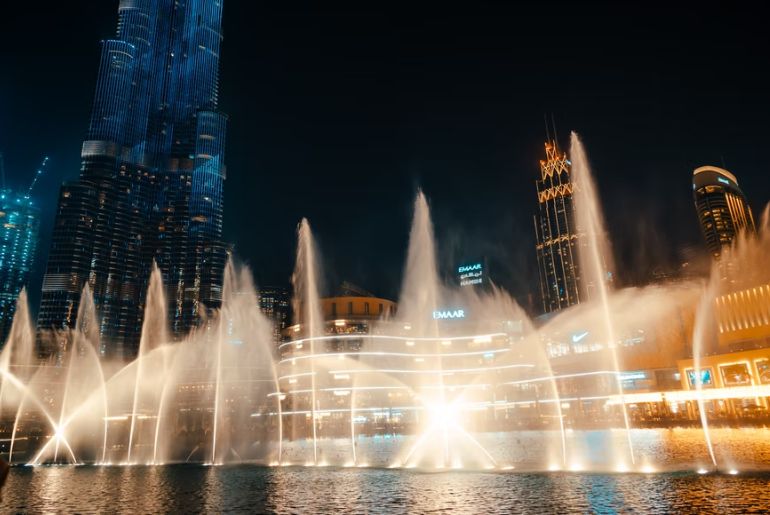 Also Read: Work Remotely From This Scenic Cafe In Dubai With Breathtaking Views And Yummy Food
4. Dubai Aquarium and Zoo 
The Dubai Aquarium & Underwater Zoo is located on the ground level of the Dubai Mall and holds more than 33,000 aquatic animals in its 10 million litres of water. The level above the tank is occupied by a unique underwater zoo that displays a wide variety of marine species found in oceans, rivers, and other bodies of water worldwide.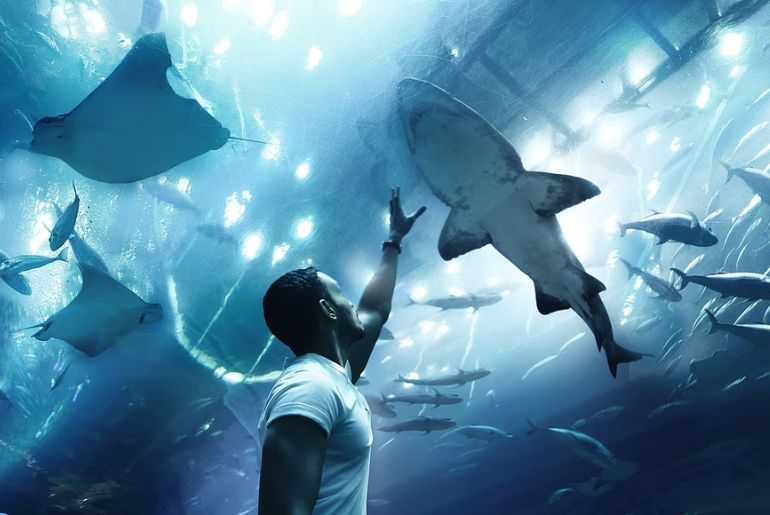 5. At The Top Burj Khalifa 
The At the Top Burj Khalifa trip is a must-do for everyone curious about what it's like to look out from the world's highest building, providing a breathtaking perspective of the horizon. The At the Top tour and the At the Top SKY trip, designed particularly for visitors, transport you to one of the world's highest observation decks! 
Also Read: Dubai Is Getting A New Board Game Cafe And We Can't Keep Calm
Best Places To Eat in Downtown Dubai 
The area known for its high-end lifestyle has various dining options that will leave you spellbound. Here is the list of best places to eat in downtown Dubai: 
1. Armani Amal 
For a special occasion, Armani Amal is the ideal location for a sumptuous celebration. The Armani Amal restaurant in the Burj Khalifa has breathtaking views of the Dubai Fountain, making it a popular spot for couples. This Indian restaurant in Dubai's Downtown district offers a unique cuisine with mouth-watering Indian specialities. Please note that only bookings made between 07:00 and 09:30 p.m. will be able to get a table on the patio or the window. 
View this post on Instagram
2. At.Mosphere
Look no further if you're looking for some of Dubai's most distinctive dining establishments. The world's highest restaurant, At.mosphere, offers spectacular views of the city and its environs. While dining here, you'll be treated to stunning views of Dubai from atop the Burj Khalifa, the world's highest structure. 
The views from the At.mosphere of Dubai's sparkling skyline are just unmatched. As one of the most sought-after restaurants at the Burj Khalifa, At.mosphere is well renowned for its high tea menu, which includes both sweet and savoury offerings. 
View this post on Instagram
3. Bombay Brasserie
Located on the fourth level of Taj in Downtown Dubai, the Bombay Brasserie is one of Downtown Dubai's most sought-after Indian restaurants. Beautiful, traditional artwork adorns the walls of this eatery, enhancing its already vivid and airy atmosphere.
Because of this, it is a perfect location for entertaining friends and family. We found it amusing that both English and Spanish convey the menu options. While the appetisers like Basil Tikka and Malai Broccoli are delicious, the main courses like Saag Meat or Butter Chicken are a must-try.
View this post on Instagram
Also Read: 5 Quirky Hummus Variants In Dubai
4. Ewaan
Ewaan, a popular eatery in Downtown Dubai, serves a variety of delectable buffets as well as live cooking stations. The restaurant's cuisine features a range of Arabic and Oriental foods, and the decor is evocative of the Arabian style.
You'll find a wide variety of meats and seafood at the buffet to whet your hunger. The restaurant's patio seating is complemented by excellent service, in addition to the magnificent pool views.
5. Tribes Carnivore
In the Emirates and Dubai Mall, Tribes Carnivore is a casual eatery that serves you succulent meat. There are several African-inspired dishes on the menu. Exotic tastes and combinations from the African continent, the Spice Islands, the Malay & Dutch, and the French are all reflected in the cuisine of Tribes, which combines the best of the world's cuisines. 
View this post on Instagram
6. Black Tap Craft Burgers & Shakes Dubai Mall
The Black Tap Craft Burgers & Shakes in Dubai Mall is the place to go if you want to relive your childhood memories. They have some of the most incredible burgers and milkshakes in town. The cookie shakes here, the salads and fries, and the truffle burger is a must-try if you're looking for pure gastronomic pleasure. 
View this post on Instagram
Downtown Dubai has everything best of Dubai in one place! 
Also Read: 5 Places To Try The Best English Breakfast In Dubai