Nothing satiates your taste buds like a warm bowl of simple dhal, alongside roti or rice- right? Well, if you're one of those people who love simple, home-made food, we've got some exciting news for you. CT Dubai stopped over at one of Dubai's most famous and favourite North Indian restaurants- Masala at Bab Al Shams. The spectacular desert resort is just 45 minutes away from Dubai and Abu Dhabi airport. Wondering what our authentic culinary journey through the North of India was like? Read on to find out!
Go On A Culinary Journey To Northern India At Masala, Dubai
The menu is carefully crafted by expert chefs who take you on an authentic culinary journey through the North of India. Foodies can explore the joys of traditional Indian tandoor and curries in a royal setting. The elegant ambiance of the restaurant elevated the experience to a whole new level. The walls are drenched in rich turquoise green, adding a regal touch to the place.
Diners can opt to diner indoors in a Muhl-like setting or enjoy an al fresco dining under the stars. Besides, the restaurant also has live Indian Fusion music to entertain diners while they enjoy their meal.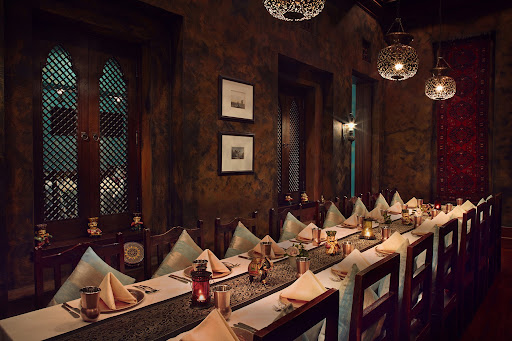 What's On The Menu?
Well, moving on to the menu, Masala is an ode to the flavorful cuisine from Northern India. The restaurant serves authentic North Indian cuisine with a whole lot of vegetarian, and non vegetarian options. The culinary journey kicks off with appetizers, and moves on to the main course and dessert.
Kick off your culinary journey with a flavorful platter of steaming, hot Pakodas just like the ones you find in the streets of Northern India. Chaat lovers can try Raj Kachori, Pani Puri, or Bhaya ji Chat. Available in vegetarian and non-vegetarian versions, this one has Samosa, Chickpea masala, kachori, Tamarind, sweetened yoghurt, topped off with onion, tomato and coriander. Alternatively, you can also opt for a wholesome bowl of lentil soup aka Dal ka Shorba.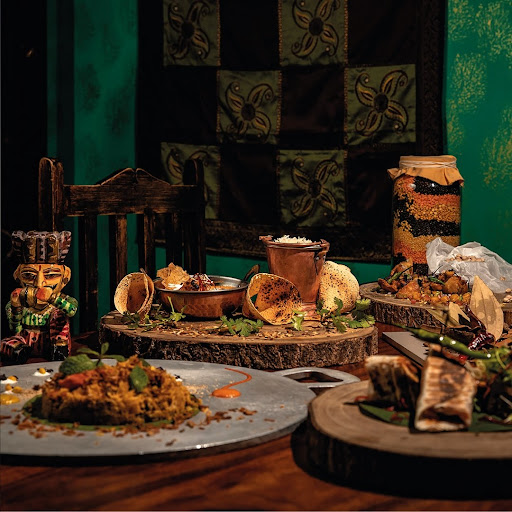 Moving over to the main course, foodies can enjoy a varied selection of roti, rice and curries. Chicken lovers must try the Murgh Malai- a flavorful gravy made of boneless chicken thigh, cheese, cashew and cardamom. And if you like it spicy, try Angar- a spicy version of the chicken gravy. Those who prefer mutton must try Bhuna Gosht- a home-style spicy mutton curry. Alternatively, you can also opt for Khybery Boti- a spicy gravy made of tenderized Indian mutton, topped off with cream. Team your curry with Tandoori roti, paratha, naan or stuffed Kulcha and you're sure to go back for more! Non-vegetarians can also try Masala's Kebab Sampler which has juicy chicken, mutton and sea-food kebabs.
And vegetarians are not left out either! Vegetarians must try Paneer Sarso Wali- spiced cottage cheese cooked in a mustard paste, Olive Malai Broccoli, home-style Dal Tadka, Aloo Anardana, and much more.
As for the rice options, biryani lovers are in for a treat at Masala! The restaurant serves seven varieties of biryanis, offering a wide range for seafood lovers, vegetarians and non-vegetarians. Diners can pick from Subji Biryani, Jhinga Biryani -aromatic  prawns cooked in basmati rice, Murgh Biryani, and Gosht ki Biryani. If you wish to skip biryanis, pair your gravy with steamed fragrant basmati rice or jeera pulao.
And finally, seal your culinary journey with a sweet treat. Masala offers five different varieties of authentic Indian desserts including Saffron Rasmalai, Kulfi Trio, and Saffron Pista Kulfi. Besides, those who are up for something indulgent can try 'Discovering Masala Treasure' – an exclusive dessert made of eight different kinds of Indian sweets.
Apart from ala carte, Masala also has a tasting menu for those who wish to grab a bite of all their lip-smacking dishes. The tasting menu has eight dishes including starter, main course and dessert.
Now, that's one culinary journey you certainly don't want to miss-right?