If like me, you like playing popular Bollywood songs like 'Khwabon Ke Parindey', 'Ilahi', 'Dil Chahta Hai', and envision yourself travelling to picturesque destinations with your friends or bae, then I have only one thing to tell your wanderlust soul. Stop daydreaming and start making your travel dreams a reality! Let's take baby steps together, shall we? Start your weekend getaway plans to the unexplored yet pristine hill station of Bhandardara, which is just 117 km away from Mumbai. It's home to one of the highest peaks in Maharashtra and the oldest dam in India. And while you're here, let me tell you a fantastic way to enjoy nature's wonders to the fullest while also spending quality time with your loved ones- the answer to this is- Anandvan Resort In Bhandardara. But hold on! Let me build your curiosity and get back to this in a bit.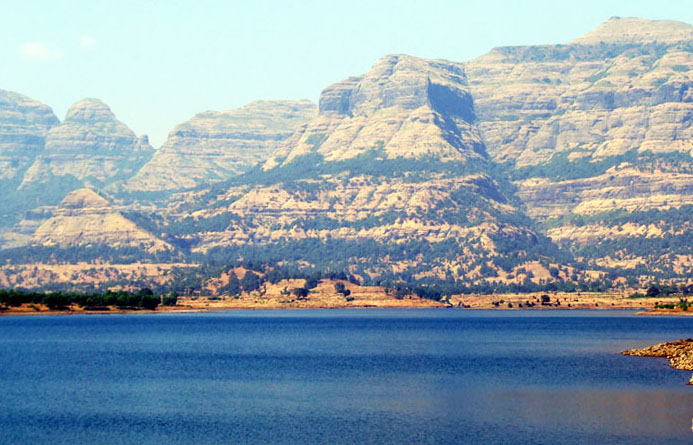 Things To Do In Bhandardara
As grandiose as the name sounds Bhandardara literally means 'valley of treasures'. This gorgeous hill station is nestled in the Sahyadri ranges in the Ahmednagar district of Maharashtra. From lush greenery, breathtaking mountain peaks, gushing waterfalls to a rustic old world charm, you name it and you will experience it here.
Also Read: 11 Stunning Waterfalls In India That Are A Sight To Behold!
If you're an avid trekker! Then Mount Kalsubai in Bhandardara is your abode! This highest peak in Maharashtra is situated at a massive 5500 feet above the sea, and will truly prove to be a crazy adventure for trekking enthusiasts.  While you're here, pray reverences to the Devi Kalsu at the quaint shrine dedicated to her at the peak.
When you're done with your trek, take a trip down to the Lake Arthur Hill also known as Bhandardara Lake, which is one of the largest lakes in India. The clear blue water and the fun boating activities conducted here makes this place a must-visit spot.
Some Of Our Favourite Things
Another beautiful sightseeing spot in Bhandardara which you must visit is the Wilson Dam. This is one of the oldest dams in the country built at a height of over 150 m above sea level. And that's not all, this dam is surrounded by thick forestry, beautiful scenery and its home to hundreds of fruit bats.
For those of you who like a sprinkle of spirituality in your weekend getaway to Bhandardara, visit the Agasti Rishi Ashram and the Amruteshwar Temple. You would be interested to know that the Agasti Rishi Ashram situated on the banks of Pravara River is dedicated to Rishi Agasti, who played a vital role in the epic Ramayana. Rishi Agasti gave Lord Rama a miraculous arrow which was the very arrow that Lord Rama used to kill Ravana. Amruteshwar Temple is another beautiful religious hub for pilgrims. This 1100 AD temple is known for its unique idol of Lord Shiva and its intricately carved black stone architecture. To reach this thousand-year-old temple, you need to catch a boat from Arthur Lake and embark on a 50-minute breathtaking boat-ride.
Anandvan Resort In Bhandardara
Well now that I have mentioned a list of amazing sightseeing spots in Bhandardara, let me come to the best part of your trip- Anandvan Resort In Bhandardara. Shun your pre-conceived notions about resorts being over-crowded, not being nature friendly and read this carefully. Because at Curly Tales, we've found a resort for you that offers you privacy. Yes! You heard that right.
What's In It?
Anandvan Resort located at a secluded spot amidst the serenity of the Sahyadri Hills, overlooking the Lake Arthur Hill, this place is perfect for those of you seeking utter privacy. You can actually experience a total rustic stay at the 12 independent cottage suites and villas which have their own private gardens nestled in it. Be it a stay with your gang, bae, family or even a corporate gathering, you will easily find a room suitable for your need here. The rooms are spacious and offer breathtaking views of the panoramic hills of Bhandardara.
Also Read: 10 Best Resorts In India To Plan A Destination Wedding
Rooms
This gorgeous resort offers you picture-perfect options for your stay. Have a look below-
One Bedroom Garden Cottage- This quaint cottage consists of a single bedroom, attached living room, en-suite bathroom & its own private garden. We suggest this place is perfect for couples looking to add that extra spark of romance in their marriage, honeymooners or a small cute family.
Tree Top Nest- If you've ever wondered what is it like to actually stay in a treehouse, then here's where your wishes come true. Anandvan Resort In Bhandardara actually has a treehouse of its own. This Tree Top Nest cottage is suspended at 45 feet and they have their own bedroom, private balcony overlooking treetops. Now, this is what we call a perfect rustic staycation.
Two Bedroom Garden Villa- The next time you plan to visit for a weekend getaway with your gang, you can be assured to spend great quality time here at this luxury garden villa. With two bedrooms, a living room, two en-suite bathrooms and your own private garden, let the chill scenes begin.
Three Bedroom Garden Villa- Huge family gathering? College Reunion? Corporate Getaway? Bring it on! This three-bedroom garden villa is perfect for all this and more. It has a living room, three-bath units, large windows, natural gardens and breathtaking scenery surrounding it.
What's More?
Apart from experiencing rustic stay and enjoying intimate moments with your loved ones in the company of a picturesque setting and utter seclusion, there are other amazing facilities that you can enjoy here at this resort. Relax your senses and pamper yourself at the Ayurveda spa here. If your gang is in for some adventure, visit the indoor sports club, go trekking, boating, fishing, bicycling or even bullock carting. Immerse yourself in the culture of this place by attending the folk dance shows organized by the resort, having a gala time at the bonfire, picnicking  or just watching the twinkling stars at midnight.
Bhandardara has a lot to offer you as an unexplored hill station in Maharashtra. Anandvan Resort In Bhandardara will give you so many opportunities to spend quality time with your loved ones. All you got to do, is make your daydreaming travel plans a reality. So are you ready to do this?
Deets
Address: Ghatghar Road, Bhandardara, Shendi, Maharashtra 414601
Cost: Starting from ₹ 3500 for One Bedroom Garden Cottage ( prices will differ as per the cottages and villas)
Contact: 09920311221
Check the website here
Also Read: 11 Amazing Hotels and Resorts To Stay In Khandala