If you are looking for a quick getaway from Mumbai, then Khandala is a great option. Here are some of the best places to stay in Khandala, trust me they won't disappoint you. A luxurious weekend is all we need to get away from the city's chaos!
1. SaffronStays Constellations
SaffronStays Constellations is located at approximately 21 km from Kune WaterFalls which is a famous tourist spot in Khandala. This property is loaded with amenities like swimming pool and the villa is surrounded by lush greenery, tall mountains and during sunsets, it looks absolutely beautiful. And some of the tourist spots like Bushi Dam, Lion's Point and Amby Valley are close by. This place is away from the Hustle and bustle of Mumbai and the perfect destination for a weekend getaway.
Deets
Address: Bungalow no 2, Satguru Swarg Bungalow Complex Taluka Maval, Khandala, Maharashtra 410401
Contact:  022 6811 0811
Cost: Starts At  ₹ 18,000 (Prices are subjected to change)
Book your stay here 
Also Read: Top 10 Hotels In Mahabaleshwar That Are Perfect For Your Weekend Stay
2. Villa Valencia
Head to Villa Valencia, situated in the beautiful and rich greenery of Khandala, to get your share of serenity. A 4 bhk bungalow, it can hold 8 people and is fully equipped with AC and a stocked kitchen. The villa's enviable location affords you proximity to Khandala's highlights. The prime tourist spots like Bushi Dam, Pawna Lake, Tungarli Lake, Valavan Lake, Tigers Leap, Rajmachi Point, Karla Caves, Lohagad Fort are all nearby. So you can discover the gems of Khandala any time you wish. 
Deets
Address: Summer Hill Resorts, Near Kune Village, Khandala – 410403
Cost: Starts At ₹ 17500 (Prices are subjected to change)
Contact: +91 76 76 879 870
Book your stay here.
3. Casa Dios
Casa Dios are exotic luxury pool villas where you can find your zen and rejuvenate yourself amidst serene nature. All villas are 10,000 sq ft. with spacious rooms nestled away in the lap of luxury and can fit up to 12 people! Each bedroom here comes with a separate entrance giving you the privacy of a resort room along with a view of the pool. So if you are looking for a spacious stay, then this one should be on your list.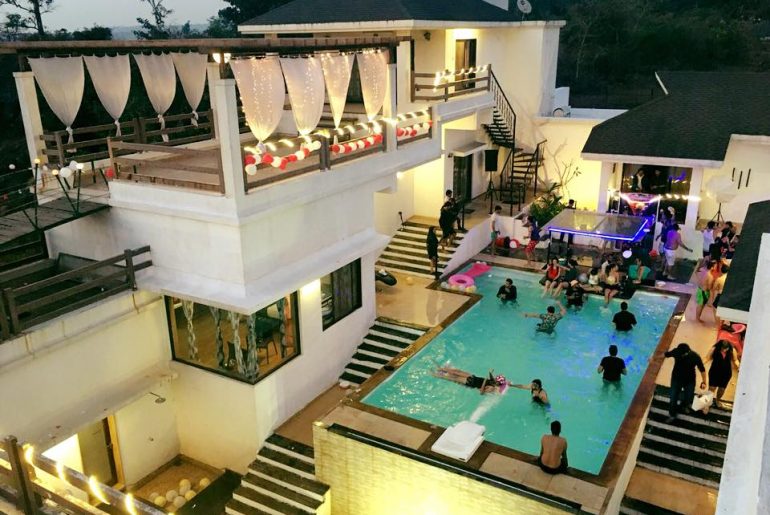 Deets:
Address: Plot 18, Hill Stone Park, Khandala, Kunegaon, Khandala, Maharashtra 410401
Contact: 099306 69619
Cost: ₹36,000 per night Friday, Sunday & Holidays, ₹45,000 per night​ Saturday
Book your stay here
Also read: Experience Jungle Camping For Your Next Weekend Getaway In Lonavala
4. Amanzi Boutique Resort, Pavna Lake
If you are up for a stay that is just an hour from Khandala, then this might be the correct choice. We present to you Amanzi Boutique Resort near Pavna Lake. This boutique resort has 8 luxurious villas with four-poster beds and large verandas with views of the Sahyadri ranges and the dam. There are also 3 individual water villas attached with a spacious living area, a courtyard lit with natural sunlight and here comes the best part- the infinity swimming pool. Your weekend just got a whole lot better!
Deets
Address: Amanzi Boutique Resort, 440 Tikona Peth, Pavana Dam, Gevhande Khadak, Maharashtra 410406
Contact:  9769827222 
Cost: ₹ 18,601 per night (Prices are subjected to change)
5. Deltin Villa
Deltin Villa in Khandala is the best possible stay where you can explore the town, stay luxuriously and have all the prime tourist spots just close by! Just 8 kilometers from the property is Bhushi Dam. During your time here, you can explore the surrounding tourist spots like Tiger Point which is just 14.5 kilometers away. Book it for your next weekend outing and have a wonderful time with friends and family.  Mountain views, the crisp air, and peace make your stay here one of the most memorable ones. Some of the advantages of this place are that they have Gated Premises, Private Swimming Pool, Garden and it is even Pet-Friendly
Deets
Address: Deltin Villa, Kune Village Road, Khandala 410401
Cost:₹ 6,500 (Excluding taxes) (Prices are subjected to change)
Book your stay here
6. Zara's Resort Khandala
Zara Resort is a preferred location for a stay in Khandala, it is loved by guests and visitors. It is nestled right in the lap of nature, the exterior of this place is covered with lush greenery and you can see mango trees right outside your window. The place turns even more beautiful in November and December as it is covered in fog! They have deluxe rooms, super deluxe, vintage room, Moghul Room and a penthouse that is a perfect fit for a large group of people. They also have a swimming pool, game zone, garden, parking and an in-house restaurant!
Perfect fir for a weekend stay?
Deets
Address: Zara's Resort Khandala, Near D. C. High School, Pune Mumbai Road, Khandala, Maharashtra 410301
Cost: Advance Booking Offer Starts At ₹ 3,060/ per night
Contact: +91 90 2999 9185
Book your stay here
7. Citrus Velvet Country Resort
This resort in Khandala is like the ones we see on a postcard. If you are looking for a place which will give you the absolute best view of Khandala? Then you have come to the right place! Citrus Velvet Resort is one of the finest places in Khandala, with the view of mountains, greenery on all sides, swimming pool inside the property and well-furnished rooms! Everything you need for a perfect weekend stay!
Deets
Address: Citrus Velvet Country Resort, S. No 44, 45/2, Plot 13A, 14, Vikas Valley, Khandala, Lonavla, Maharashtra 410301
Cost: 2 Bedroom Hall Apartment
Weekdays ₹ 8000*
Weekends ₹ 9000*
Contact: 02114 269 145
Book your stay here
8. Cloud 9 Hills Resort
This resort is not exactly in Khandala but it is not very far either, it is just a 30-minute drive from Lonavala. I have listed this one because it is super cool, literally, the resort is located on one of the elevated spots and it is mostly covered in mist and fog. The view from the top is just breath-taking! This resort has villa and cottage stays along with a pool, rooftop restaurant, rain dancing area, lawn and spa. Clouds lurking around the entire property is definitely a plus.
Deet
Address: Amby Valley Road, Jambulene, Mulshi, Lonavla, Maharashtra 412108
Cost: Cottage Stay Starts At ₹  4,500 per night (Tax Exclusive)
Contact: 098197 39444
Book your stay here
9. Mystica Resort
Mystica Resort has facilities like a pool, the rooms are super spacious, there is a play area for kids as well as adults. Make sure you take a room with a balcony the view, it is a pleasant landscape view. It is a comfortable, pleasant and peaceful stay in Khandala. A lot of guests have given it a good review! You should give it a try. And if you do, let us know.
https://www.youtube.com/watch?v=lMxsNqd3Fm8
Deets
Address: Survey No. 133/134, Near Nagpal Society, Old Khandala Road, Khandala, Lonavla, Maharashtra 410401
Contact: 088066 00009
You can book your stay via any booking website.
10. The Lagoona Resort
The Lagoona Resort is close to Lonavala is a lavish place to stay for a weekend. It is loaded with all the modern amenities you would need to make your stay better. Right from a swimming pool, spacious rooms in house restaurants, parking, game room and many others. It is not very far from Lonavala, super accessible and even close to the city!
Deets
Address: The Lagoona Resort S No. 55, Tungarli, Lonavala – 410 403. Pune Dist. Lonavala, India
Cost: Starts At ₹ 5,000 per night (Tax Exclusive)
Contact:
Book your stay here
11. Upper Deck Resort
Located between beautiful valleys and gigantic mountains, Upper Deck Resort is one of the places you will surely like. Here the swimming pool is in an open area, surrounded by nice green lawns and with the view of majestic mountains, the whole view is breathtaking! Their rooms also have a great view too! This is one stay you do not miss out on. You can choose to stay at their deluxe rooms and if you are a large group of people, they also have cottage stays.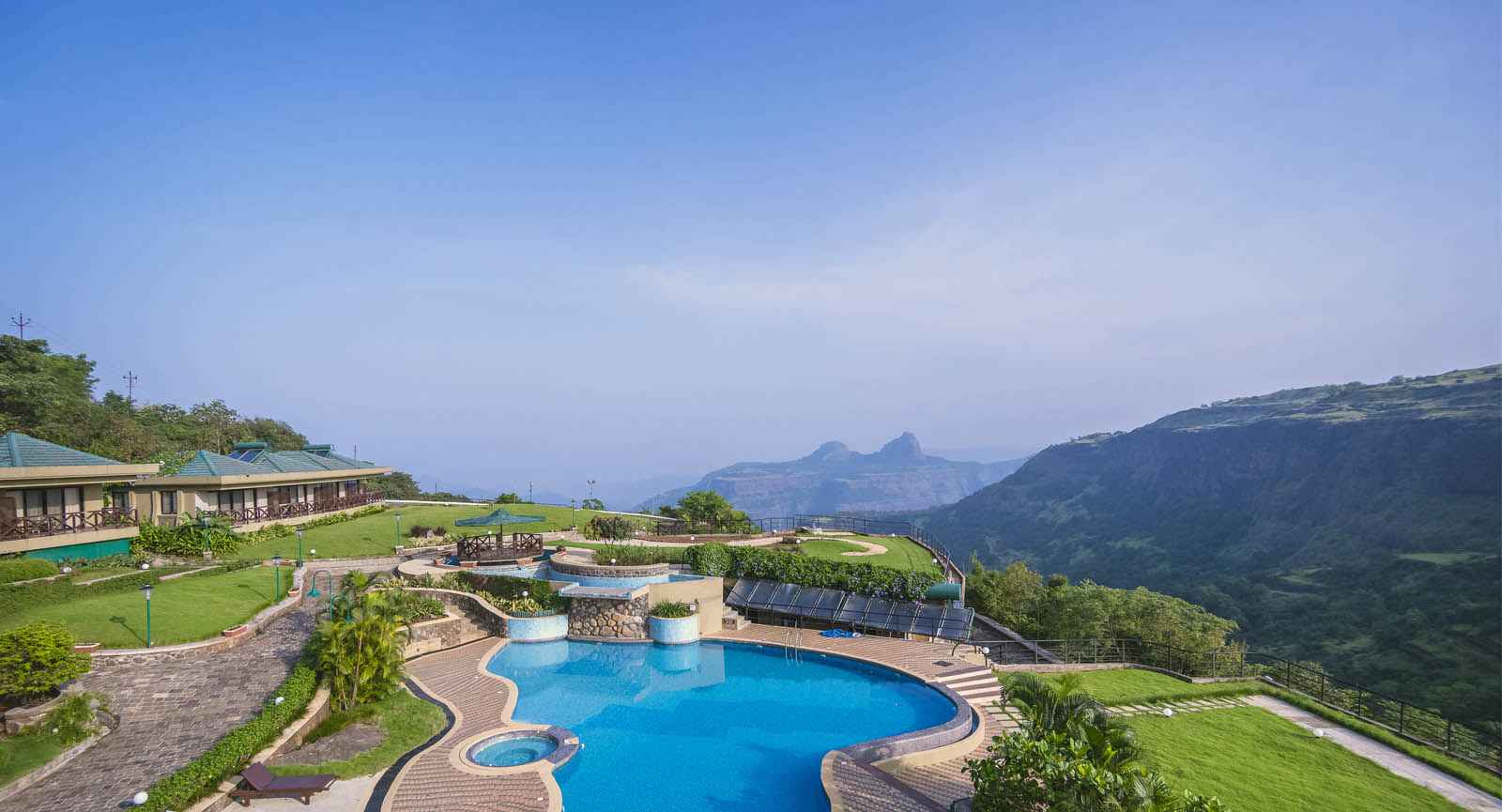 Deets
Address: 13/15, Pangloli Village, Thakurwadi, Off. Tungarli Lake, Lonavala – 410 401. Maharashtra, India.
Cost: Deluxe Room Starts At ₹ 4,149
Contact: 91 2114 202213 / 14
Book your stay here