A Guinness World record was achieved at Expo 2020. A line of traditional Swedish cinnamon buns showcased at the Swedish Pavilion at Expo 2020 has been declared by a judge from Guinness World Records to be the longest in the world. This achievement commemorated Cinnamon Bun Day, which was held on 4 October. The annual theme day celebrates Swedish baking traditions of the "Kanelbulle".
Also read: Expo 2020 Launches Special Passport As Souvenir For All Visitors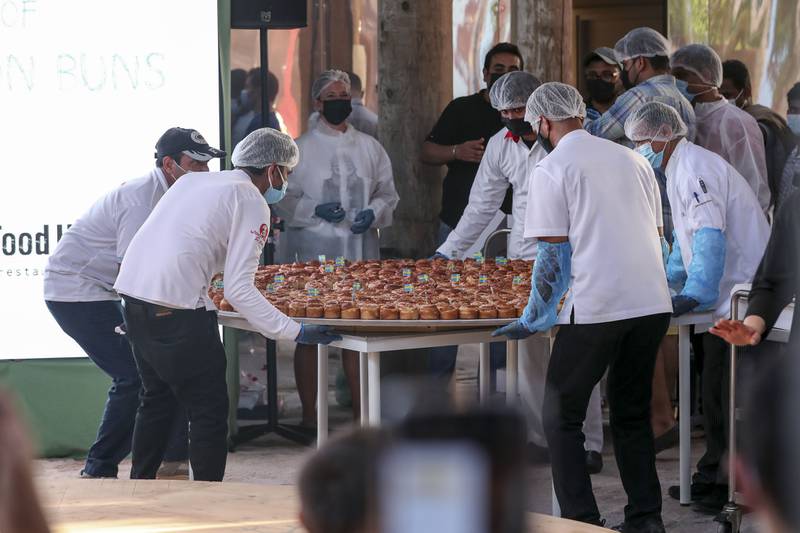 1500 Buns, 6kg Of Butter, 11 Kg Of Sugar & 36 Kg Of Flour Was Used
The scent of cinnamon filled the air at the Swedish Pavilion, as the world's "longest cinnamon bun train" made its way to the Expo 2020 Dubai. Chefs from UAE's famous Mister Baker brought the first batch of cinnamon buns, as onlookers cheered. The team worked tirelessly to create the line of 1500 traditional Swedish cinnamon buns.
The team at Mister Baker baked a whooping fifteen hundred sticky and delicious buns, using about six kg of butter, 11 kg of sugar and 36 kg of flour. All these were placed in a spiral pattern on a large circular table. No glue, or tape was used to stick the buns together. The entire train of cinnamon buns were made using 100% edible ingredients.
"To bake our way into the record books is a testament to the hard work, agility and dedication that you see every day in our 22 cake shops. We are honoured to have been a part of this Guinness World Record at the greatest show on earth Expo 2020," added Tushar Fotedar, director, Mister Baker.
Once certified as a record, the rolls were also shared with the hundreds of Expo-goers in and outside the Swedish pavilion who celebrated the record.
Also read: Expo 2020 Dubai: All The Covid Rules In Place For Visitors & Residents