Imagine irking the devotees of Lord Ganesha even before the celebrations of Ganesh Chaturthi get over! Well, a food blogger Chahat Anand has managed to do so by pouring hot milk over a Lord Ganesha idol made of chocolate at a restaurant
called, 'SwirllsCakeryAndCafe'. The food blogger Chahat Anand uploaded a video of herself celebrating Ganesh Mahotsav in an eco-friendly way in the restaurant but looks like her way of celebrating the festival has disgusted a lot of people. Her video went viral on Twitter for all the wrong reasons. People blamed the food blogger for hurting their religious sentiments by ridiculing Lord Ganesha and demanded her apology for the same.
Food Blogger Does Ganesha Idol Immersion In A Restaurant
Food Blogger Chahat Anand recently uploaded a video of her celebrating Ganesh Mahotsav with an eco-friendly edible Ganesha idol in a restaurant and wrote, "This year go with eco-friendly Ganpati. Help poor and kids too by distributing food to them. disclaimer- here we can worship Ganpati ji and post celebration, immersion can be done with milk. It will result in chocolate milk that can be distributed as prasadam. Location- @swirllscakeryandcafe." The video opens up with the food blogger sitting in the restaurant with a thali that has a chocolate Ganesha idol. She then starts pouring hot milk on the idol to melt it. This was a part of the food blogger observing eco-friendly Ganesh Mahotsav.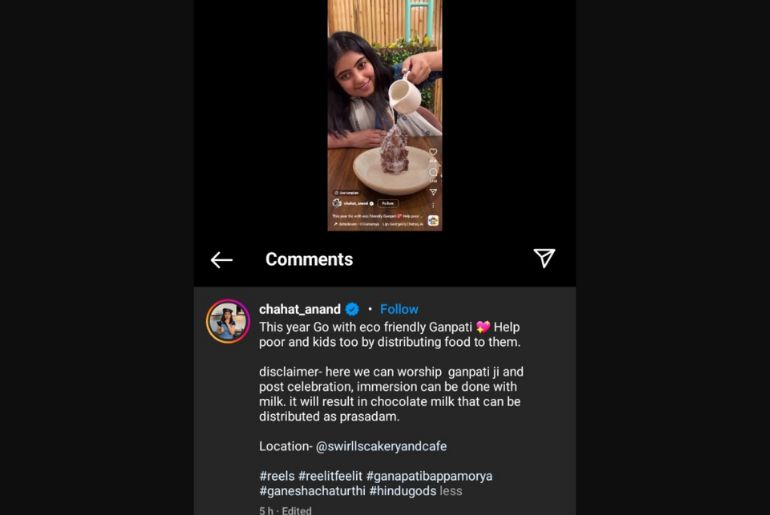 Netizens Ready To File FIR Against The Food Blogger
Food blogger Chahat Anand's idea of observing eco-friendly Ganesh Mahotsav didn't go well with Twitteratis. Her video of pouring hot milk into a chocolate Ganesha idol has hurt a lot of people and they expressed outrage by tagging her on numerous posts on Twitter. People are also demanding an apology from the food blogger. One user wrote, "She is looking to increase her business by doing so. Do not give that limelight. Quietly do the work and file FIR under 295A IPC if you are keen." Another user blamed the restaurant for making the Ganesha idol with chocolate and wrote, "This is made by Swirlls cakery and Cafe, completely pathetic. No respect for our sentiments and culture (Eco-friendly can be done by making idols of sand). Please take action @DelhiPolice."
She is looking to increase her business by doing so. Do not give that limelight. Quietly do the work and file FIR under 295A IPC if you are keen.

— Sandeep Reddy (@reddygaru89_1) August 30, 2022
Also read: Food Blogger Makes Cereal With Meat & The Internet Is Disgusted