Gujaratis have an eternal love relationship with food. And, anyone who has tasted authentic Gujarat food will agree to it. In the latest episode of Tere Gully Mein, Curly Tales host, Kamiya Jani met the brilliant Pratik Gandhi. Pratik Gandhi is renowned for his strong character portrayal in the film, Scam 1993. And, we all remember how he ruled over the Internet with his mind-blowing performance. Pratik Gandhi and Kamiya Jani, in this current episode, were in Juhu to taste a delectable spread of Gujarati snacks. TBH, just watching Pratik and Kamiya speak of dishes like Jalebi and Fafda will leave you craving for some.
If Not Alcohol, What Pleases The Gujaratis?
In the episode of Tere Gully Mein, Kamiya Jani tells how Gujarat food is famous for the fusion it brings to dishes. To this, Pratik Gandhi tells Kamiya, since Gujarat is a dry state, people are high on food. Well, all the Gujaratis out there, will totally agree with this EPIC saying by Pratik Gandhi. Speaking of the festive season, Pratik said, in Surat, it is easy to feel the festive vibes. Additionally, Pratik Gandhi also spoke of his favourite food and where he enjoys eating it.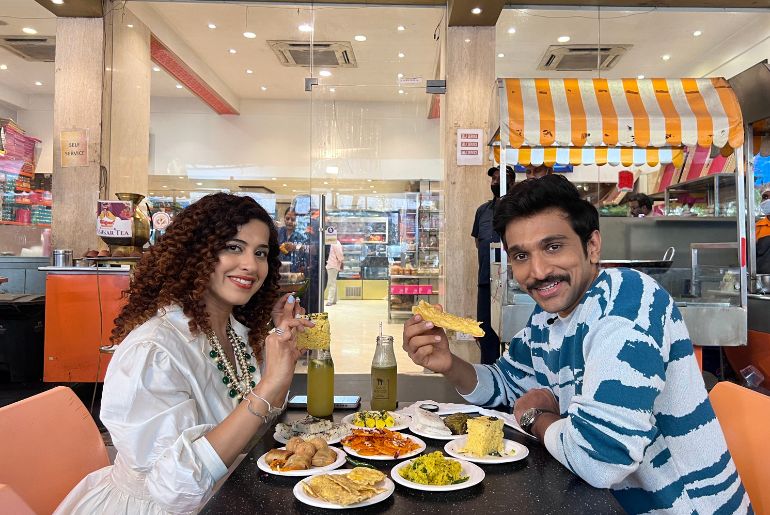 Also Read: These Are The 3 Things Pratik Gandhi Always Does Whenever Visiting New Places
Home Is Where Pratik Gandhi Finds The Best Gujarat Cuisine!
While we were expecting Pratik Gandhi to name a great restaurant for serving authentic Gujarat food. To our surprise, Pratik said that he enjoys the perfect Gujarati cuisine at home. Kamiya and Pratik took bites of the Jalebi and Fafda, a mix of sweet and salt preparation as they began their conversation. Eventually, Pratik took over to tell more about Gujarati food and how it differs from region to region. So folks, this episode of Tere Gully Mein breaks many myths about Gujarat food. And, it is one of the reasons why you must watch it.
And, don't forget to tell us which are the Gujju snacks that you would love to relish this Navratri!