To celebrate Navratri in its full pomp and glory, we had to get a pakka Gujarati onboard. On this episode of Curly Tales, our Chief Editor, Kamiya Jani, enjoyed a quintessential Gujarati meal with none other than Scam 1992 star Pratik Gandhi. The duo relished a neverending Gujarati platter of Jalebi, Fafda, Dhokla, Patra and more while engaging in delicious conversations.
So, what are Pratik Gandhi's food and travel preferences? Well, we have all the details for you.
Pratik Gandhi Does 3 Things Every Time He Visits New Destinations
Pratik Gandhi revealed to Curly Tales that whenever he visits a new destination, he always does 3 things —  eats the local food, visits temples and explores gyms. While local food cooked in a destination, certainly gives tourists, a better understanding of the culture. We, wonder, why Pratik Gandhi likes exploring gyms! Now, that's wacky! Perhaps to digest the heavy meals, he has pampered himself with.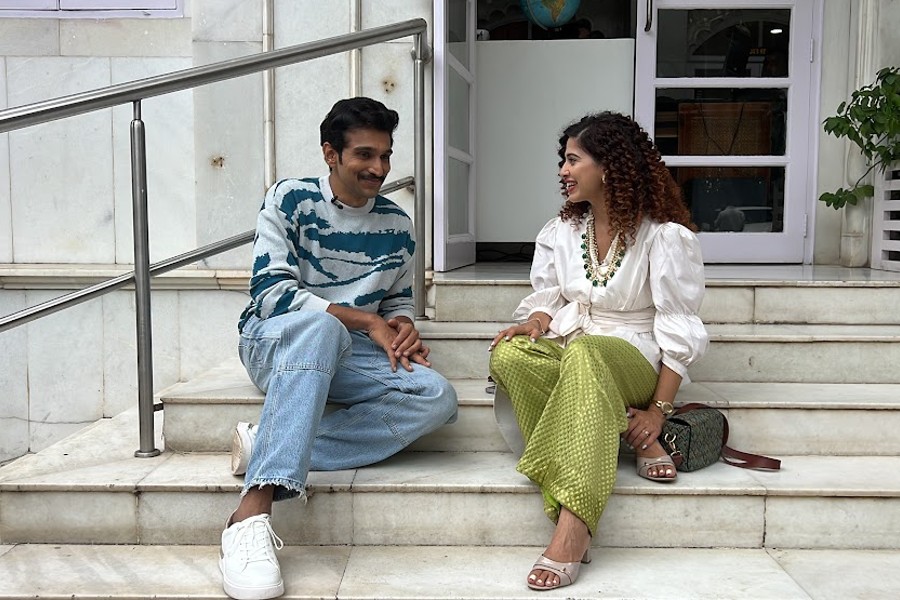 Also Read:  Pratik Gandhi aka #HARSHADMEHTA On His Life Before Scam 1992
Over the course of the interview, Kamiya Jani and Pratik Gandhi visited ISKCON Hare Ram Hare Krishna Temple. in Juhu. As they sought blessings from Lord Krishna, Pratik mentioned that he loves visiting temples. It's one place that always helps him feel calm.
Also Read: Dulquer Salmaan Went On An All Boys Trip 8 Years After Marriage & Here's What Happened
He Loves His Mother's Surati Dish 'Bhagat Muthiya'
On being asked about his go-to place for Gujarati food. Pat comes his reply — home. With a wide smile on his face, Pratik mentioned his mother cooks the best Surati food. Since he is from Surat, Gujarat, he loves Surati cuisine. The Scam 1992 star absolutely loves his mother's Bhagat Muthiya.
Also Read: 5 Lesser Known Gujarati Dishes
He explains the origins of this dish. Originally a non-vegetarian dish, vegetarians in Surat added dal vadas instead of meatballs in the gravy. Voila! That's Bhagat Muthiya. Bhagat is slang for vegetarians in Surat. While Muthiya means vadas. Now, that's an innovative dish we'd certainly want to sink our teeth into. 
Well, we've spilt some of the secrets of Pratik Gandhi's food and travel preferences. But if you're curious to know more about the life of this talented actor, then just watch the Curly Tales Sunday Brunch video below.
Pratik Gandhi brought in the flavour of Navratri to this Sunday Brunch episode. He shared his fondest garba memories and also touched our hearts with his spiritual beliefs.
We hope you enjoyed this Sunday Brunch episode, as much as we did — filming and writing about it. Let us know in the comments below, what you thought about it.