There is always a sense of comfort and homeliness that we attach to food. And what's better than authentic Gujarati food to take those blues away!? Here's your very own guide to delicious Gujarati cuisine in Mumbai!
1. Swati Snacks, Tardeo
You have to begin your Gujarati food trail at Swati Snacks! A unique blend of tradition and modernity, Swati Snacks creates its dishes with utmost precision and care. They are so popular that you might have to battle a long queue often just to get in!  Apart from their spicy and tangy chaats, they are best known for Panki Chatni (Rs 195), savoury rice pancakes steamed in banana leaves. Also, try their delectable Fada Ni Khichdi (Rs 255), it will transport you right back home!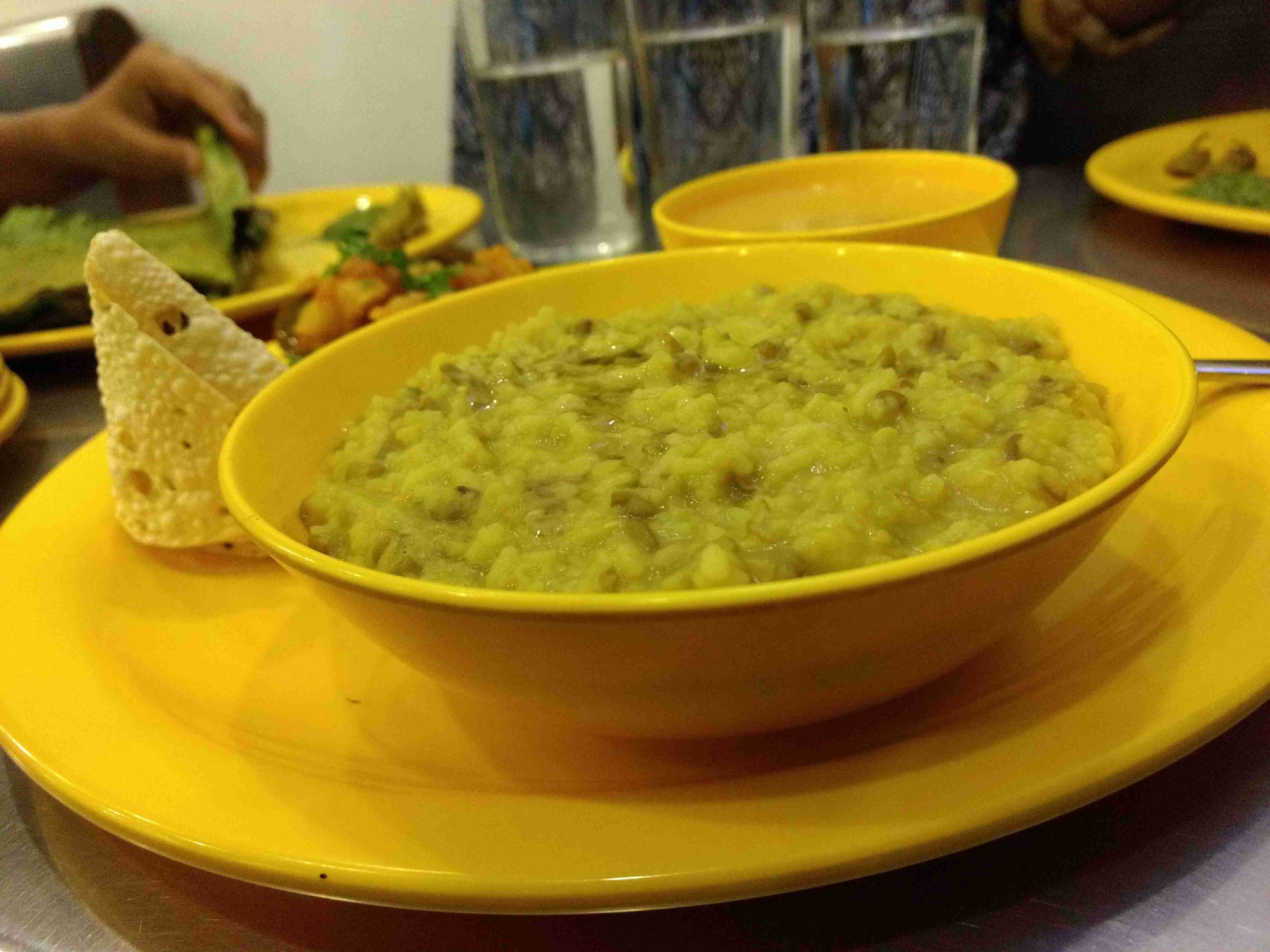 Address: Swati Snacks, Karai Estate, 248, Tardeo Rd, Opp Bhatia Hospital, Tardeo, Mumbai, Maharashtra 400007
Contact: 090298 91205
2. Chetana Restaurant, Fort

Love gorging on all-in-one thaalis? Chetana has you covered! Churning out brilliant Gujarati cuisine, they are best known for their loaded thalis. It is the best of all worlds! Indulge in Undhiu( Rs 310) made with seventeen different vegetables! Also try the Kadhi pakora, Gujarati style! ( Rs 190)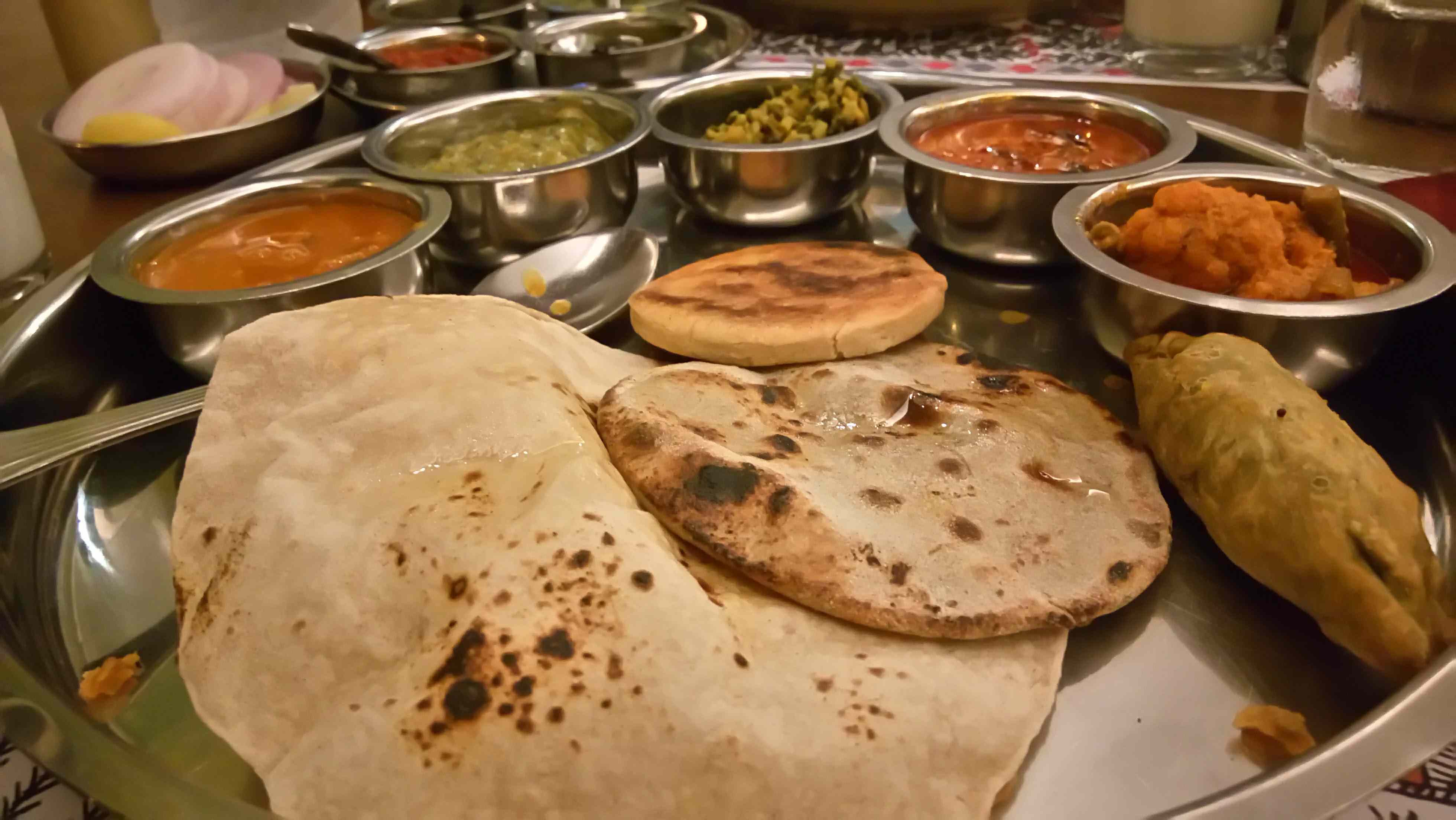 Address: Chetana, 34, K Dubash Marg, Kala Ghoda, Fort, Mumbai, Maharashtra 400023
Contact:022 2284 4968
3. Pancham Pooriwala, Fort

Another brilliant outlet whipping up crazy good North Indian dishes including Gujarati food at affordable prices. They are famous for Masala Poori (Rs 12 per piece), Aam Ras (Rs 65) and the very filling Pancham thaali (Rs 180). Again, if you don't want to be stuck in long queues, be here early!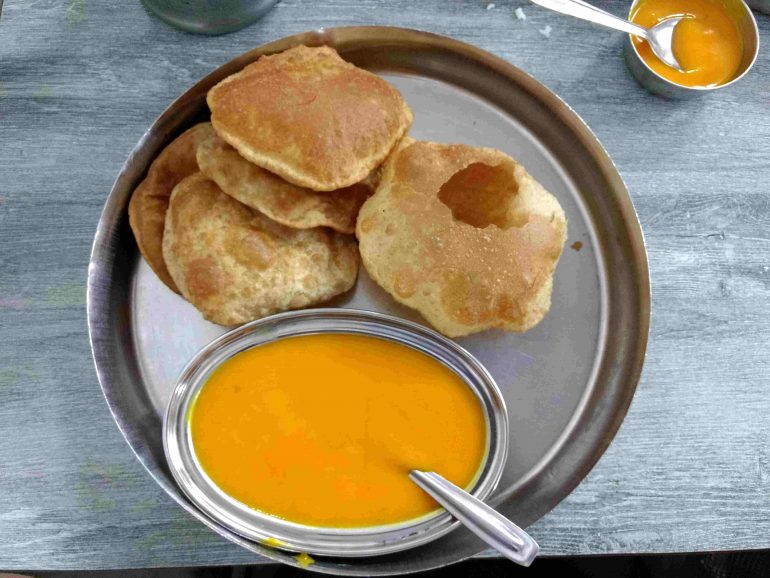 Address: Pancham Pooriwala, 8, 10, Perin Nariman St, Borabazar Precinct, Ballard Estate, Fort, Mumbai, Maharashtra 400001
Contact: 090041 88052
4. Soam, Chowpatty

Another Gujarati haven to explore! Indulge in their variety of Fada Ni Khichdi available in flavours like Masala Khichdi (Rs 250), Palak Khichdi (Rs 270) and Vaghareli Khichdi (Rs 270).

Address: Soam, Ground Floor, Sadguru Sadan, Opposite Babulnath Temple, Chowpatty, Mumbai
Contact: 022 23698089
5. Shree Thaker Bhojanalay, Kalbadevi

Lip-smacking Gujarati food here will leave you wanting for more! Their thaalis (Rs 600) are a must which includes an amalgamation of special Gujarati dishes like Kadhi and amazing Gulab Jamuns along with Undhiyu which is very popular here. Must try people!
Address: Shree Thaker Bhojanalay, 31, Dadisheth Agyari Lane, Off Kalbadevi Road, Kalbadevi, Mumbai
Contact: 022 22011232
6. Manuhaar – Sahara Star, Vile Parle
If you are in the mood to be fancy while you feast on a grand Gujarati meal then you don't need to look further than Manuhaar. With welcome drinks of Chaas and Panna, you'll be swept away by the hospitality at the restaurant. Every item in their thali is cooked to perfection and tastes divine.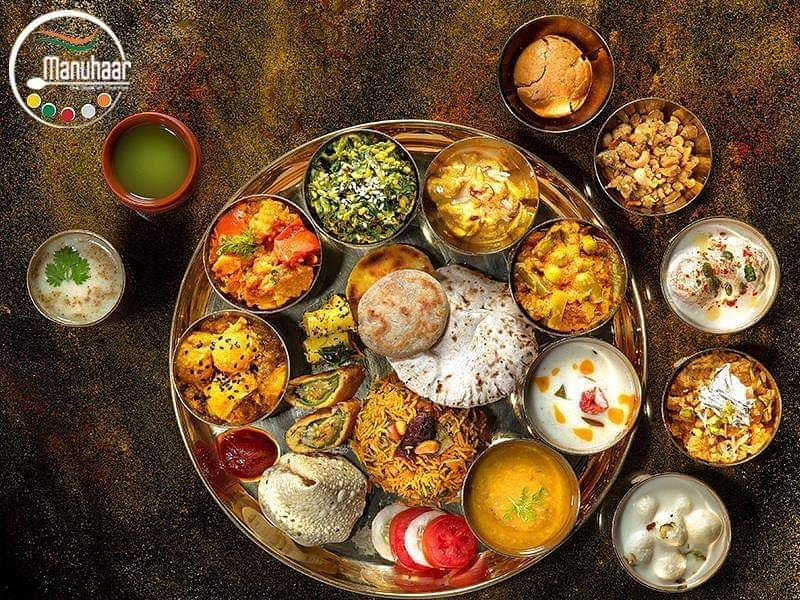 Address: Manuhaar, Hotel Sahara Star, Opposite Domestic Airport, Vile Parle East, Mumbai
Contact: 022 39807444
7. Rajdhani, Multiple Outlets
We instantly associate Gujarati cuisine with a plate piled high with every possible kind of dish. And Rajdhani doesn't disappoint. When all else fails, this is where you go to.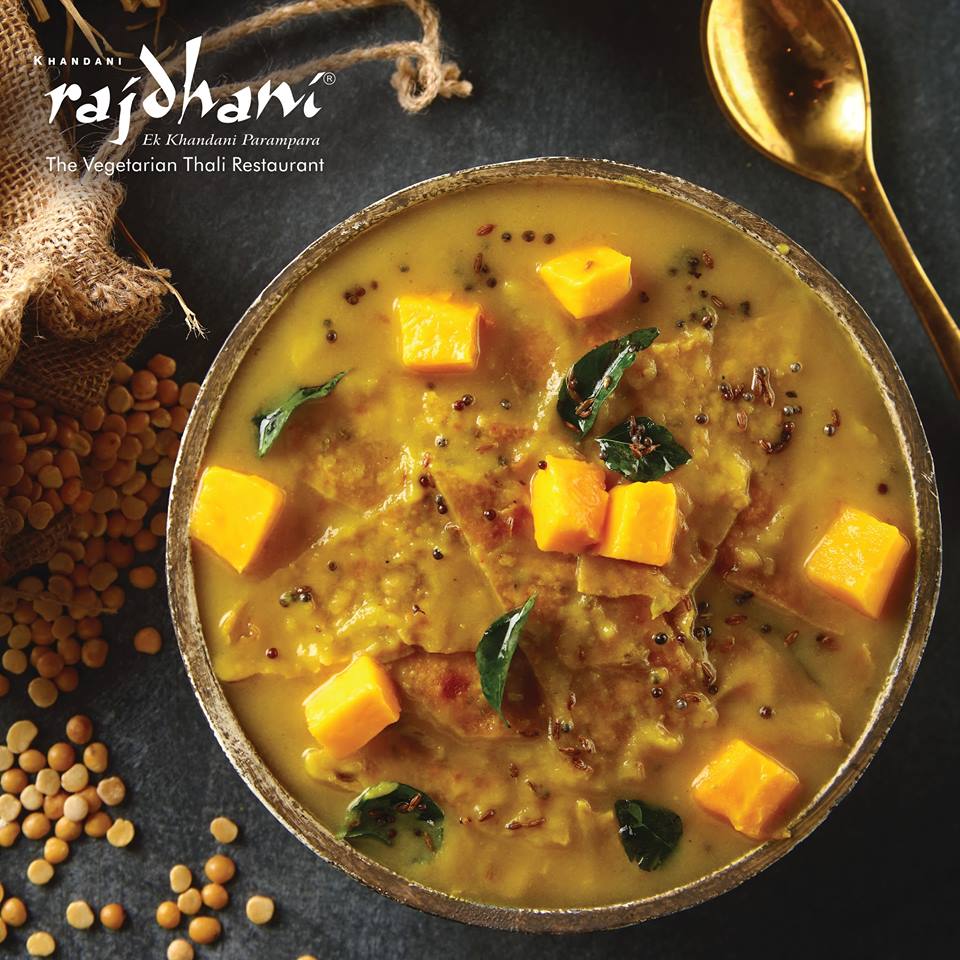 Address: Multiple outlets
8. Ten One, Juhu & Borivali
Whoever said that you have to be non-vegetarian to enjoy food clearly didn't know what he/she was talking about. At Ten One, you'll be proud to be a vegetarian. With a variety of dishes to choose from that are high on the health quotient, you most definitely feel guilty about eating out.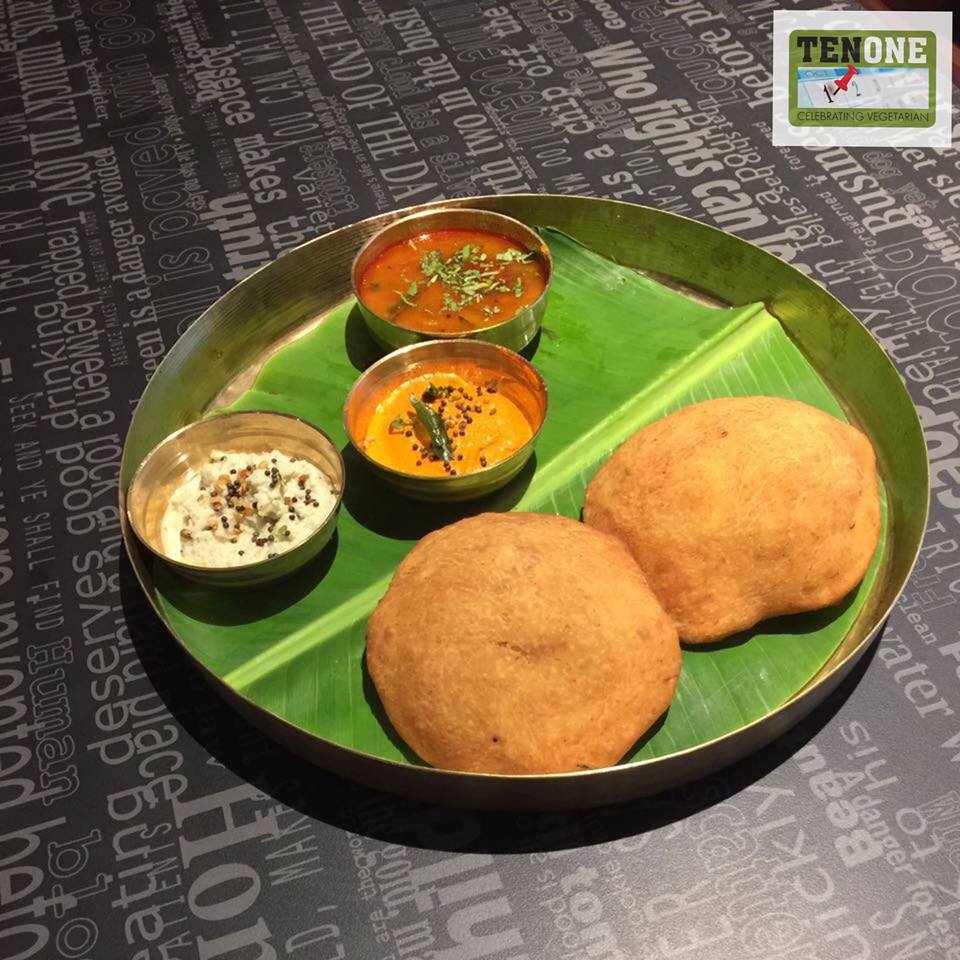 Address: Ten One has 2 outlets
Juhu: 883/1, Juhu Tara Road, Juhu, Mumbai
Borivali: Shop 9/10, AHCL Homes, New Link Road, Opposite Shimpoli Telephone Exchange Airtel, Borivali West, Mumbai
9. Masala Mission, Vile Parle
A mixture of modern Indian cuisine and regional food from the state of Gujarat, there's something for everyone at Masala Mission. We suggest going for their chaats which are to die for.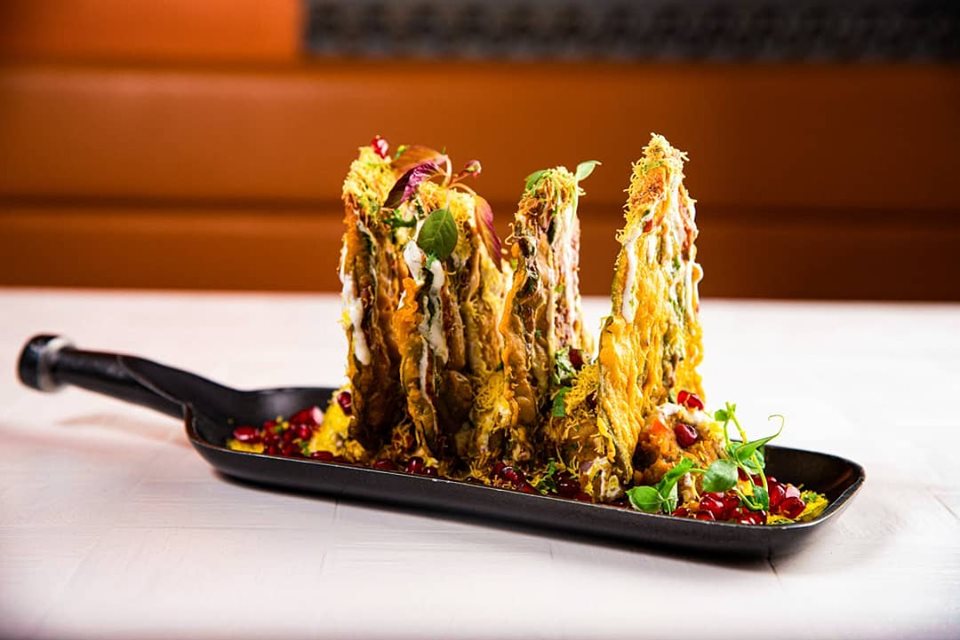 Address: Masala Mission, Shop 15-20, Gokul Arcade, Subhash Road, Beside Garware, Vile Parle East, Mumbai
Contact: 022 49723908
10. Thepla House By Tejal's Kitchen, Chandivali
Missing your mom's cooking? There's nothing a plateful of thepla can't fix. Nostalgic home-cooked food is what Thepla House is all about. So, whenever you are in the mood for food that reminds you of home, you know where to order from.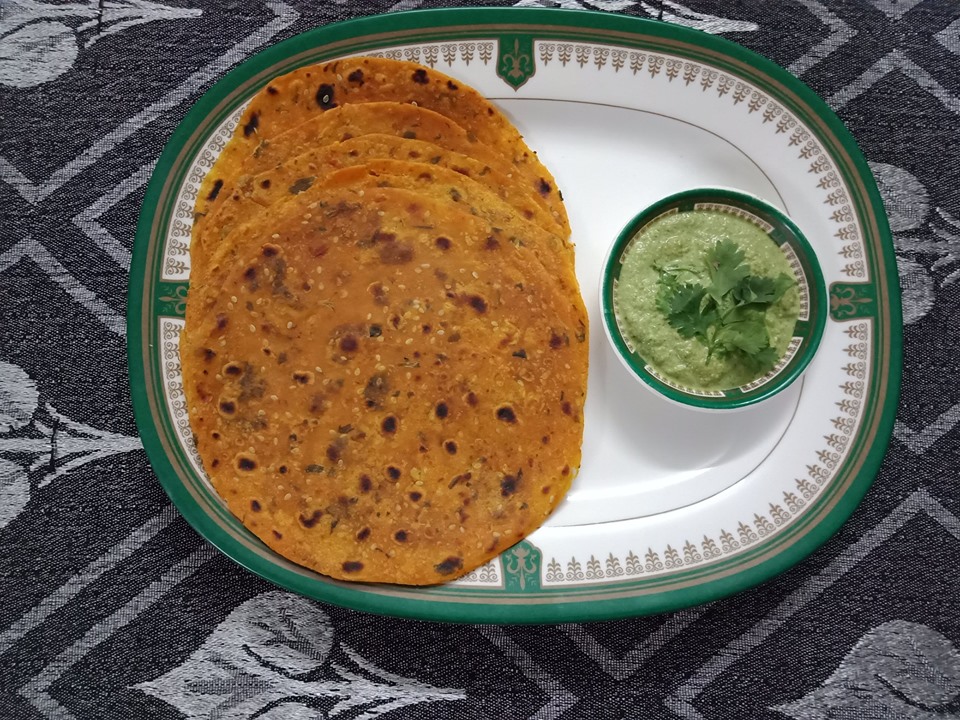 Address: Delivery in and around Chandivali
Contact: 022 22011232
11. The Culture House, Girgaum
Breaking away from tradition, The Culture House brings a lot of twists to Gujarati cuisine. The most interesting dish on the menu has to be the Bajra Soup which is the perfect alternative for tomato soup when you are feeling down and dry.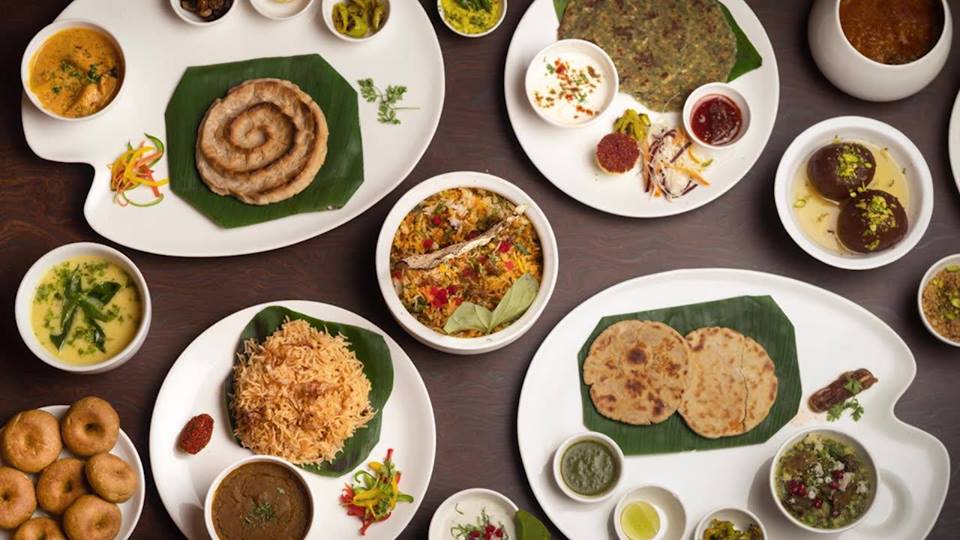 Address: The Culture House, First Floor, Soni Building, Opposite Bharati Vidya Bhavan, Girgaum, Mumbai
Contact: 022 23614466
12. Kansar Kathiyawadi Thali Restaurant, Mira Road
As the name suggests, you go to Kansar Kathiyawadi Thali when you are in the mood to binge on a lot of food. With a regal setting all around, they serve the thalis the old-school way on steel plates with lots of bowls. They even have the sweet Gujarati dal.
Address: Kansar Kathiyawadi Thali, Hotel Express Inn, Near Varsave Bridge, Thane-Ghodbunder Road, Post Mira, Mira Road, Mumbai
Contact: +91 9821860060
13. Rabdi Wala, Borivali
You would think that a sweet shop would only make good sweets but Rabdi Wala will prove you wrong. Their Undhiyo is served with sinfully ghee-laden rotis and is the meal of your dreams come true.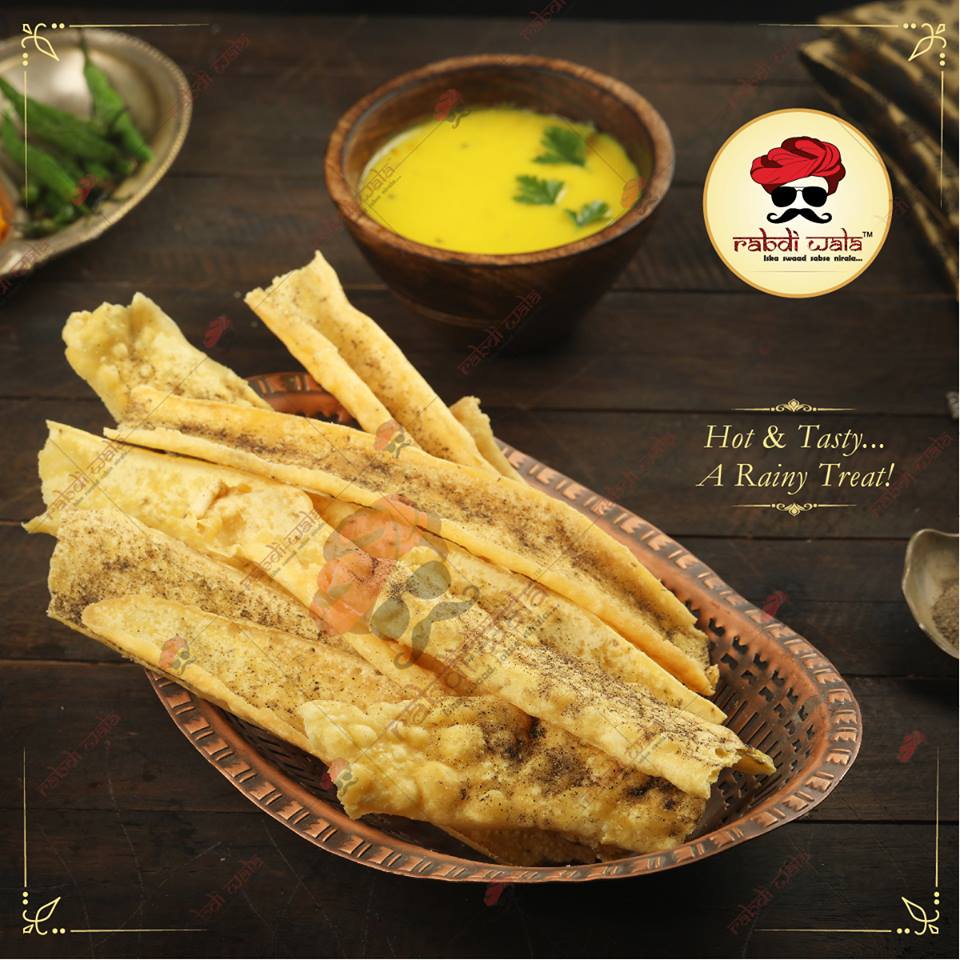 Address: Rabdi Wala, Shop 9, 10 & 11, Mangal Arambh, RM Bhattad Marg, Opposite Kora Kendra Garden, Borivali West, Mumbai
Contact: +91 9967651113
14. Tuskers – Sofitel, Bandra Kurla Complex
Another one of our favourites is Tuskers at Sofitel which is a pure vegetarian restaurant which specialises in Gujarati cuisine. With an exhaustively long menu, you'll have a lot to choose from but it's advisable to have a little of everything.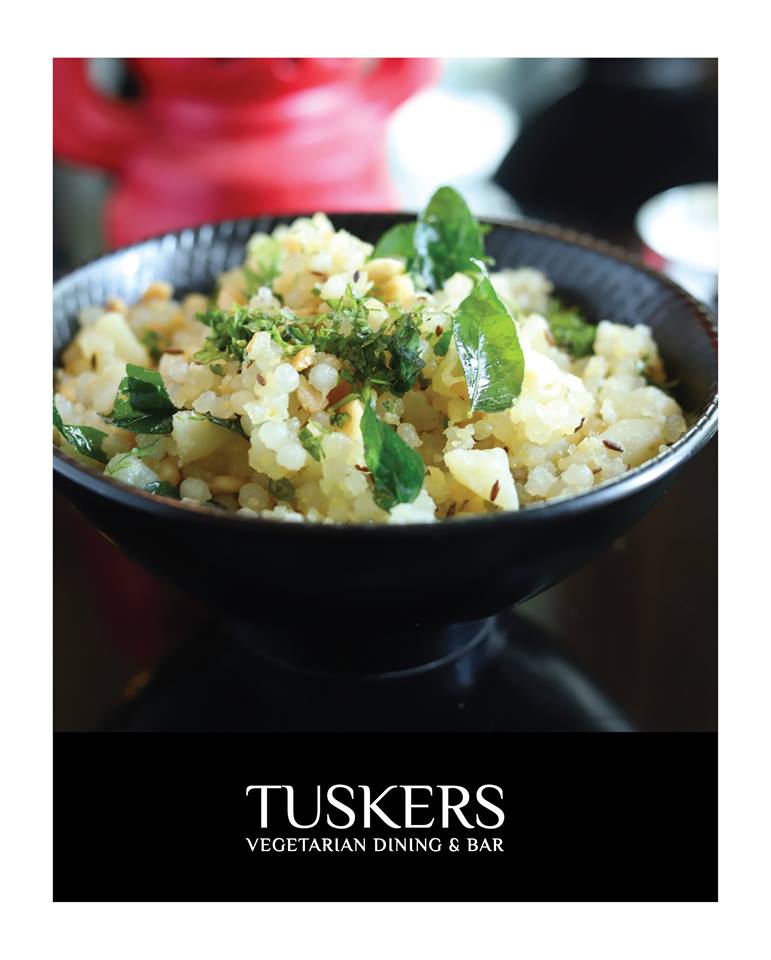 Address: Tuskers, Sofitel Hotel, C 57, Bandra Kurla Complex, Mumbai
Contact: +91 9167391130
15. Kansar Pure Veg Thali, Borivali
People seem to really love Kansar and their thalis seem to be the talk of the town. With so much food on your plate, your only job is to sit and eat your way through the vast spread and burp in peace once you are done. That is a sign of a good meal.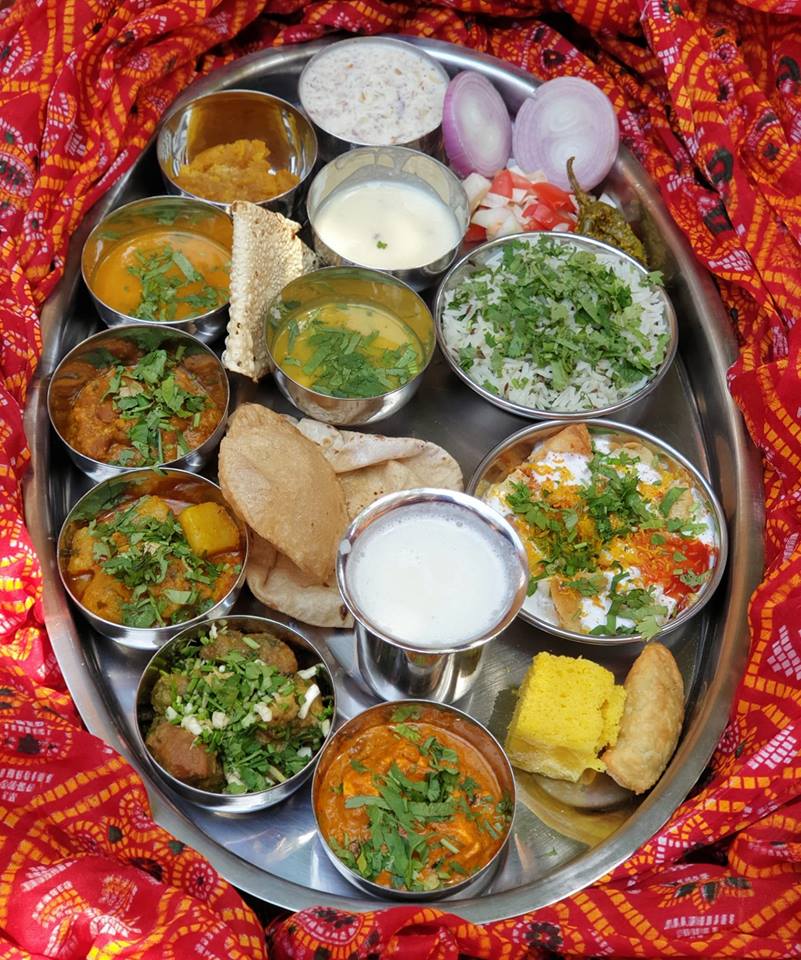 Address: Kansar Pure Veg Thali, Ground Floor, Disha Apartment, Near Joggers Park, Chikuwadi, Borivali West, Mumbai
Contact: +91 9099942222
16. Rajwada Thal, Bandra Kurla Complex
If you have been on the lookout for the best Gujarati food in Mumbai then you'll find yourself tracing your steps to Rajwada Thal in BKC. Their thalis are huge and it's no mean feat to finish one by yourself. But if you do manage to do it then you won't regret it because it is delicious.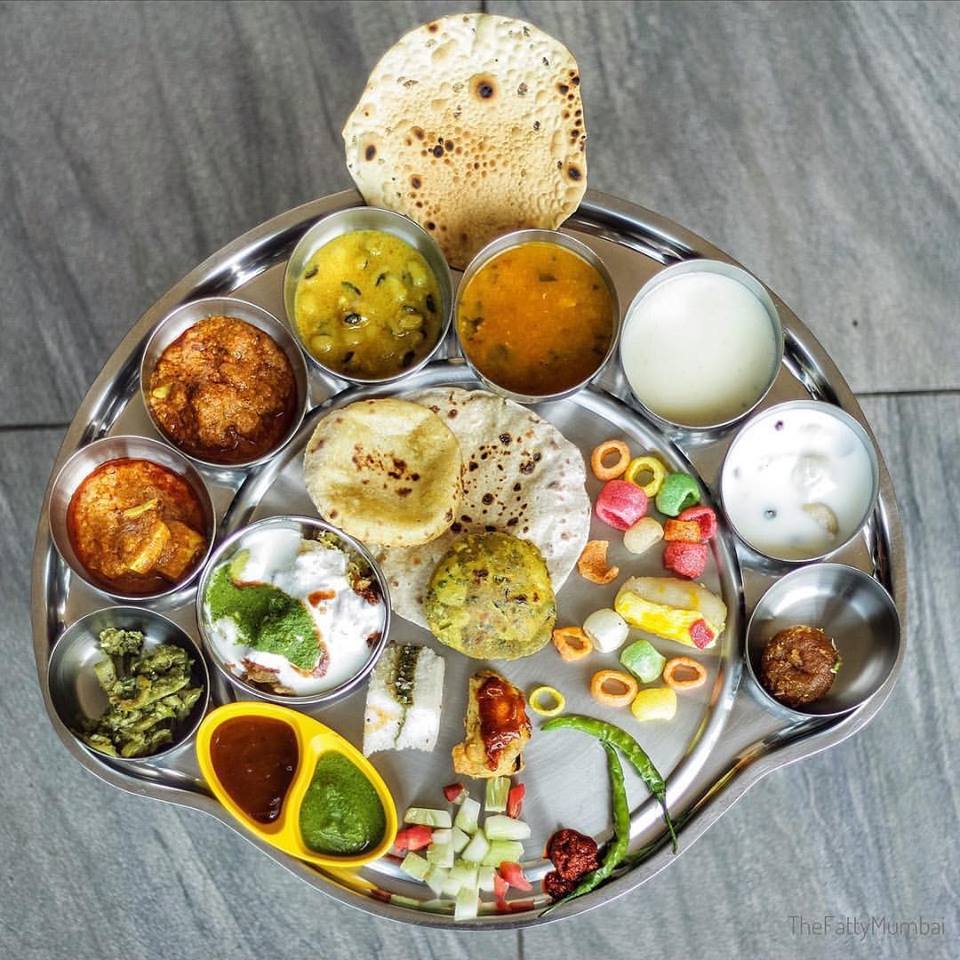 Address: Rajwada Thal, Plot C-5, Block GN, Urban Plaza, Near Asian Heart Hospital, Bandra Kurla Complex, Mumbai
Contact: +91 8451002100
17. Kutchhi Deli, Ghatkopar
A hub for the Gujarati community in Ghatkopar, Kutchhi Deli serves the best of Kutchi cuisine. Expect yourself to be bowled over by dishes like Bhakri with Alu Nu Shaak. You will be transported to the Rann of Kutch when you taste these delicacies.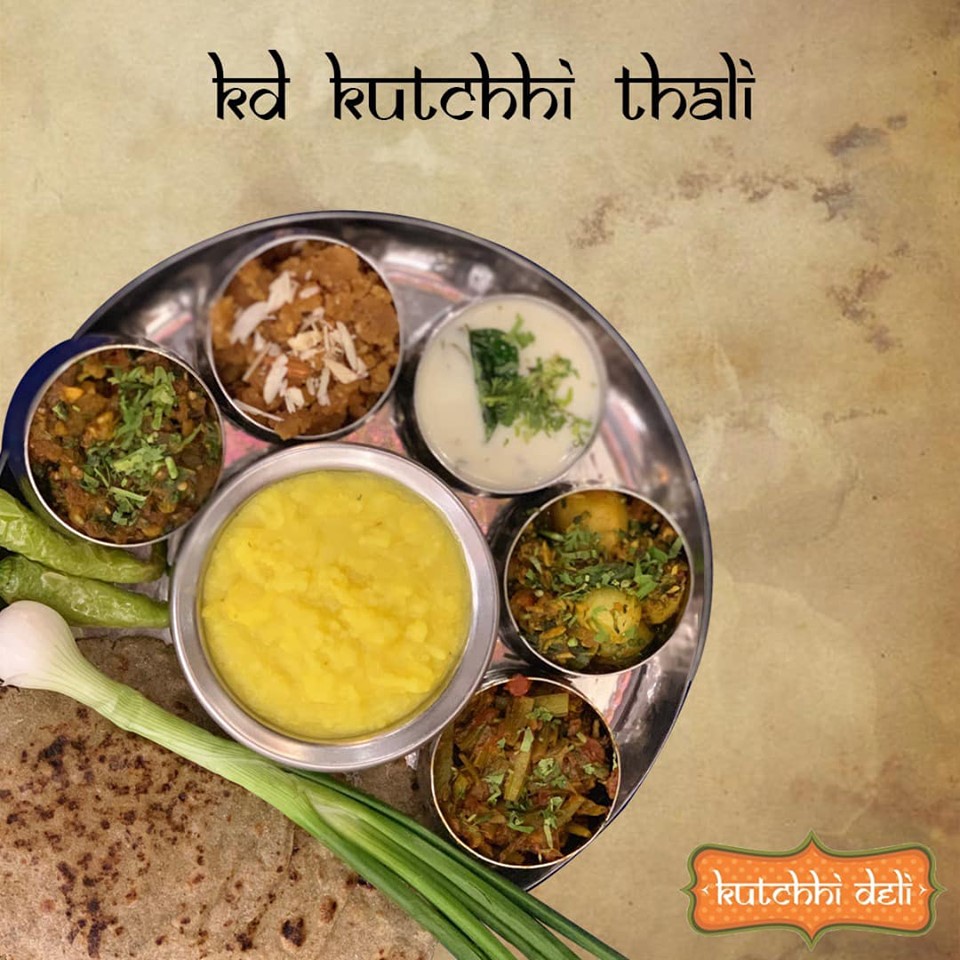 Address: Kutchhi Deli, Unit S-018, Neelkanth Business Park Co-operative Premises Society Limited, Nathani Road, Behind Bus Depot, Vidyavihar (West), Ghatkopar West, Mumbai
Contact: +91 9222020209
18. Khichdi The Global Food, Multiple Outlets
I love Khichdi so much that I eat it even when I am not sick. The humble dish tastes surprisingly good and Khichdi The Global Food has close to 50 types of khichdi. Now if that isn't insane, we don't know what is.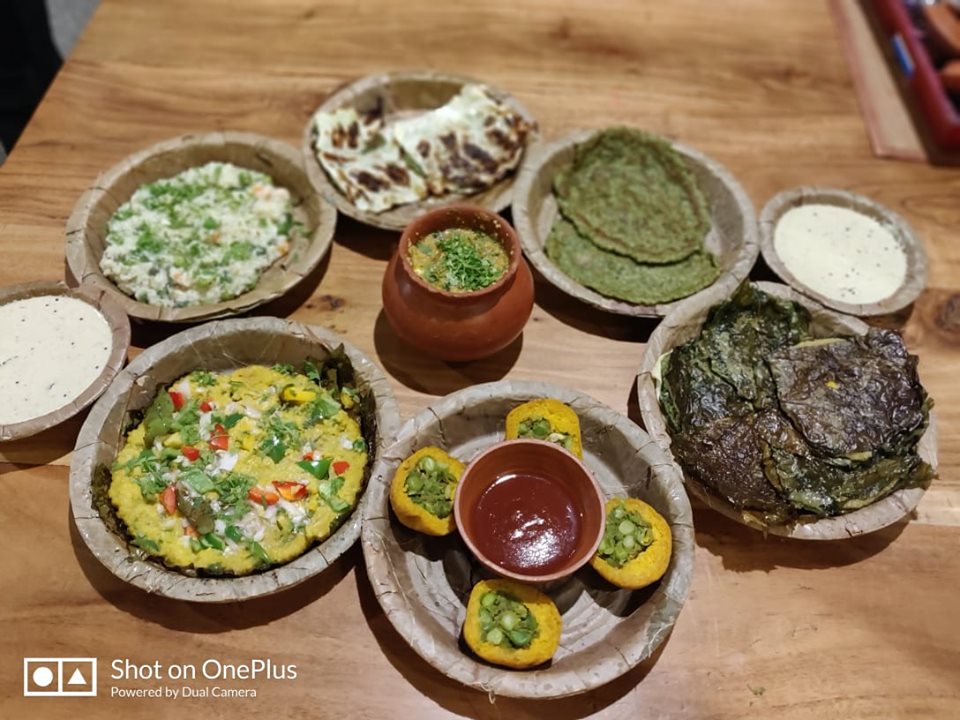 Address: Multiple outlets
19. Chullas Gujarati Thali, Kandivali
At Chullas, you can get a taste of authentic Gujarati cuisine without having to physically make your way to the state. And if you like us, love theplas, they serve it by the kilo!
Address: Chullas Gujarati Thali, Patel Chawl, Opposite Orchid Tower, New Link Road Dahanukarwadi, Kandivali West, Mumbai
Contact: +91 9819769351
20. Grand Thali, Thane
Another great place to indulge in thalis, Grand Thali serves up some great culinary delights when it comes to Gujarati food. And if you are looking for something different then they also have a multicuisine buffet. But if we were you, we'd go for the former.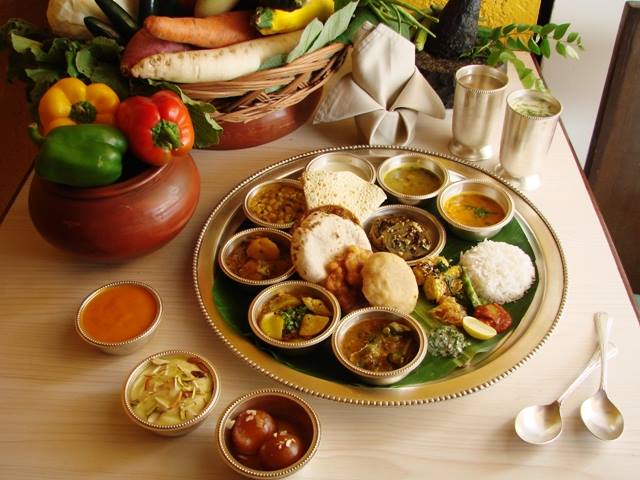 Address: Grand Thali, Hotel Tip Top Plaza, Near Check Naka, Opposite Raheja Gardens, LBS Marg, Naupada, Thane West, Mumbai
Contact: 022 40204000
21. Gokuldas Gathiawala, Dadar
Gokuldas Gathiawala is a 95-year old shop in Dadar known for dishing out some of the most deliciously lip-smacking Gujarati snacks. And that's not just it! They serve more than just the usual dhoklas and fafdas. Gokuldas Gathiawala is known for selling over 150 kinds of Gujrati Farsaan including Bhavnagri Gathia, Surati Gathia, Papdi Gathia, Mari Gathia, Methi Gathia, Marvadi Sev, Sadha Sev, Nylon Sev, Ratlami Sev, Misal Mix, Kathiawadi, Mama Mix, Gokuldas Mix, Makai Chivda, Masala Moong, Moongdal, Kathor Mix and more.
Address: Gokuldas Gathiawala, Shop Number 1, Laxmi Building, Dr.M.C. Jawale Road, Mumbai