Under 140 Characters
Deogadh, The Homestay, a Bandra-based couple's dream home near Pawna Lake, brings rainwater harvesting and organic food under one roof.
How Did It All Begin?
After nearly 8 years, Bandra-based couple, Anabelle and Clement DeSylva, found the perfect spot to build their dream green home. Initially they had their hearts set on Goa, away from Mumbai's stress and chaos. But as luck would have it, they found a place 125 kms. from Mumbai, nestled in the lap of nature, near Pawna Lake.
Clement, an architect by profession, was commissioned to build a home in Pawna. During his regular trips there, he fell in love with the tranquility and natural charm of the place. Once when he took Annabelle along, even she felt strongly inclined to make it the location for their dream home. Now, it was time to build.
Mahatma Gandhi's words, "When you build a home, construct it with material found within one km radius of your site.", inspired Clement and he began building the home with stone rather than RCC. As quarrying for the construction of Mumbai-Pune expressway started around the same time, Clement could easily source large quantities of stones with the help of several villagers.
That's how Deogadh started taking shape. At the onset the DeSylvas' intention was to build a sensible home not a green home as such. However as it developed, it became an example of how a home's beauty could run deeper than its skin, with a sincere concern for the environment.
A Home That Cares For Earth
Annabelle and Clement's eco-friendly home, spread across a luxurious 3,500 sq.ft., was built with natural and locally-sourced material. And its magnificent porch, rugged stone arches, walls covered with trellises, large wooden doors and windows reused from an old bungalow in Alibaug, all lend to its earthy appeal.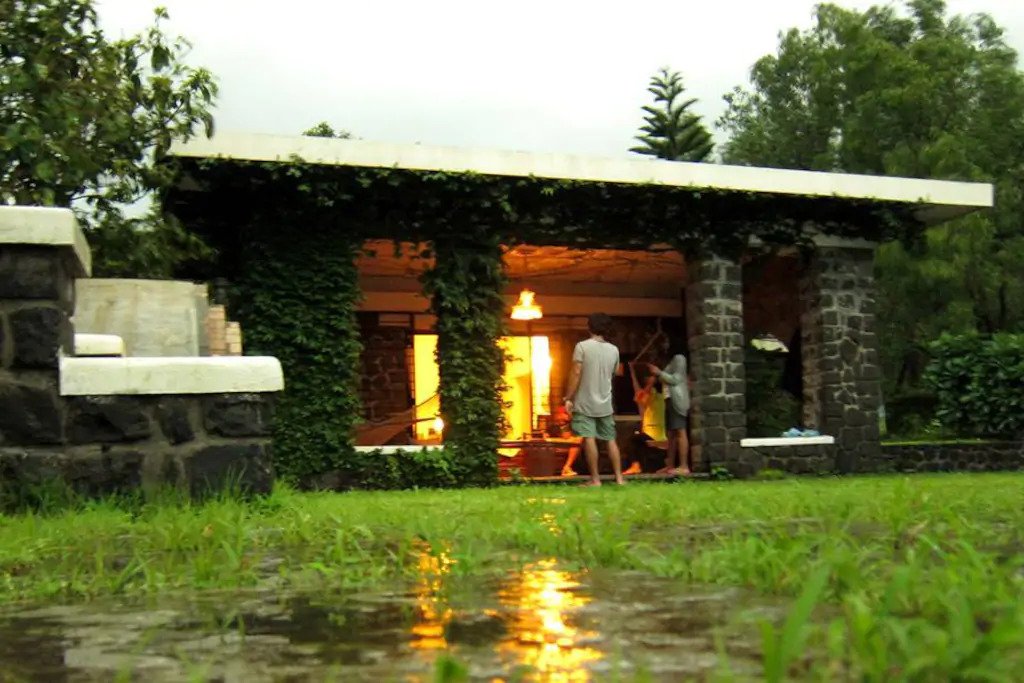 For a very long time, the house didn't even have electricity. The insulated walls, low windows and natural ventilation helped in keeping the home airy and bright. However, for practical reasons, the DeSylvas got an electricity connection, after the birth of their twins. But they still haven't installed air conditioners; that's burdening the earth a little less by reducing the carbon footprint.
Their thoughtfulness didn't end there. To meet all the home's water needs, they got into rooftop rainwater harvesting. Moreover, there's even an orchard with over 50 mango, lychee, sapota, custard apple, cashew, lemon, papaya, and love apple trees. The grove is lush with Gulmohar trees, bamboo, various herbs, and an age-old banyan tree. On the other hand, most of the veggies and grains are cultivated on the organic farm.
From Home To Homestay
Deogadh, the couple's second home, was converted into a homestay only four years back when their twins started college. Because Clement firmly believes that when a home is not lived in, it starts falling apart. Though it's now a homestay, the DeSylvas stay in their private quarters on the first floor when they visit Pawna, thus giving their guests privacy.
Initially, the home had a single room, but now it has a spacious living room, two bedrooms, bathrooms, kitchen and a storage room. One of the major highlights of the home is its front porch with a hammock. From here, one can enjoy the stunning view of the Pawna Lake and Tungi Hills.
While the guests get to enjoy a luxurious stay and magnificent views, they experience farm-to-table dining as well. Much of the food cooked for them including rice and a few vegetables come from the organic farm on the premise.
The homestay has become immensely popular for its unmatched location, eco-friendliness and warm hospitality. Guests just need a reason to come here, be it a birthday party or a quick weekend getaway or hosting barbecue nights.
Deets:
Cost per night for entire bungalow: Rs. 24,000 (excl. taxes and charges)
Capacity (1 Bedroom): 6 people
Cost per person per night: Rs. 4,000 (excl. taxes and charges)
Book Here