Quick question: What similarity do Stonehenge in the UK, Machu Picchu in Peru and Kasar Devi in Uttrakhand, India bear? Well, you are about to find out! Nestled in the lush Kumaoni mountains, Kasar Devi is Uttarakhand's best-kept secret. The village is perched on a hill with mesmerising views and is home to a mind-bending secret. Interestingly, it has a geomagnetic field similar to Stonehenge and Machu Picchu. The charming hamlet exudes an energy that will let you experience the ultimate tranquillity and uplift all your senses. 
The region surrounding the Kasar Devi Temple has the strongest geomagnetic field in Asia, thanks to its exceptional location on the Earth's Van Allen Belt. Kasar Devi lies around 8 kilometres from Almora and derives its name from the goddess Kasar Devi. And one of the ideal places to experience the unique vibe here is goSTOPS Kasar Devi.
goSTOPS Kasar Devi: A Divine Escape In Forest's Lap
goSTOPS Kasar Devi is a picture-perfect escape in the middle of the forest, a short distance away from the Kasar Devi temple. Tranquillity can be felt at its peak here, with towering pines and deodars dotting the valley. From beautifully decked shared dorms and private deluxe rooms to mud huts, goSTOPS Kasar Devi has multiple stay options with mind-blowing views of the surrounding landscape.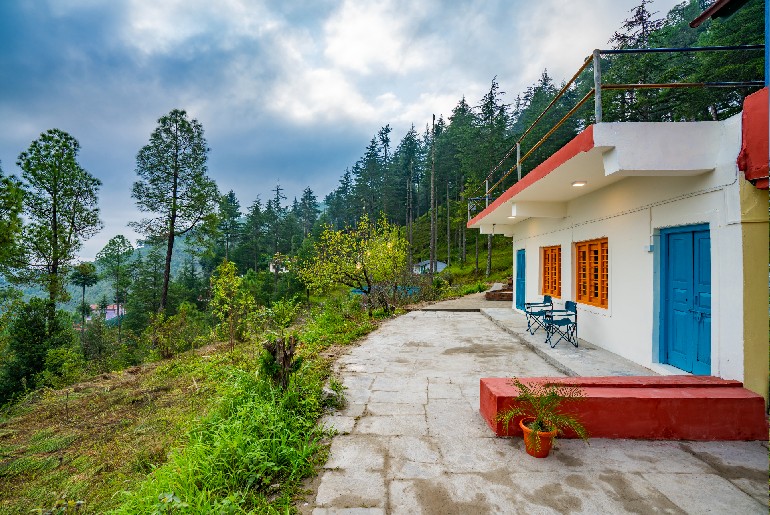 Here, you can meet like-minded folks, create new friends, swap stories over bonfires, play foosball, and do so much. The hostel also has a projector for watching movies. It is a vibe in itself! 
To ensure privacy, the hostel has private lockers for guests staying inside shared rooms.
Watch The Snow-Capped Mountains As They Sparkle In The Golden Sunlight
The property overlooks the snow-capped Panchachuli peaks and the pristine Hawalbagh Valley. You can treat your eyes to the expansive Himalayan scenery from this location, right from Himachal's Bandarpunch peak to Nepal's Api Himal. The property is close to popular tourist attractions like Trek-zero Point, Binsar Wildlife Sanctuary, Bineshwar Mahadev Temple and Sunset View Point, in addition to the Kasar Devi Temple. The Binsar Wildlife Sanctuary is home to over 200 bird species, along with other magnificent creatures like Himalayan goral, red fox and leopards.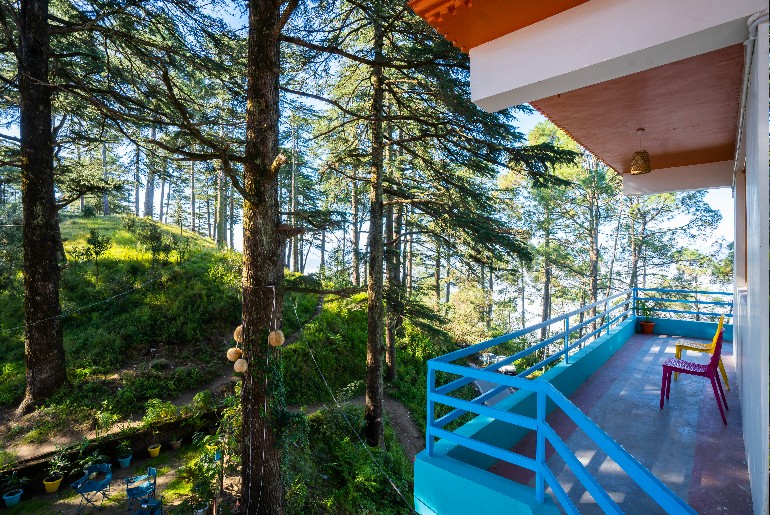 So, travel mavericks, are you ready for a spiritual break at Kasar Devi? Head there now!
Where: 1 NH 309A, Kasar Devi Road, 263601 Almora, India
Check-In Time: 1 PM
Book: Here