Under 140 Characters
Located on the hidden north facing slopes of the Hamta Valley, this is the ultimate winter wonderland. The Igloo Hotel in Manali is every traveller's dream come true!
What Is It?
It's been my childhood dream to stay in an igloo, each time I've read about it in my geography book. At some point of time I even thought of taking a trip to Greenland just to fulfill this dream of mine. Guess what? The long wait is over as India has just got it's first Igloo Hotel! 
I have spent many a holiday with unrealistic expectations from the unrealistic images I've seen online. Vikas Kumar and Tashi Dorje, winter-sport specialists, promise an unusual experience and boy, are they living up to it. Manali Igloo Stay of Keylinga Himalayan Adventures is one of its kind. If that's not enough, it also organises winter sports, ski courses and treks.
What Is In It?
The Manali Igloo Stay has 2 fully functional Igloos built by a team of 20+. You can chose between a twin or a triple sharing. And to make it even more exciting, it has been clubbed with winter activities like skiing, tube sliding, snow sledging and even building our own igloo!
There are packages as per person where you can chose to indulge in winter activities (Starts from INR 3,000) or not indulge in winter activities. You can spend up to 2 nights at an altitude of over 2,700 m and wake up to the beautiful Himalayan landscapes.
The package includes:
A night in the igloo with warm feather sleeping bags with extra fleece, thick foam mattresses and hot water bottles.
Hot lunch, dinner, breakfast and beverages.
Water proof ski clothing: Jacket, pant, snow boots and gloves.
Also if you don't get a reservation, then you can chose to simply enjoy a day at the igloo camp filled with activities and fun, all for INR 3,000.
Also Read: 6 Romantic Winter Getaways In India
Where Is It & How To Reach?
The Manali Igloo Stay is near the Buddhist village of Sethan in Hamta Valley. It is a secluded village around 14 km away (1 hr drive) from Manali and can be reached only by a private road owned by the Hydro project. Cost for one way transport by a small car (3-4 people) is INR 1500 and 4WD (6-7 people) is INR 2000.
For people who'd want to fly to this winter paradise, the nearest airport is Bhuntar which is 48km from Manali.
You can also chose to take a train and the nearest stations from Manali are Jogindernagar railway station (162km), Chandigarh railway station (350km) and Ambala (360km).
Another option is taking a bus to Manali from cities like Delhi, Chandigarh, Shimla, Kalka and Dharamshala.
Packages
Ski and Igloo Adventure (From INR 6,800): Includes a one-night accommodation at the Hotel Keylinga Inn in Manali. Two nights stay in the igloo, all meals, all ski equipment (skis, poles, boots, clothing, snow gloves, goggles, medical kit). Also includes, transportation from Manali hotel to the igloo campsite and back.
One Night Igloo Stay (INR 4,600): One-night stay on twin sharing basis in the igloo with barbeque and bonfire in the evening.
Day Trip – Igloo Camp (INR 3,000): Includes a day trip to igloo campsite with lunch, skiing lessons and light winter activities.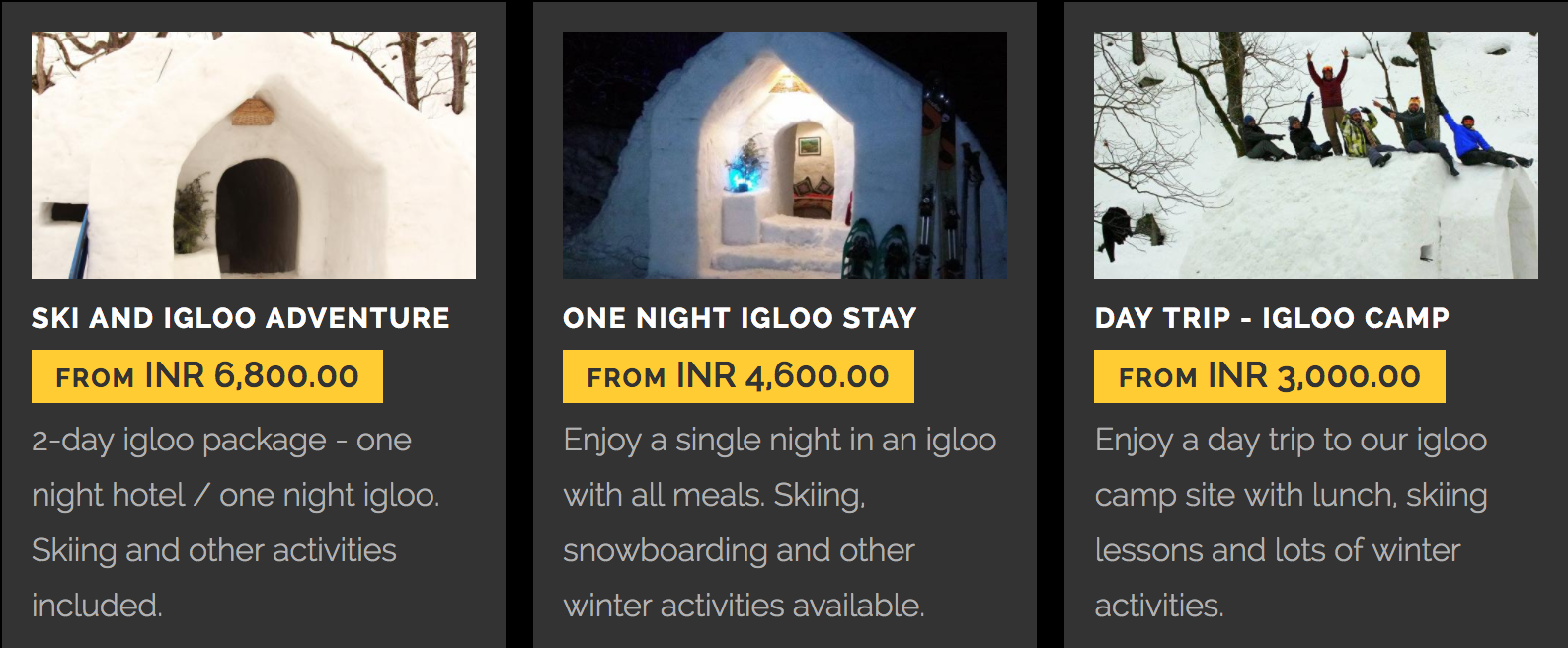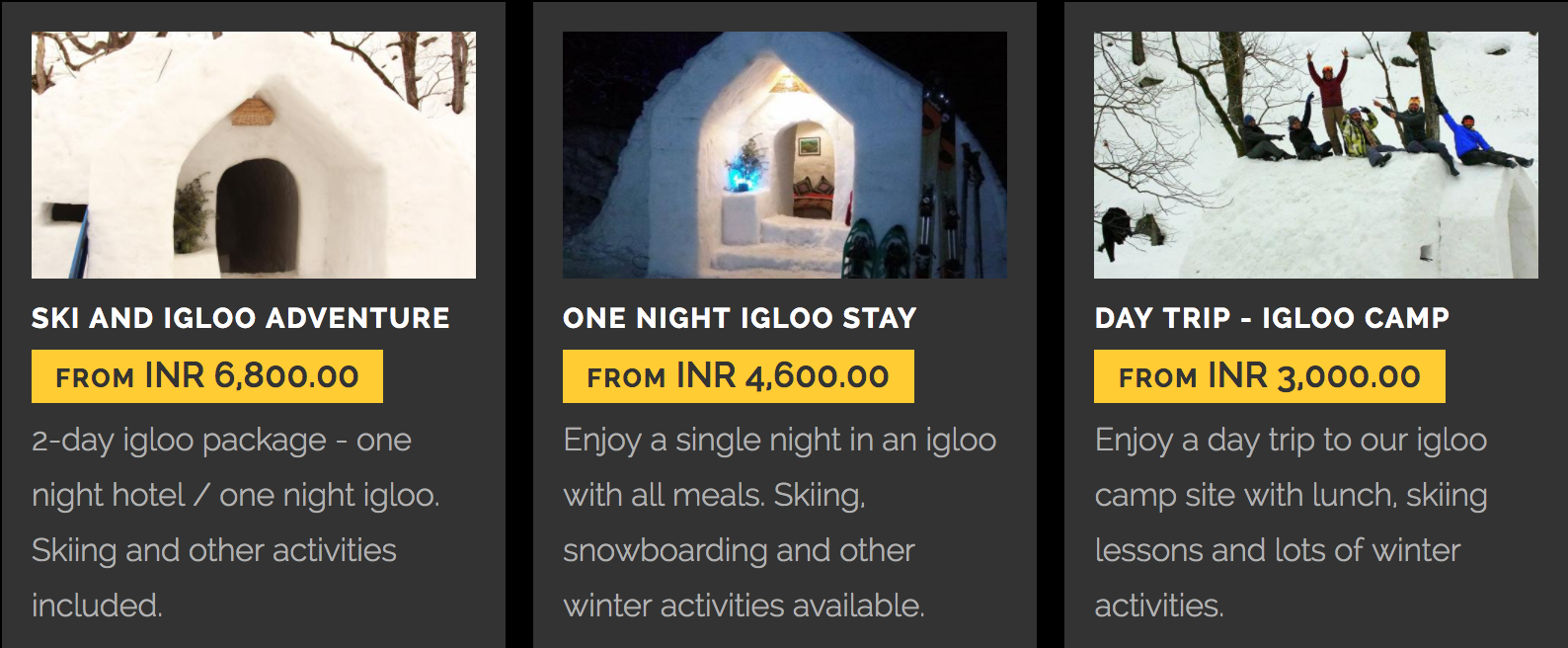 Contact Information
Where: Keylinga Himalayan Adventures c/o Hotel Keylinga Inn, Prini Village, Naggar Road, Manali, Himachal Pradesh 175143
Email: manaliigloostay@gmail.com
Website: http://www.keylinga.com
Contact number: Tashi +91.9816472227 | Vikas +91.9459996999 , +91.9418979005
I've just come back from Himachal a few days back and I can't wait to go back. This year, it's igloos.
LIKE Curly Tales on Facebook | Instagram | Twitter
You can subscribe to our newsletters