Although on my wishlist since about 3 years, when I declared my vacation spot to be Hampi, I was surprised to know not many people are aware of this paradise! Here's a glimpse into my budget trip to Hampi vacation if you're wondering where and what is Hampi. Once you know, there's no turning back.
Also Read: 5 Things To Do At Hippie Island In Hampi
How It Happened?
Sitting in Grandmama's Cafe one fine day, my friends and I got to discussing our vacay goals and plans ahead. And the next minute I knew, we were all planning a trip together! Although met with much scepticism, we agreed to lock in Hampi as the destination and boy, are we glad.
Pro Tip: Those balancing a dense work schedule but still wish to travel a lot, here's what I do. Marry long weekends with smart planning and voila! Your work will never be affected and neither will you have to compromise on travel goals. My Hampi trip was a Republic Day long weekend!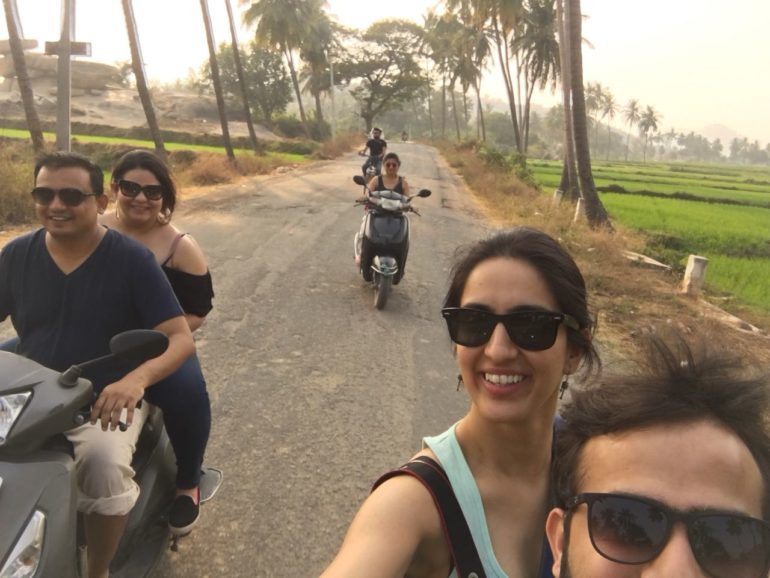 How To Get To Hampi?
We flew to Bengaluru right after office hours and from there booked an Ola Outstation service for 3 days. From here it was an overnight journey to Hampi. This proved to be rather expensive though and I would suggest you book a luxury bus instead from Mumbai to Hospet which takes 14-15 hours.
What's Hampi?
Hampi is a UNESCO World Heritage Site, located in the central part of the Indian state of Karnataka, a paradise nesting carefully in ruins, taking you back to a long forgotten time of the Hindu Vijayanagara Empire in the 14th-century.
'Hampe' in Kannada, Hampi was formerly known as Pampa, one of the many names of the Tungabhadra river (Where Hampi is situated). Pampa Devi was the goddess of the river and the daughter of Lord Brahma.
Hampi has two sides. Completely opposite to each other in nature. One is Temple side/Hampi side/Hampi Bazar and other is Hippie side also known as Hippie Island which is situated in small Virupapura Gadde village which lets you discover your hippie soul. One is filled with historical relevance and other is super laid back.
Lush green paddy fields, supercool cafes, bakeries and guest houses where you will find backpackers from across the world living like a nomad here.
Where To Stay
Shanti Guest House, Gothami Guest House, Bobby One Love, Murali Guest House, Mowgli Guest House, Sunny Guest House, Chill out Café and Guest House, Laughing Buddha, Goan Corer, Hema Guest House etc.
Pro Tip: Don't look for the deals on hotel booking sites. Just call up the direct number (take it from Google) and book it directly. Yes, you can negotiate as well. We stayed at Bobby 'One Love' Guesthouse (Contact: Raghu, 8970076805). Don't expect luxury! Only basic amenities will be provided.
Where To Eat And What To Do
Hippi Island is the place to be for a vast variety of cuisines and tasty dishes. From authentic South Indian food to Spanish, Greek, Israeli, Italian, Singaporean, Indonesian, American & Mexican cuisine, there's something for everything here!
Note: The only alcohol you'll find here is cold Beers. Also, non-veg paradise.
I would recommend Hema Café (German Bakery) preferably for breakfast (Multi Cuisine), Mango Tree restaurant for Lunch (They serve delicious Thali and their lemon mint cooler is to die for) and Laughing Buddha for Dinner.
Shopping Scenes
Bunch of souvenirs like shawls and cloths, traditional costumes, jewellery, stone figurines, antique coins, replicas of Hampi ruins etc. are what you will find here.
Pro Tip: The best way to move around here is to rent scooters which is usually cheap but expect higher rates in peak season.
Places to Visit
1. Monkey Temple on Anjaneya Hill
Awaken the adventurer in you for to get to the top, 520 steps await. But the sun setting over a view of ENTIRE Hampi? Worth the climb. The Temple is the supposed birthplace of Lord Hanuman and hence, the name.
2. Sanapura Lake
One of the lesser known locations in Hampi, it is worth visiting. The lake is the backwaters of Tungabhadra river and the ride to get here (10km from Hippie Island) is heavenly. You can also indulge in Coracle rides in these calm waters and hire assistance for cliff jumping. Although many signboards warn of crocodiles, our coracle owner assured us of safety.
3. Virupaksha Temple
This temple is dedicated to Lord Shiva, known here as Virupaksha, as the consort of the local goddess Pampa who is associated with the Tungabhadra River. It is believed to be one of the oldest temples in India where people have been performing continuous worship to God for the last 7 centuries till today.
4. Hemakuta Group Of Temples
A rocky hill especially famous for several temples situated on the top of it. This hilltop offers you a lovely scenic view of Hampi and gives a great opportunity to show your photography skills. A lot to explore, a lot to click, a lot to frame!
5. Badavilinga Temple 
This is yet another ancient temple featuring a shrine & pedestal with a Hindu linga, surrounded by a pool of water.
6. Statue of Ugra Narasimha
The biggest statue in Hampi, this is a fantastic big statue of Lord Narasimha (Nara – man and Simha – lion, a lord combined with a man and lion's figure) who was the 10th avatar of Lord Vishnu.
7. Sasivekalu Ganesha
An enormous statue about 14 ft high of Lord Ganesha. Some big slender stone pillars with many mythological themes carved decorated the front hall of this Statue. Instagram worthy people.
8. Krishna Temple
Constructed by the Krishnadevaraya in 1513 to honour lord, Krishna. This temple is one of the best attractions in Hampi. The temple ground is decorated with several stunning Yali designed pillars and impressive carvings of elephant balustrades.
Also, don't forget to explore the ruins of Krishna bazaar which is right opposite to the temple.
9. Shiva Temple
From Krishna Temple head to this unique underground Shiva Temple. For some curious reasons, this temple dedicated to Lord Shiva was built many meters below the ground level. For this reason, almost all the time the sanctum and the core parts of the temple are under water, restricting entry to the inner areas!
10. Vijaya Vittala Temple
The architectural marvel, The Vittala Temple or Vitthala Temple in Hampi is an ancient monument that is well-known for its exceptional architecture and unmatched craftsmanship. A must visit for all when in Hampi!
11. Hazara Rama Temple
It is one of the important shrines in Hampi dedicated to Lord Ram. It was once the private temple of the kings and the royal family of Vijayanagara. The temple is famous for the lovely bas relics and panels depicting the story of the epic Ramayana.
12. Lotus Mahal
Also known as Kamal Mahal or Chitragani Mahal, it is one of the only handful and a few astonishing building in Hampi that had not been damaged or destroyed amid the attack on the city.
13. Stepped Tank
Also known as Pushkarani, this is a sacred water tank that is attached to the temples. Most of the major temples in Hampi have a Pushkarani built near them.
14. Elephant Stables
The Elephant Stables is a wonderful structure that provided shelter to the royal elephants of the grand Vijayanagara Empire.
15. Zanana Enclosure
The Zenana Enclosure was a fortified and secluded area reserved for the royal ladies of the Vijayanagara Empire.
16. Queen's Bath
The luxurious bath which includes a big verandah with a rectangular pool surrounded by extended balconies and carved domes where Vijayanagara Kings and Queens used to take bath. Although called Queen's bath, the pool was used by both Kings and Queens.
What We Missed But You Shouldn't
1. Sunset at Matanga Hill
If you are staying on the Temple side, this is the best place to get a mesmerizing view of Sunset or Sunrise and a panoramic view of Hampi. It is a moderate hike up the hills for 45mins to 1 hour, depending on one's capability.
2. Daroji Sloth Bear Sanctuary
Located about 15km from Hampi, Dorji Sloth Bear Sanctuary was created exclusively for the preservation of the Indian Sloth Bear. Visit this between 2 PM – 5 PM as they slather the honey on the rocks to attract the bears so that tourist can get a good spotting.
Also Read: 6 Places To Go To In India For A Hippie Getaway
Now all you need is a long weekend for a Happy, Hippie, Hampi!
This article was contributed to Curly tales by our reader Prasad Baliram Nakhawa. If you would like to write your story, drop us an email on hey@curlytales.com