Almost every bollywood celebrity's instagram feed is filled with turquoise blue photos from the Maldives. From Disha Patani to Tiger Shroff, Sonakshi Sinha to Tapsee Pannu, these celebs are setting travel goals even during the pandemic. Igniting the wanderlust in me, I pushed myself – if they can do it, I can too. But how do I go all about it? Its my first international trip in the last 9 months and I was wondering how things would have changed. With little information online, I decided to pack my bags and get a first hand experience for the Curly Tales family. Here are all the COVID rules & protocols you need to know before you book your flight tickets for Maldives. Please note the rules keep changing and I am only sharing my travel experience from travelling in November 2020.
Earlier in the month, I got my courage together to take a road trip to Goa (of course, with caution) and realised it is not much of a hassle when you travel within the country. However, the minute you cross borders, you not only have to follow rules of your home country but also the foreign country. I visited the Maldives with my husband and my 7-year old child and we have all returned with a negative COVID report. This should give you the confidence to take up the risk and visit the paradise island with all the safety measures. You can reach out to me on my instagram incase of any queries. Here are all the steps I followed:
Before Flying
Fly Non-Stop To Malé
I knew that I had to fly directly to the Maldives without any stop overs to not only reduce flying time but also human interaction. So I chose to book my tickets on GoAir which flies direct from Mumbai, Delhi and Bengaluru to Malé at fares starting as low as just  ₹6552 . GoAir gives you an option to book multiple seats or an entire row with GoFlyPrivate in case you wish you practice social distancing in-flight. You can also pay a little extra and opt for GoMore which gives you the option to keep the middle vacant in the front two rows. To reduce physical contact, food on board is available on pre-booking only. You can choose from a wide array of delicious and hygienic snacks including sandwiches, croissants, biscuits etc and pre-book on GoAir.in or mobile app.
Take A Mandatory COVID-19 Test
While you don't need a visa to enter into the Maldives, every visitor arriving in the Maldives must carry a negative Covid test Result result upon arrival at Male International Airport. The RT PCR test must be taken four days prior to departure, to be precise 96 hours. If you have never done the test, don't panic. The test does not hurt. I called in a representative from Metropolis at home who wore a PPE kit and took our nose & mouth swab. The person conducting the test will insert a long stick with a very soft brush on the end — kind of like a pipe cleaner — up your nose and twirl it around for a few seconds.  The same procedure is followed for the mouth. The cost of the test is  ₹2000 and the result came in 24 hours.
Arrival Guidelines To Island Hopping: Everything You Must Know About Traveling To Maldives.
A Confirmed Booking At A Resort
We also needed to provide proof of a confirmed booking at one single resort. We also had to share our negative test report online with the resort before flying.  Island hopping is not conducive in the Maldives at this time. On landing in Malé, we headed directly to our resort Adaaran Prestige Vadoo. However, some resorts are allowing island hopping and they are doing it in discretion. Remember that one resort is just restricted to one island in Maldives.   Planning A Trip To The Maldives? 6 Budget Overwater Villas To Book Starting From ₹12,000.
View this post on Instagram
Immigration Process And Health Declaration
Coming to the immigration process, the Maldives has a visa-on-arrival provision for Indian passport holders. However, due to the pandemic, there was an additional step. We had to fill an online health declaration and immigration form on the Maldivian immigration website before landing on the island. We were told about this at the airport but this must be done 24 hours before you fly. The process included uploading our pictures as well as a scanned negative PCR report valid for the required time duration.
During Flying
Arogya Setu App, Passport & E-boarding Pass
The government has made the Arogya Setu application for all international and domestic passengers. As soon as we reached the airport, we had our Arogya Setu app, passport and our e-boarding passes ready for our entry to the airport. There was hardly any queue at the gate and we were inside within minutes.
RT-PCR Test Report
Since we were travelling internationally, we also had to show our RT-PCR test report at the immigration. However, the immigration process did not take time owing to fewer passengers  at the airport.
View this post on Instagram
Social Distancing At The Airport
The air travel was where we had the real risk of exposure to the virus, and so, we had to be as cautious as possible. We had our mask on at all times at the airport and were continuously sanitising our hands. Social distancing at the Mumbai airport was easy, as they were hardly any travellers. The otherwise busy Mumbai airport gave an eerily deserted look. Also for your information, the food court at Mumbai's T2 is closed. However, all international travellers can access the airport lounge.
My GoAir Flight To Malé
We chose to fly GoAir non-stop to Malé, Maldives. The flight was extremely comfortable, and the cabin crew, very helpful. I never thought we could travel internationally in 2020 but GoAir made it possible. From contact-less check in to deep cleaning of aircraft and safety gear for passengers and crew, GoAir has taken all the necessary precautions to ensure passengers fly hassle-free and safe. On boarding, we were given safety kits that included masks, face shields and sanitizers. All customer touch points with increased frequency of contact such as seats, seat belt buckles, armrests, tray tables (including knobs), overhead bins (including nozzles) galleys and lavatories are thoroughly  disinfected using Environment Protection Agency (EPA) approved hospital grade disinfectants. Additionally, each of the aircraft are equipped with HEPA (High-Efficiency Particulate Air) filters, the same technology used in hospital operating theatres. These filters renew the cabin's air every 2-3 minutes and remove up to 99.99% of harmful airborne particles such as viruses and bacteria ensuring the air inside the aircraft is fresh and clean. For those of you who are planning to travel to the Maldives, you can fly fearless with GoAir's non-stop flights to Malé, Maldives from Mumbai, Delhi & Bengaluru daily effective 15th Dec 2020.
View this post on Instagram
After Landing
Immigration At Male, Airport
The immigration at the Male airport was seamless. There was a glass panel for safety and social distancing spots were marked. We did not have to provide a separate hard copy of the RT-PCR test as it was already attached to the passport. So, your passport is the only thing that you would need for the immigration at Male. Here's how amazing our stay was at Maldives.
Transfer To The Resort By Speedboat
Depending on the location of your island resort, you can take a speedboat or a seaplane from the airport. All resorts offer transfers and greet you at arrival. Our resort was only accessible by boat. It was a very comfortable 15-minutes journey to our island.
View this post on Instagram
Returning Back To Mumbai
For our return journey too, we booked GoAir flight from Malé to Mumbai, We had to get ourselves retested for COVID at the resort 72 hours before flying back to India. It's a mandatory test that cost us 120 dollars per person. Children below ten years of age do not need to take the test. Apart from that, we also required to fill out a declaration form on the government portal on the flight. On landing back in India, there was a BMC check, and we were asked to show our negative test report. Since the airports are not running at maximum capacity, there were virtually no queues. The airport staff is extremely helpful in guiding you through any process you may have missed.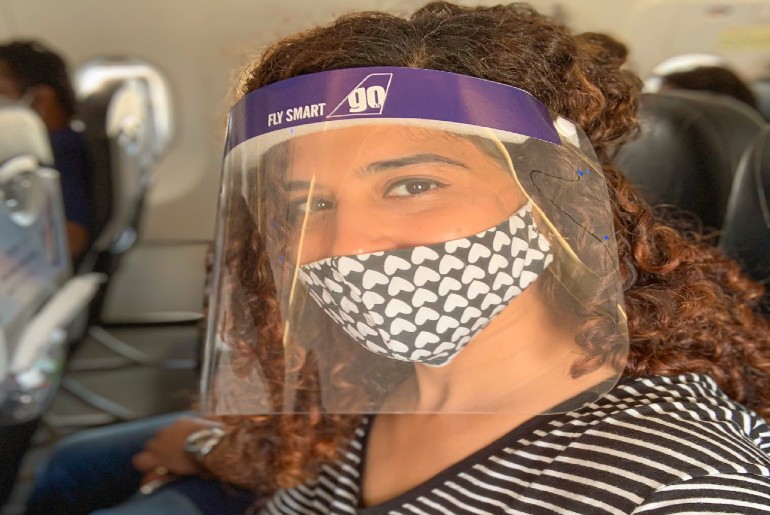 All in all, after the initial fear of stepping outside our comfort zones amidst a pandemic, this family trip is one we will all very fondly remember.