Dubai's famous hotel Five Palm Jumeirah has struck gold with an all new 'gold' dish. Well, Dubai's gold dishes are no strangers and this is yet another addition to that elite list. After gold burger, coffee, ice cream, vada pav, biryani and a steak, we now have a 22 karat gold Buratta. So, what's special about this otherwise humble buratta? Read on to find out!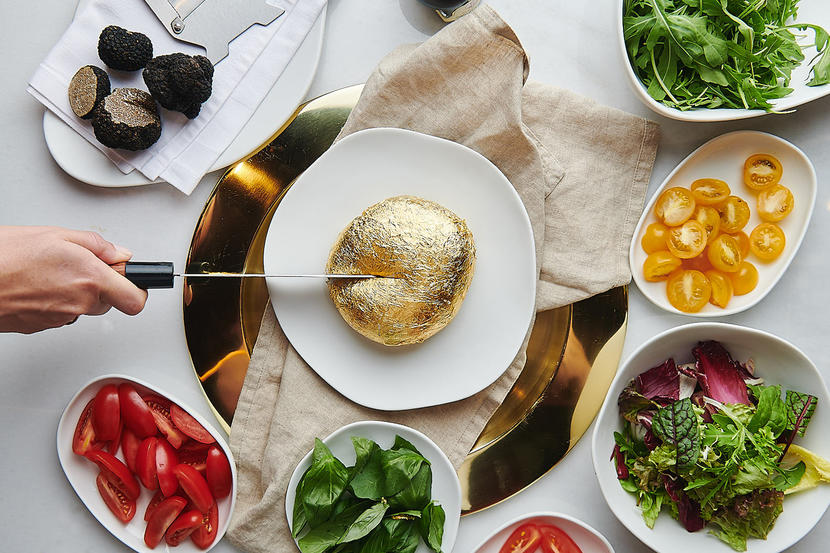 250G Of Buratta Is Coated With Edible Gold, Served With The Juiciest Tomatoes
Cinque, the popular Italian restaurant at Five Palm Jumeirah serves a 22 Karat Gold Sheikh Burrata is made of all things fancy. The dish comprises of 250g of burrata served alongside tomatoes, rocket and truffle. The dish then gets its royal makeover, with edible gold. The buratta is fully coated in 22 karat edible gold and costs AED 200. The buratta can be shared between two to four people. Well, this one will certainly have people watching you, as it gets served at your table.
Meanwhile, O'Pao in Karama recently launched a 22 karat gold vada pao and its dunked with all things yum! Meanwhile, here are 5 restaurants in Karama every foodie will love!
Bite Into The World's First 22 Karat Gold O'Vada Pao 
Pav lovers, don't limit your honesty towards the humble pav with cliche vada pavs. There's more and this little restaurant in Karama is cashing in on this concept. O'Pao, situated in the buzzing by-lanes of Karama is all about Pav and now the restaurant has taken this concept to a whole new level.
O'Pao has now introduced the world's first 22 Karat Gold O' Vada Pao. Known to combine fresh ingredients with familiar Indian and global fillings, stuffed between soft and scrumptious Pao's, this time around the hidden joint decided to take the humble Pao to the next level. The vada is filled with cheese and imported french truffle butter while the bread is topped with homemade mint mayonnaise dip. The Vada (flavoured potato dumpling)  is wrapped with premium quality French imported 22 Karat golden leaves.