Under 140 Characters
Take a trip to the Jog Falls in Karnataka that is a paradise for all nature enthusiasts, it lies about 428 km from Bengaluru making it an ideal weekend getaway spot.
What Is It?
The world famous Jog Falls is formed by Sharavathi River that plummets at a height of 830 feet and the backwaters are formed by the presence of a dam in Sagara Taluk of Shimoga District of Karnataka. This waterfall is the second-highest plunge waterfall of India that is a major tourist attraction creating a truly memorable experience for all nature lovers. Jog falls is a combination of four falls named Raja, Rani, Roarer, and Rocket.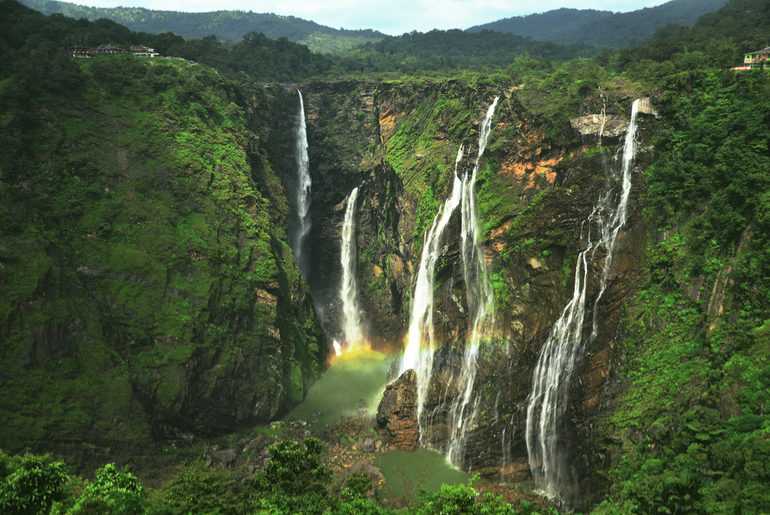 What's In It?
Located on the border of Shimoga in Karnataka, Jog Falls is also popularly known as Joganda Gundi, Gerusoppe falls or Gersoppa falls. The unspoilt natural beauty of the falls wins the heart of many visitors who come to experience the breathtaking fall.
The gorgeous rock fall is surrounded by lush green forests over which the fall takes a multi-streamed plunge. Here the river Sharavathy takes a might plunge (253m), flowing over 230 m wide rock and then takes the plunge to fall as 4 different water streams named Raja, Rani, Roarer and Rocket. The Jog falls is backed by water released by the dam of the river Sharavathy. You can witness the fall in full swing during monsoons that too when the dam releases the excess water.
You can also descend the 1000 steps to reach the bottom of the falls and capture the true essence of this waterfall.
The nearest town to the waterfall is Shimoga that connects Jog Falls and Bengaluru well by road, cabs and taxis are available for hire who will take you there. The nearest railway station to the falls is Sagar, it is 28 km from here.
Deets
Address: Jog Falls, Shimoga district, Karnataka