Perched at a height of around 2,250 feet, the Kalavantin Durg is one of the steepest fortresses in the Western Ghats of Maharashtra. Located between Panvel and Matheran, this fort was built during the rule of the Bahmani Sultanate and is guarded purely by nature. A steep set of natural stairs cut into rock provides a challenging climb to even the seasoned trekkers, and we hear the views from the top are nothing short of jaw-dropping!
The Durg Sits Amid Echoing Greenery And Offers Stunning Views
'Durg' in Marathi translates to fort. According to local sources, queen Kalavantin had built the structure in the 15th century. Kalavantin Durg is alternatively known as the Kelve Teen, Kalavanti, Kalavantinicha Sulka or Kalawantin. However, it is not a fort in actual. This Durg is a watchtower that was believed to be used by the rulers to keep an eye on the circumambient region. Kalavantin Durg sits amid echoing greenery and offers arresting views of the encompassing valley. The Durg slants up from the Prabalgad plateau and is in proximity to the Prabalgad Fort.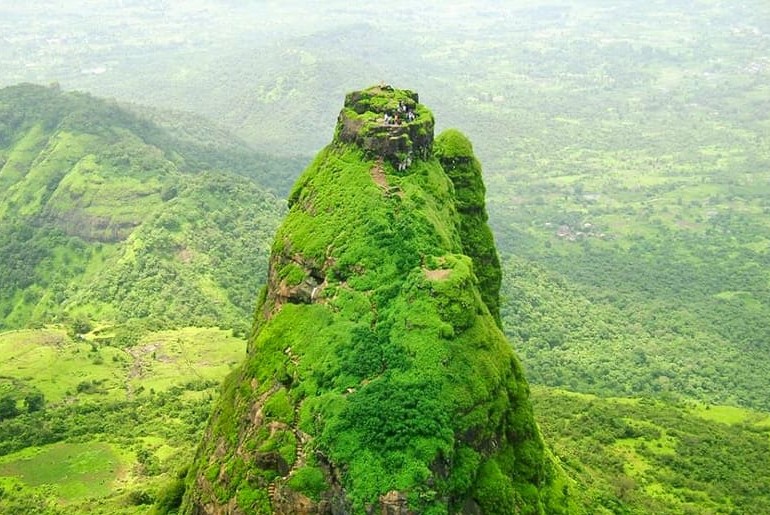 A Trek That's Dangerous Yet Thrilling
A trek up to the Kalavantin Durg is considered to be one of the most challenging yet thrilling treks in the Western Ghats. To reach the summit, one needs to embark on a 3-kilometre hike from Thakurwadi village. Around 2 kilometres away from Thakurwadi, lies the Prabalmachi village. From here, the route bifurcates into two paths. The shorter one leads to the Kalavantin Durg. The longer one goes towards the Prabalgad Fort. The route to Kalavantin Durg involves a 60-degree incline and the rock-cut steps falling on the way are as high as 2 feet.
So, adventure junkies, the next time you plan your trip to Maharashtra, don't forget to include this spectacular tower in your bucket list.