Khorfakkan's brand new tourist attraction – Al Suhub opened to the public, this Eid Al Adha. Located on the east coast of the UAE along the Gulf of Oman, this is perfect for a long drive with friends and family. The Sharjah Government Media Bureau recently posted a video showing final touches being added to Al Suhub Rest House project. And, the new viewpoint instantly became popular and attracted over 50,000 visitors during the Eid break.
Also read: Dubai Gets A Money Heist Themed Cafe At Al Mamzar
The New Attraction Will Offer 360-Degree Views Of Khorfakkan
Docked 580 metres above the sea level, this new attraction is a perfect spot to soak in panoramic view of Khor Fakkan. A 5.63-kilometre road will take you up to the Al Suhub Rest House. The rest house includes water fountains, beaches, eateries and parking spaces.
On October 22, 2020, His Highness Dr Sheikh Sultan bin Muhammad Al Qasimi, Supreme Council Member and Ruler of Sharjah visited the location. Visitors can soak in panoramic views from two sports: one located at a height of 253 metres, the other at 480 metres.
تأمل جمال مدينة #خورفكان من ارتفاع 580 متراً فوق سطح البحر عبر "#استراحة_السحب" .. ترقبوا الافتتاح بعيد الأضحى pic.twitter.com/IRyw0MtDww

— sharjahmedia (@sharjahmedia) July 8, 2021
Also read: A 'Dine In The Dark' Evening Brunch Is Coming To Dubai's Mall Of Emirates
Meanwhile, as we wait for the grand opening of this rest house, there's more you can see in Khor Fakkan.
Khorfakkan Now Has A New Amphitheatre & A Waterfall Attraction
Docked at the foot of Al Sayed mountain, the amphitheater is spread across 190,000 square feet and can accommodate 3600 people. The theatre boasts a stunning design, which instantly transports you to Rome. And the best part is that the amphitheater can be used all through the year. Wondering how? Well, a unique cooling system, keeps the place cool even during summers. So, expect this new attraction to be open year long.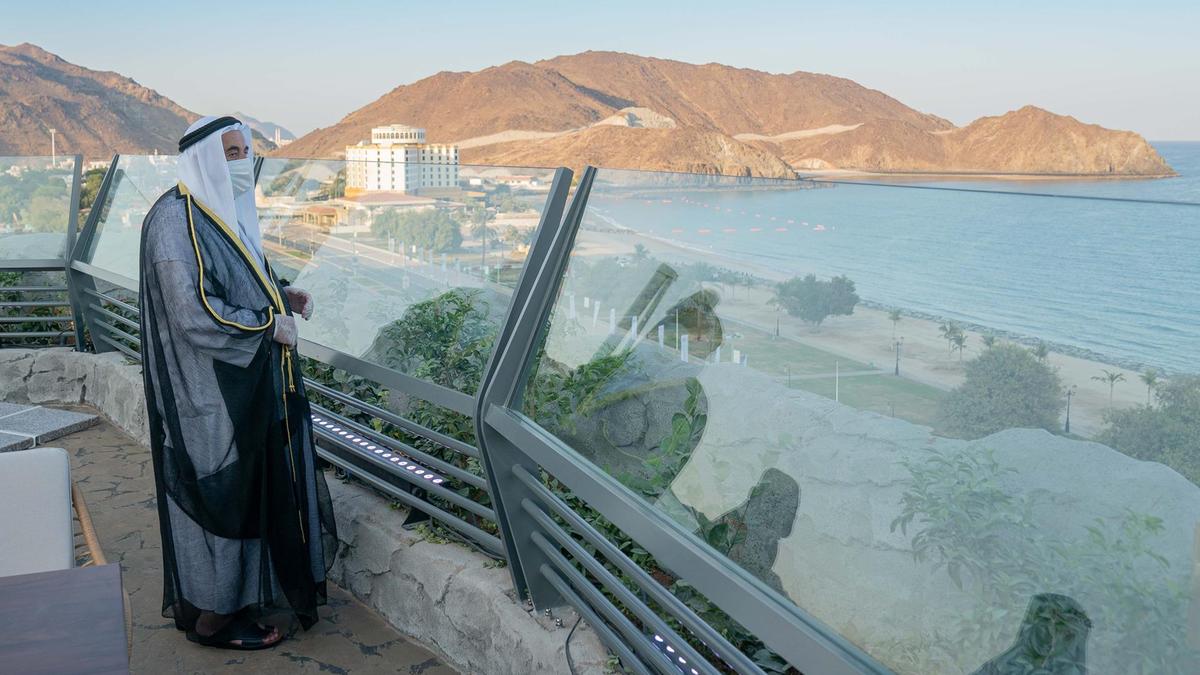 The Man-Made Waterfall sits at a height of 43 meters above sea level and is 45 meters long and 11 meters wide. There are a number of windows from where one can see the water falling from the top, down to the mountain. Besides, you can also enjoy panoramic views of the Khorfakkan beach. There's also a restaurant and café that can accommodate more than 80 guests. So, you know where to head incase you want to fuel up after all the sight seeing.
And the new attraction isn't just for leisure. The waterfall also boasts latest technologies and has spaces for office meetings. Talk about working with a view!
And if you're looking for unique places to visit this festive season, enjoy 'Emily In Paris' themed tea in Dubai for AED 50. The hip cafe is located at Fraser Suites Dubai. It has launched a budget-friendly afternoon tea themed after the hit Netflix show for AED 50. Excited, already? Well here's everything you need to know about this Emily in Paris themed menu. Now, you too can have your Emily moment by savouring delicious french snacks like croissants, savoury or sweet crepes, mushroom omelette, fresh fruit tarts, crème brûlée and café latte or fruit tea. Ain't the menu super delicious?
Also read: Best Theme Cafes In The UAE That You MUST Visit With Your Gang