If you're in Dubai you would know what weekends are for. If there's one thing we all love to do (apart from sleeping) it has to be gorging on good food. Thankfully, there's a lot that foodies must experience when in Dubai. One of the city's famous restaurants- Noir is launching a new Japanese brunch. And the best part- the brunch happens in the evening- so its just perfect to ring in the weekend!
The new evening brunch is in collaboration with Be More Than and launches this Thursday- 10 September. Awarded the Best Experimental Restaurant in the Middle East by BBC Good Food Awards 2016 , Noire at Fairmount, Dubai takes one on a culinary adventure with the concept of dining cloaked in darkness. Perched on the ninth floor of Fairmont Dubai, the restaurant features a sharing-concept meal focusing on experience. Meanwhile, a 3D Dining experience is coming to Dubai's Mall of Emirates. 
What's On The Menu?
The menu features a delicious Japanese spread, complete with traditional dishes, which can be shared across the table. Foodies can tuck into edamame, sushi and much more, while sipping on stylish cocktails prepared by mixologists. Guests can pick from two brunch packages:
Soft Package: AED 195 per person
House package: AED 350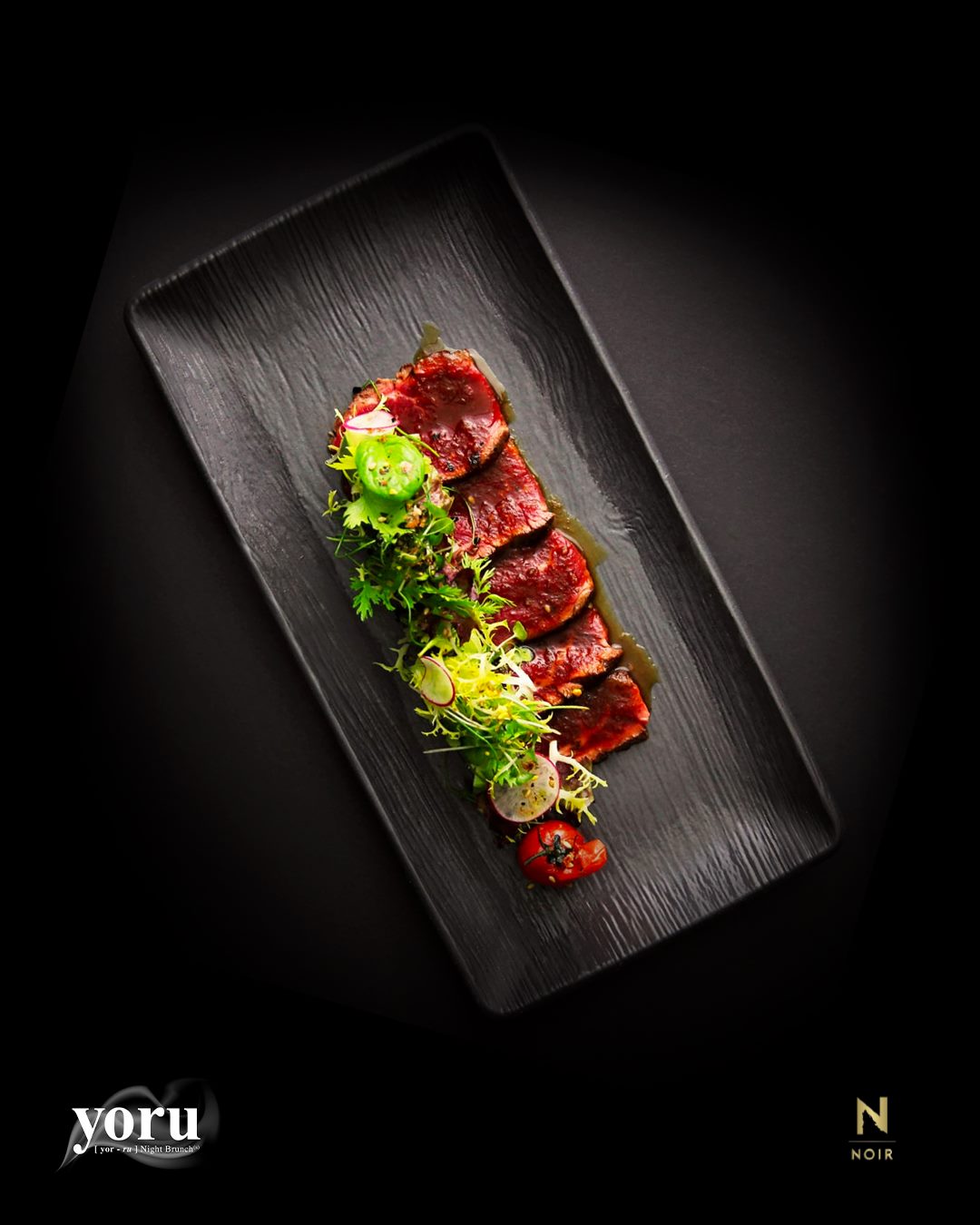 If you wish hang around for longer, groove to the tunes of DJ Andy Swift as he takes centre stage from 11pm to 3am. Guests can also enjoy three after-party drinks until 1am for AED 99.
Deets
Location: Noir restaurant, Kempinski Hotel Mall of the Emirates, Dubai
Timings: Every Thursday 8pm to 11pm
Cost: AED 195 soft, AED 350 house, after-party 11pm to 3am, AED 99 for three drinks
Contact: (04) 409 5222
Three Dining Experiences You Must Try In Dubai
1. Ossiano
Ever wondered what dining under the sea would be like? Ossiano at Atlantis, lets you enjoy a scenic dinner, perched under shimmery chandeliers with more than 65,000 marine creatures swimming by your table. Sounds exciting? Well, that said, don't let the breathtaking ambience take over the most interesting aspect of the restaurant- the food!
Lead by one of the finest chefs in town, the restaurant stands out for its seafood- foodies will love the Ossiano Experience Menu. The ala carte is affordable and has a variety of options you can pick from.
Where: Atlantis the Palm
Timings: 1 pm to 3 pm Saturday (lunch), 7 pm to 10.30 pm Saturday (dinner), 6.30 pm to 10 pm Sunday to Friday (dinner), Bar daily 6.30 pm to midnight.
Contact: (04) 426 2000
2. Al Dawaar
Dubai's one and only revolving restaurant, Al Dawaar is docked at the Hyatt Regency. Revolve around the city and soak in the scenic views of the Burj Khalifa, the sea and the Creek as you enjoy a hearty meal. The restaurant currently has brunch and dinner options. The Friday brunch or the Sky brunch as its rightly called offers an interesting spread of cold cuts, appetizers, soups, main course, and desserts. The brunch is priced from AED 249 onwards.
Taste of Asia offers a lavish spread of Asian delicacies along with international specialities from Singapore, Japan, China, Indonesia, Thailand, Malaysia and Vietnam. The dinner is available every Wednesday between 7:00 pm and 11:30 pm. The dinner is priced at AED 229 per person.
Where: Al Khaleej Road, Hyatt Regency
Timings: Dinner: 7:00pm to 11:30pm, Brunch: 12:30 pm to 4:00 pm (Friday)
Cost: Brunch: AED 249 onwards, Dinner- AED 229
Contact: (04) 209 6914
3. Dinner In The Sky
You'll feel on top of the world with this sky-high dining experience. With tables and chairs suspended 50 meters in the air, Dinner in the sky lets you savour delicacies whipped by ace chefs from The Le Meridien and The Westin Mina Seyahi Marina. And don't worry, you and the chefs will be safely tucked in with a belt so you can enjoy your meal without fearing. Each session lasts for one and a half hours. The first slot starts at 2:00 pm and the last one is at 9:30 pm. Prices vary depending on the time slot and whether you pick a weekday or a weekend.
Where: Skydive Dubai, Al Sufouh
Timings: 2 pm to 11 pm, Saturday to Thursday
Cost: From AED 499
Contact: (056) 819 3296