Chole Bhature and Chole Kulche are like the backbone of Delhi's Street Food scene. These are the most loved and preferred breakfast options. While Chole Bhature has reached big restaurants, it's Chole Kulche that falls in a typical street food category. There's a stall in North Delhi's Ashok Vihar that serves the best Chole Kulche. And we are not the only ones saying it, their customers recommend it too. So here's what we know about Kulachi Ke Chole Kulche.
What Is It?
This stall needs no introduction as people living around North Delhi and students passed out from Kulachi School must have devoured their chole kulche at least once. They have been serving lip-smacking chole kulche for over 40 years.
There is no specific name of this stall, but it's famously called 'Kulachi Ke Chole Kulche'. And it's famously called this as you can find this stall exactly in front of Kulachi Hansraj Model School (Senior wing).
Also Read: Indulge In Chole Kulche Doughnuts With Gajar Halwa In Delhi
The Man Behind This
Gopal Kumar, the owner has been selling this amazing and delicious plate of Chole Kulche for 15 years and before him, his father and grandfather used to sell this. Gopal Kumar's father fell ill as a result he had to take the responsibility of his family on his shoulders.
He said, 'I learnt how to make Chole Kulche while growing up. My father used to make Imli chutney that people loved. So when he retired, I didn't want to disappoint his customers, so I also started making this dish and now people like our flavours even more.'
Also Read: 5 Of Delhi's Most Popular Street Foods
People Who Love This Stall
Be it a weekday or weekend, Kulachi Ke Chole Kulche is flooded with cars as there are no seats available. People from different walks of life come here, eat their chole kulche sitting in their cars, or get it parcelled.  Not only the residents of this area but also alumni and current students of Kulachi School regularly visit this stall.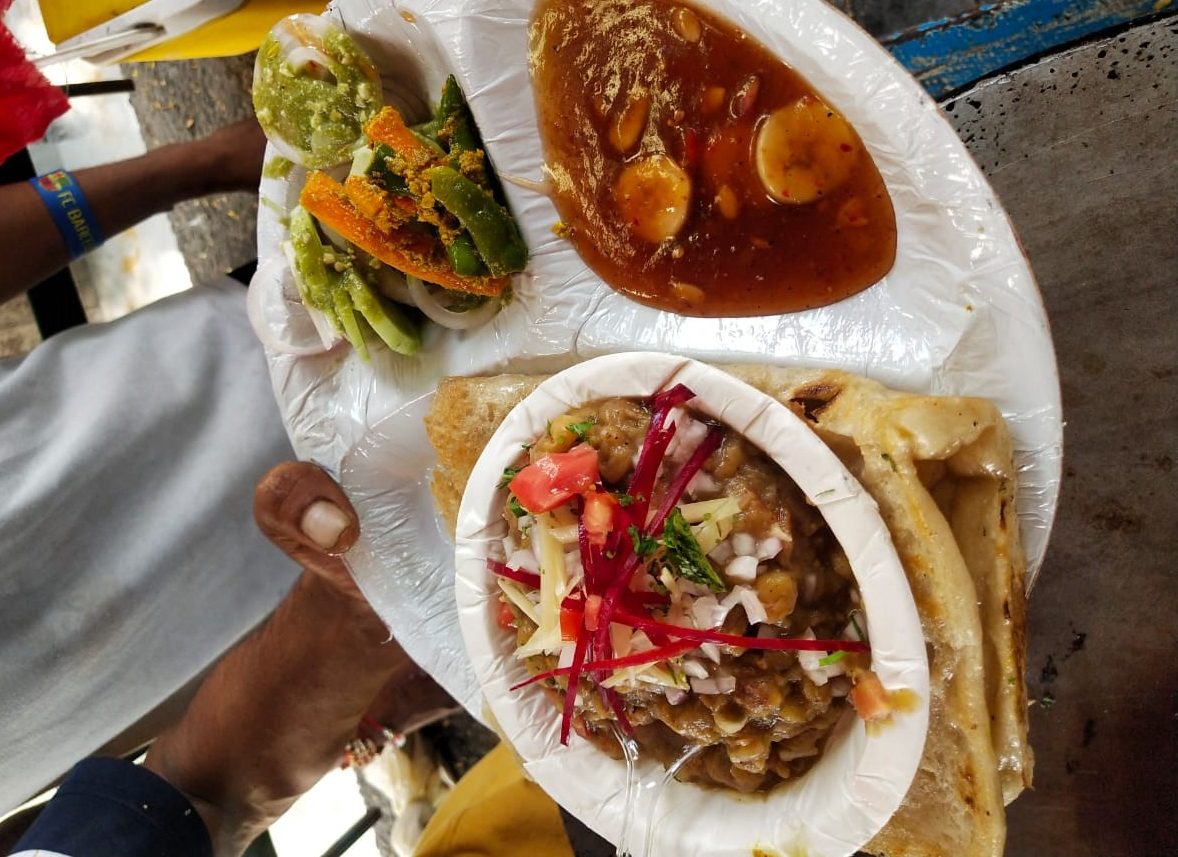 Their Delicious Food
Coming to the food, your plate will be full of vibrant colours as they serve plenty of other things with Chole Kulche. Their Kulchas are prepared with oodles of butter and topped with a thin layer of coriander. The chole is smackingly hot with the perfect mix of spices and lemon juice and garnished with thin slices of beetroot and ginger. This is served along with salad, sweet chutney and green chilly chutney that will make you love it to bits. If you like spicy food, then do have the green chilly which is in the form of pickles, it will leave you asking for more.
But it's their imli chutney that is loved the most. They serve their iconic imli chutney with pomegranate seeds which tastes unique and perfectly complements the chole kulche. They also serve boondi raita in a glass that is yummy and refreshing in the summer heat. Some please also drink it like a glass of lassi.
Also Read: 15 Places To Visit To Get Your Hands On The Best Chole Bhature In Delhi

What's The Price?
There are two plate options available here in Kulachi Ke Chole Kulche. If you want a set of three kulchas, then it costs ₹70 and if it's two, then it costs ₹50. Depending on your preference, you can ask for your hot plate of Chole kulche.
It may sound a bit expensive but it's worth the taste and quality of their food. So if your tummy has already started rumbling, drop everything & head to this iconic stall – Kulachi Ke Chole Kulche for your next breakfast trail.
Deets
Address: Outside Kulachi Hansraj Model School, Ashok Vihar Phase 3, Delhi 110052
Timings: 10 am to 4 pm