If you are living anywhere in Mumbai or Pune, you must have drove to and discovered most of the hidden gems in Maharashtra. But we can bet that you did not hear of this surreal lake in the state. The Lonar Crater Lake is a Maharashtrian secret kept intact since 52,000 years. Do you know it was formed when a meteor hit the Earth? Interested much? Read on to know more.
The Formation Of The Lake
Located in a small town of Buldhana district of Maharashtra, Lonar Lake was formed around 52,000 years ago when a meteor weighing 2 million tonnes hit the ground. It was said to be travelling at an estimated speed of 90,000 km/hour to leave such an impact.
Also Read: 5 Locations In Maharashtra Which Are Replicas Of Ones Abroad
For many years, it was believed that the Lonar Crater was of a volcanic origin due to its location in a basalt field made from volcanic rock that dates back to 65 million years. The fact that it points towards it extraterrestrial origin is the presence of this glass called maskelynite which is formed only from high-velocity impacts. These 7 Stunning Lakes Of Sikkim Are Sure To Leave You Spellbound
Well, It's a hidden secret as most tourists go to Aurangabad to see the Ajanta and Ellora Caves, but they hardly make it to Lonar. Also because of that it's very peaceful and serene here. Need I give more reasons to you to head to this Lake?
Also Read: This Hidden Lake In Indore Gives You Kashmir Vibes With Breathtaking Views
The Story
There is a popular local story around this Lonar Crater Lake that ignores science. It is said that the Lake was formed when Lonasura, a mythical demon was pushed back into the netherworld with tremendous force by Lord Vishnu as he used to harass and trouble the local people.  This 50,000 Year Old Lonar Crater Lake In Maharashtra Turns Mysteriously Pink.
Facts About The Lake
The Crater is the best-preserved impact crater formed in basalt rock. A number of meteors drop towards the Earth – from 30,000 to 1,50,000 each year. This particular one did manage to create the Earth's largest and only hyper-velocity impact crater in basaltic rock. And also it's in Maharashtra, so 'Jai Maharashtra!'
Also Read: Heritage Structure Gilbert Hill In Mumbai Is 66 Million Years Old
Lonar Lake's temples are an experience in themselves!
The partially-submerged Shankar Ganesha temple, The Ram Gaya temple, the Kamalja Devi temple situated near the lake have stories which will leave you stunned. Also sitting in heart of the Lonar town is the Daitya Sudan temple, dedicated to Lord Vishnu, exterminator of the demon Lonasura.
Witness migratory and local birds
Wildlife photographers, this will be heaven for you as you can easily spot a number of migratory birds like: Shelduck, black-winged stilts, brahminy ducks, red-wattled lapwings, blue jays, baya weavers, hoopoes, barn owls and many more.
Also Read: Lakeside Camping In Bhandardara Is Weekend Goals
Crater with unparalleled biodiversity'
Not just migratory birds but you can also spot gazelle, langur, bats, mongoose, barking deer and chinkara in the surrounding jungle spread with teak trees. A belt of large tamarind and babul trees run around the basin. 82-Year-Old Karnataka Man Converts Barren Hillock Into Bed Of Lakes, Receives Praise From PM Modi.
The Lonar Lake Trek
Cover the 6km perimeter of the lake. There are multiple starting points to the trek, such as the Maharashtra Tourism Development Corporation (MTDC) Hotel and more.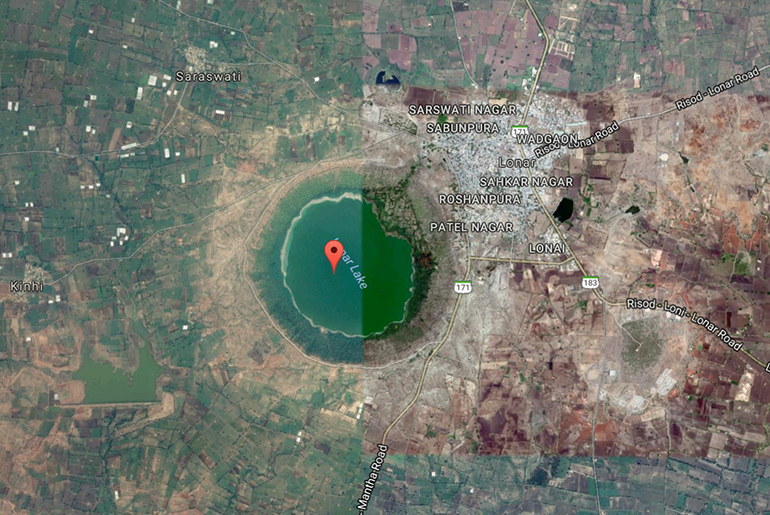 Deets
Best Time to Visit:
Winter (October to February)
How To Reach:
By Air: The closest airport to this Maharashtra's best kept secret Lonar is Aurangabad.
By Train: Also there are around 20 trains function between Mumbai and Aurangabad via Manmad Junction. Witness stunning views of the misty mountains, lush fields and waterfalls if you end up taking a post-monsoon rail journey in this route.
By Road: The central bus stand in Aurangabad is about 1km from the train station. Also there are buses to Lonar ply via Jalna and take about 5 hours.
Where to Stay:
You can stay at the The MTDC Resort. It is a good option for both food and stay and is closest to the lake.
L