When you think of crystal clear, serene lakes, you'd probably think of Udaipur, 'The City of Lakes'. But did you that North East's Sikkim hosts some of the most beautiful lakes in India? Perched atop scenic mountains, the lakes in Sikkim have a magical aura to it. In fact, during winter, you don't even have to visit Iceland for frozen lakes. Just head East to visit the gorgeous lakes here surrounded by snow-capped mountains and lush greenery. So without further ado, here are 7 of the most stunning lakes in Sikkim that are sure to leave you spellbound.
1. Gurudongmar Lake
If Iceland has the Jökulsárlón Lake, India's answer lies in Sikkim's Gurudongmar Lake. Nestled at a height of 5212 meters, the breathtaking Gurudongmar Lake is one of the 15 highest lakes in the world. It's also the second-highest lake in India.  Gurudongmar Lake is mystical not just because of its frozen nature. But it's also believed to have healing properties. Tourists often carry the glacier-fed lake water with them as it's believed to be sacred as it also grants the wishes of couples who face difficulty in having children.
2. Tsomgo Lake
Your trip to Sikkim is just incomplete without visiting the Tsomgo Lake, popularly known as Changu Lake. Situated 35km away from the city this lake stays nestled amid lofty peaks and majestic glaciers. The oval shaped lake spans around 1km and 15m deep in the valley. Tsmogo Lake literally translates as the source of lakes. True to its word, this lake is actually the source of many streams in the region. The short cable car ride and diverse range of beautiful birds here are some of the best attractions of this lake. Also, Brahminy Duck one of the native species is only found in this lake. So, get your binoculars and cameras along!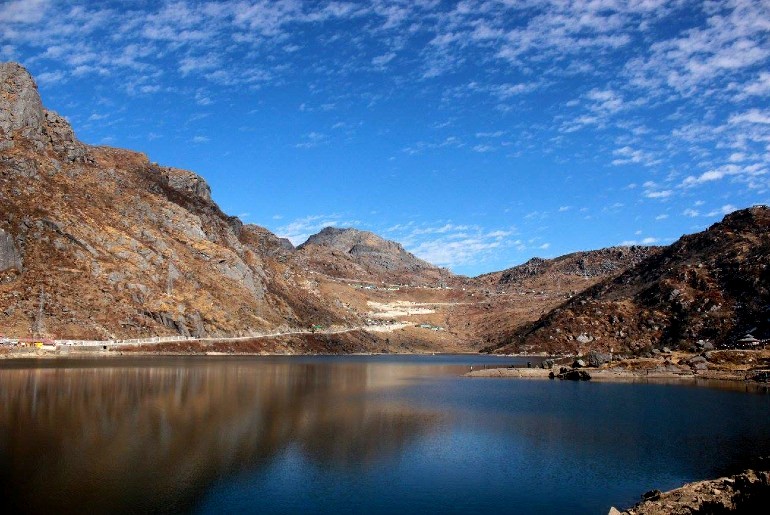 Also Read: Sikkim Becomes World's First 100% Organic State; Wins Oscar For Best Policies & By UN
3. Khecheopalri Lake
One of the most beautiful lakes of Sikkim has definitely got to be the Khecheopalri lake. Towering at a height of 38,710 feet, this is the highest lake in Sikkim. Tourists flock here to witness this holy, 'wish-fulfilling' water body. Legend states that the birds surrounding this lake protect it from any intruders. Interestingly, you'll hardly notice any fallen leaf in the lake, even though its surrounded by green hills. According to local belief even if a leaf falls into the lake, a bird flies down and picks it up. And that's you've got to see it to believe it!
Also Read: I Lived In Shillong For 20 Years And These Are The Hidden Gems I Discovered!
4. Samiti Lake
Samiti lake is the tiniest lake in Sikkim. It's nestled between two different mountains. Samiti Lake is a popular spot for high altitude trekkers on their way to Goecha La from Dzongri from Yuksam. Tourists often visit here to relax and rejuvenate amid a thrilling trek. During summer, you'll spot cattle herders bringing their sheep and cattle for grazing by the lakeshore. Samiti Lake might be tiny, nevertheless, it's one of the most charming lakes of Sikkim. 
5. Green Lake
By know, you'd understand that lakes in Sikkim are holy, spiritual and most of all, very mystical. So adding on to the mystical lakes of Sikkim is the Green Lake. According to locals, the emerald green lake is one of the most mysterious lakes of the state. This entire lake situated 16,000 feet above, once disappeared and now just remains as a lake basin. Trekking to the Green Lake is definitely an exhilarating experience for travel enthusiasts who can even enjoy a reflection of the majestic Khangchendzonga peak on the lake's surface.
Also Read: 5 Breathtaking Places to Visit in North-East India
6. Poison Lake
Poison Lake in Sikkim has a very interesting history behind it, which is sure to leave you surprised. Legends state that a local 18th-century ruler once ordered the poisoning of the lake to resist the British army. Since the lake was the only source of water in the area, many British soldiers died after drinking water from the poisoned lake. Till date, it's known as the Poison Lake. Surrounded by alpine vegetation this lake is tranquil and serene. All you can hear is the chitter-chatter of birds. Poison lake is truly a perfect spot to meditate and introspect.
Also Read: I Went Backpacking From India To South East Asia By Road With My Friend
7. Lampokhari Lake
Lampokahri Lake is one of the rare lakes in Sikkim that allow boating. Tourists usually embarking along the state's Silk Route drop by. It's situated at a height of 4000 feet at the Aritar village. Lampokhari lake is surrounded by a walking path and verdant hill slopes There's also a monastery dedicated to Guru Padmasambhava. To enjoy a complete view of the lake, walk up to the Mankhim Temple hilltop also. It's one of the most breathtaking places in the North East. 
So these are some of the most stunning lakes in Sikkim that you must visit. But if you've anyway come all the way to the Northeast. Then why not visit Meghalaya as well! Here's a virtual of Shillong to get your aspirations going!