I was born in a land far far away, in a tiny unknown village in northern Rajasthan. I am Raghuveersingh Rathore, but you can call me Raghu Raahi. Because that's what I do. I travel. And my favourite travel partner is Gargi Shingte. We met when we both were stuck studying chartered accountancy in Pune, dreaming about travelling the world. And now, full-time travel is our reality! We went backpacking from India to South East Asia by road including countries like Myanmar, Thailand and Cambodia for 4 months at around ₹10,000 per person per month. 
Hello! We're Raghu & Gargi
I'm Raghu, a freelance videographer and a movie buff. I love singing, walking, talking and a lot of beer. I believe in living simply, minimally and happily. Making short videos to capture real experiences and show how travelling can change your life is something I enjoy.  Along the way, I want to inspire people to get out of the false restrictions of a cubicle and really live their one and only life.
Also Read: I Go On Backpacking Trips With My 6-Year-Old Son, And Started Heart & Soil
Gargi is a self-taught artist. She is always on the go, working at backpacking hostels, painting wall murals, taking up freelance graphic design projects and creating art inspired by nature and travel. Gargi loves cats, reading, yoga, birds and being in nature. She is currently working on making and selling handmade products inspired by her travels.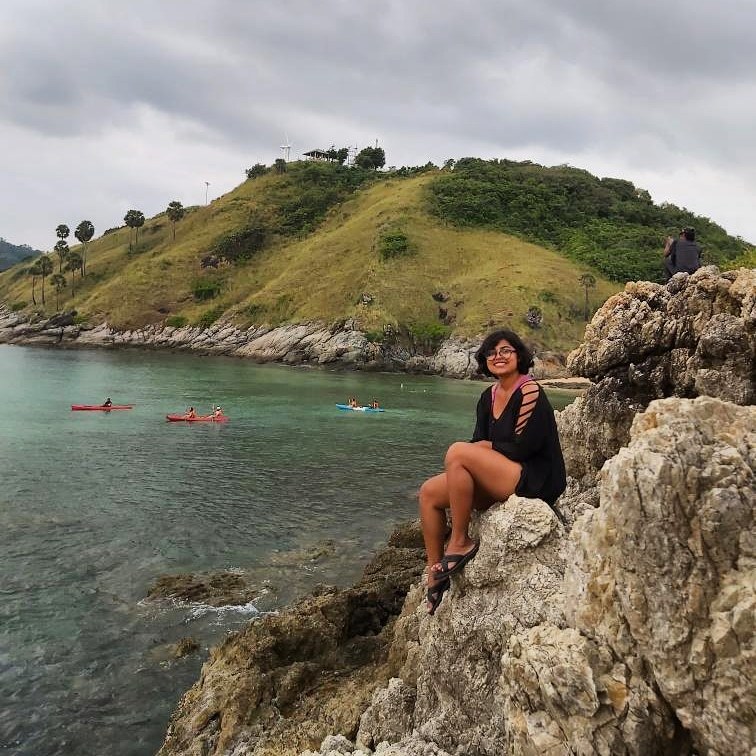 Inspiration For Travelling
I can never think of myself as someone who sits in an office in front of a laptop sipping his coffee and working day in and day out. I would rather sit somewhere in nature working on my laptop, sipping my coffee. And I always wanted to be a nomad but in reality, I was working in an office 8 hours a day in Pune.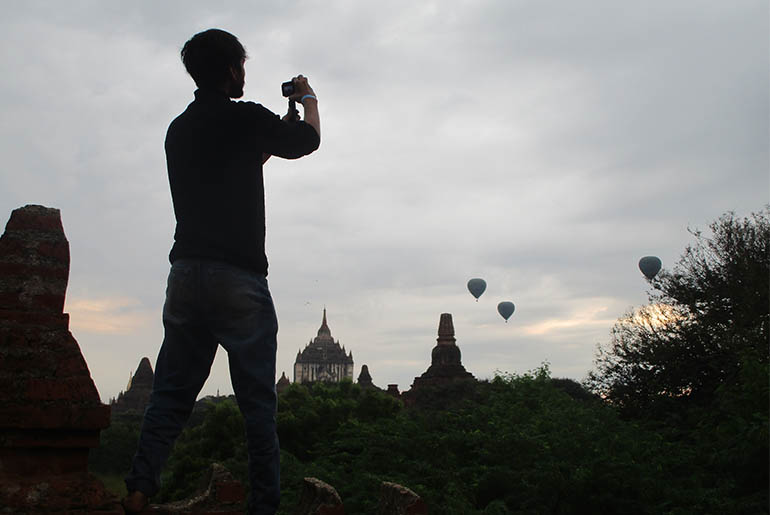 But everything changed when I did a trek in the Himalayas: the Sar pass trek. Those 5 days of pure joy, of living in the mountains with nature, away from all the man-made life that we call civilisation gave me the required push. After that raw beauty, I just couldn't get myself to get back to office life. I put in my papers the very next day and took some time off to figure out what I really wanted in life. I think that's when I toyed with the idea of long-term travel.
Planning For Trip To Thailand
So I was volunteering in a backpacking hostel called Himalayan Bunker in Ladakh, where Gargi was the manager. She had planned to backpack solo for 6 months in South East Asia. But the whole plan sounded so exciting that I had to jump on board. We were going to start from Mumbai, head to North East India and move slowly thereon through Myanmar, across Thailand, into Cambodia and climbing up within Vietnam and Laos, by LAND. We started our journey on 28th October 2019 and we will be back in India 23rd February 2020.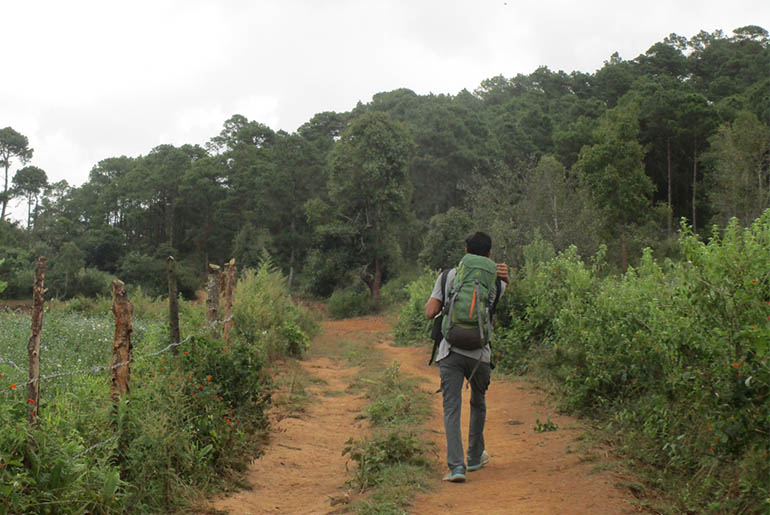 Gargi wanted to make sure we make full use of our route, so we spent a week in Meghalaya, hiking and biking on the long winding roads in the beautiful October skies. Our favourite was the Mawrynkhang Bamboo trek and the Nongriat Root Bridge trek.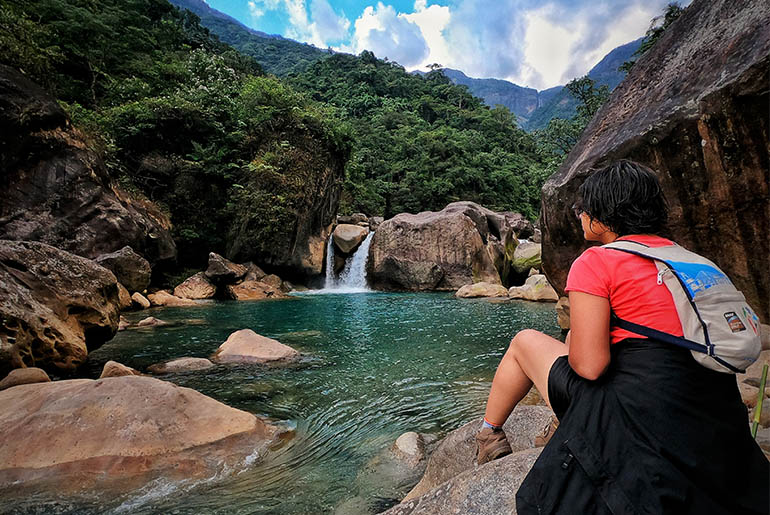 Then we slowly moved into Manipur to cross over to Myanmar. I've also made a video on how easy it is to cross the border and all the things you will need to do!
The first thing in planning for the trip was deciding on a route based on the geography of land borders. This was Gargi's favourite part. Getting lost on Google maps. She handled most of the planning and preparation from which check posts to cross from, places to visit, hostels to stay, and things to do.
Arranging For Visa & Other Requirements
Then came the fear of visa requirements and applications. It's really not such a big deal after the first couple of stamps. But everyone makes you feel like its a difficult and lengthy process. Next was estimating the rough costs in each country. We didn't really want to get into the details much. We just did some research on currency rates, read a LOT of blogs and looked up some accommodation rates online.
Also Read: 5 Offbeat Things To Do In Meghalaya | I Love My India Episode 2
The final step was packing. Travelling for so many months means that your bag can only have the absolute necessities, no maybes and just in cases. We want to promote sustainable living and so we made sure that we use our own water bottles and avoid single-use plastic as much as we can. We carry a spoon, fork and knife to discourage plastic cutlery. I am just using 3 tees, 2 pants, 1 shirt and 1 sweater! And you know what the best part is? It's still more than enough. I don't need anything more. Oh, and I was carrying a pair of shoes. Which I lost, so now I waltz around in chappals!
Also Read: My 10-Days Trip to Malaysia & Thailand With My Friend At ₹50,000 Per Person Including Flight Tickets
Budget For Thailand Trip
We planned on keeping a budget of ₹10,000 per month per person. This includes food, accommodation and travels. We were going to try as far as possible to make connections and work in exchange for food and stay. On an average 200 for stay 100 for food. When it comes to travel we commuted by public transport, busses and hitchhiking. Obviously sometimes it works, and sometimes it doesn't. Even then, we spent ₹14,000 for 1 month in Myanmar and ₹15,000 for 2 months in Thailand. Howwzzaatt!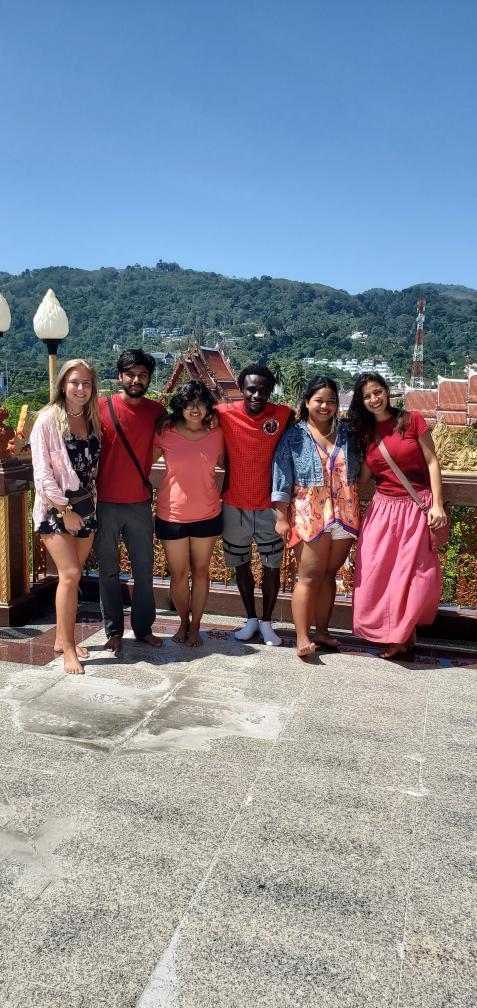 Thailand Trip Experiences
We did most of the touristy things in the first 2 weeks of travel. Everything from famous monuments in Myanmar to the best spots for photography. But soon, it felt fake and uninteresting. So we found ourselves hiking 40 km from Kalaw to Inle Lake instead! While we walked over hills we were able to communicate with people without sharing any common language. And that was the best part.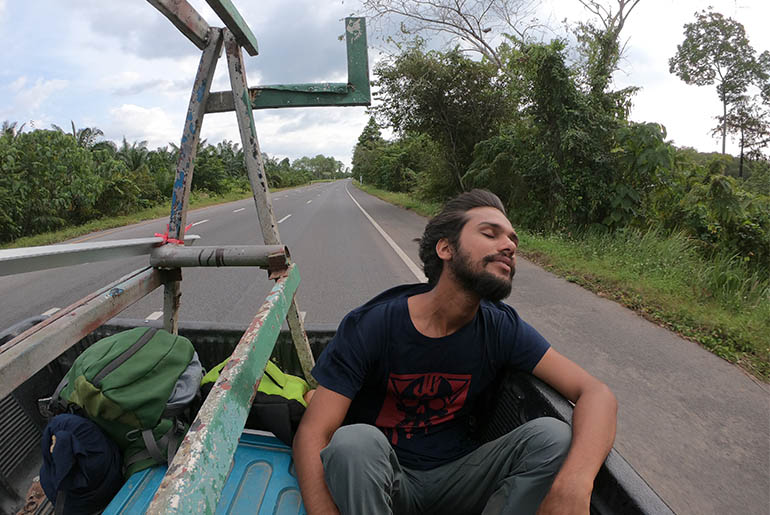 Travelling is about YOUR journey and it doesn't matter what the top 10 things to do are. If you run behind them you will never truly be able to travel. So know what YOU really want and feel like doing.
Gargi always loved to know some history, read some books and browse blogs about them as we travelled. So she always knew which places are super touristy, which island is famous for what. I on the other hand like to be completely unaware. My mantra is: " I go where the road takes me." So we sort of balanced each other out, going to specific places but not doing specific things. Experiencing the things that we need to and at the same time going with the flow. Did you know There Is A Pink Water Lilies Lake In Thailand That's Absolutely Stunning
For sure we've partied at Khao San Road in Bangkok, but we've also strolled aimlessly and stumbled upon the rather beautiful trail that leads to Laem Ka beach in southern Phuket.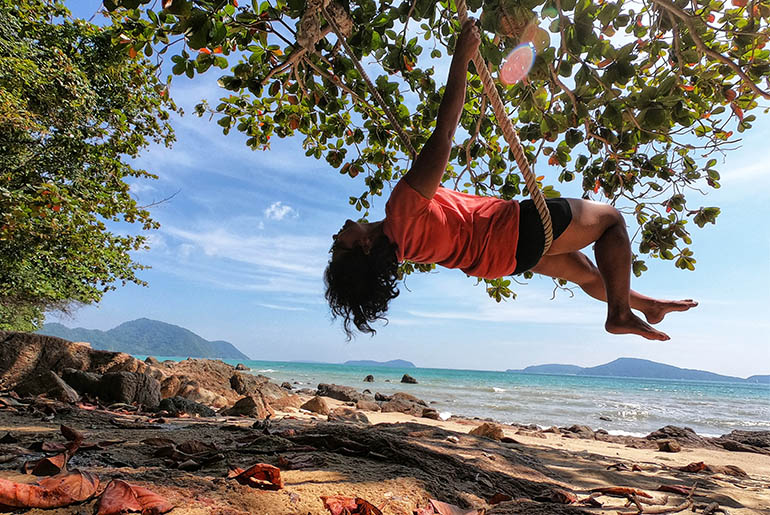 We've definitely taken a pass and seen the famed Ananda temple in the ruins of Bagan but we've also meditated in an unknown pagoda while it poured outside and spoken to the daughter of the keeper of the keys to a pagoda as she showed us her home and family.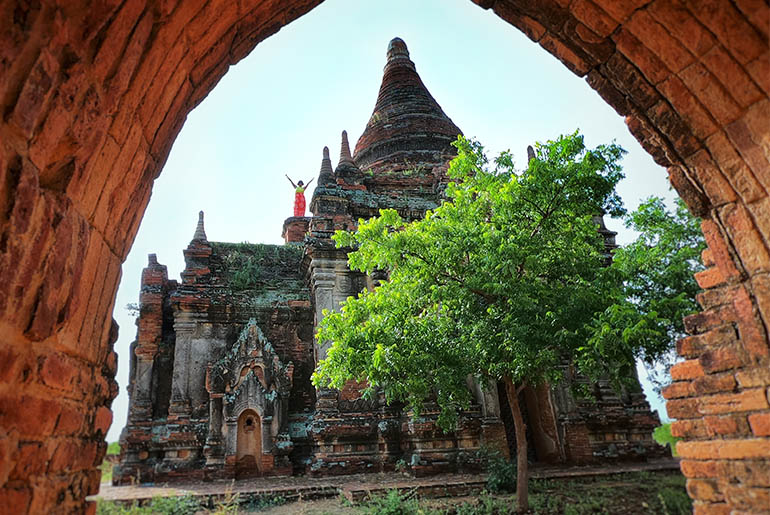 Of course we've had Thai curry and rice, but we've also lived on a Thai farm, picked vegetables and cooked Indian food together with a Thai family and their friends in rural Nakhon Ratchasima. We hit Pub Street in Siem Reap but also gave plantation farm tours in a pepper farm in Kampot!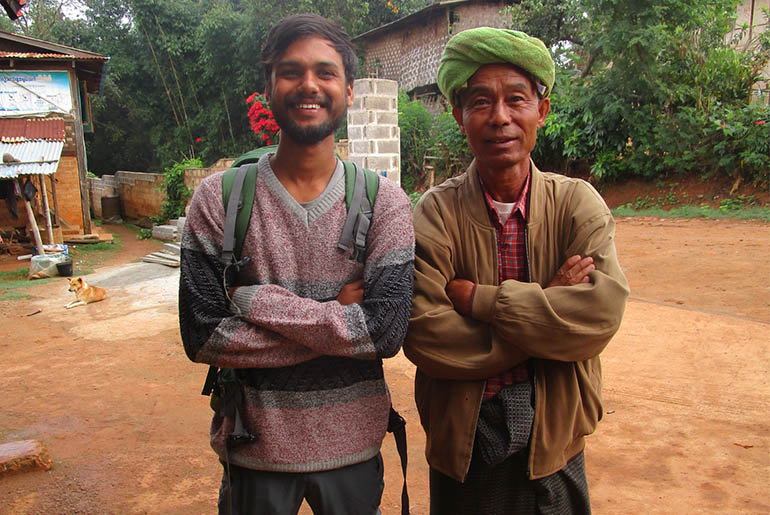 Favourite Experiences
I travel to meet interesting people, have different experiences and discover new places. There are so many places from Bagan to Phuket and so many experiences from watching sunrise at pagodas to hitchhiking in Krabi that it is impossible to choose a favourite. Here are 6 Reasons Why Phuket Must Be On Your Bucket List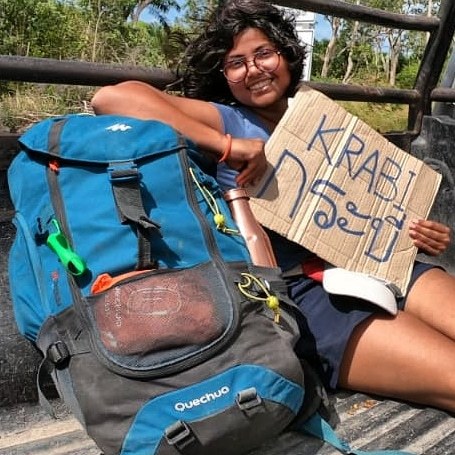 But if I have to name one place and one experience it would be Koh Lanta Island. That's where we celebrated our new year and it was so different from all my previous New Year's. We made a bonfire on a secluded beach with friends and witnessed the luminescent phytoplankton in the sea. We spoke about ourselves, about life and spirituality. And we welcomed the coming year with an open heart. It was a beautiful night and one of the most special ones.
Special Memories
The changing landscapes- When you travel by land you see all the slow changes in the dialects, language, food, weather, vegetation and clothing. It's beautiful to see that as part of the journey, which you would totally miss out on if you fly in. Obviously, not to mention the high carbon footprint.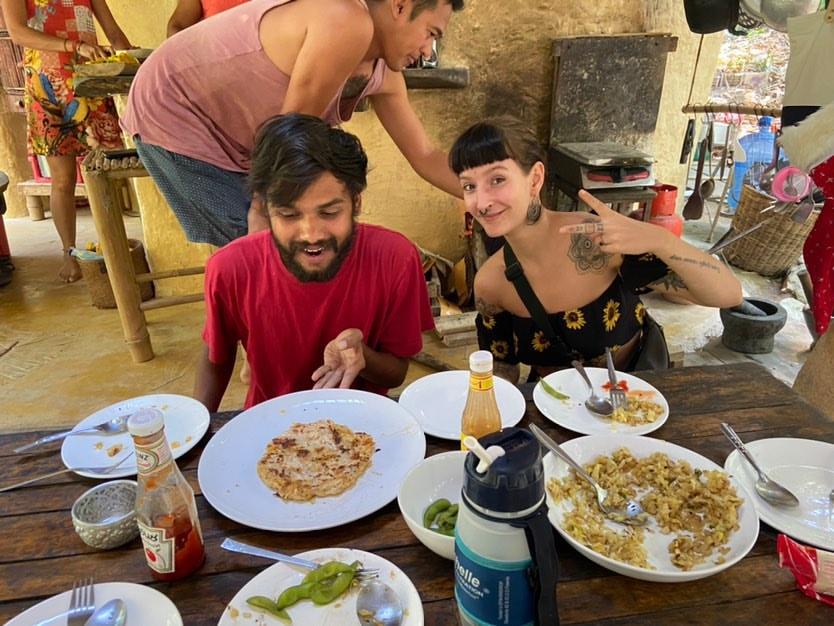 Living vs visiting- A 5 day trip to Thailand is way different from spending 2 months in the country. And I think that's how travel should be. If the point is to explore and experience a new culture you need to spend enough time there. To delve into the exquisite but also the good, bad and ugly.
Exploring a place- When you don't have an agenda for the day. When you have no time limits or boxes to check off, you just purely wander. And only then will you really smile in wonder. Backpacking has taught us that.
Tips For People Wanting To Travel On A Budget
So when you're travelling your expenses can grossly be divided into 3 categories: accommodation, food and transportation.
Our first and most important cheap travel hack has been bartering skills in exchange for stay and meals. I make videos and Gargi makes wall murals and that turned out to be the best combination for hostels!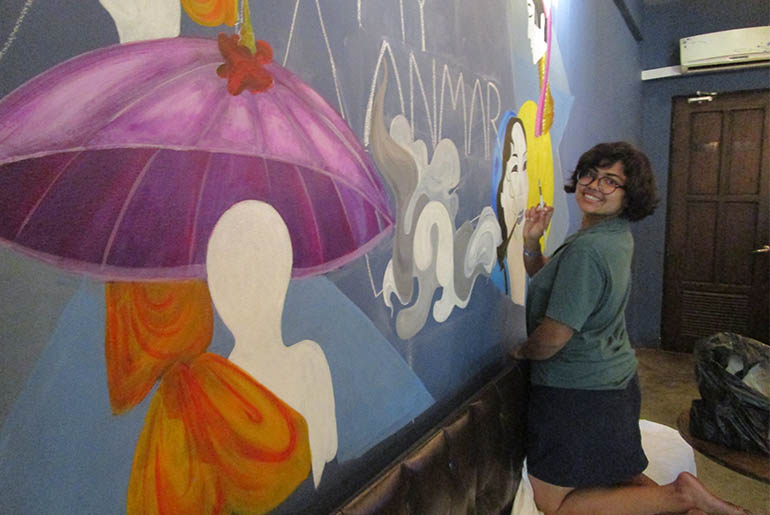 We got in touch with a few hostels to ask if they would be up for it. Incidentally, it wasn't all that difficult!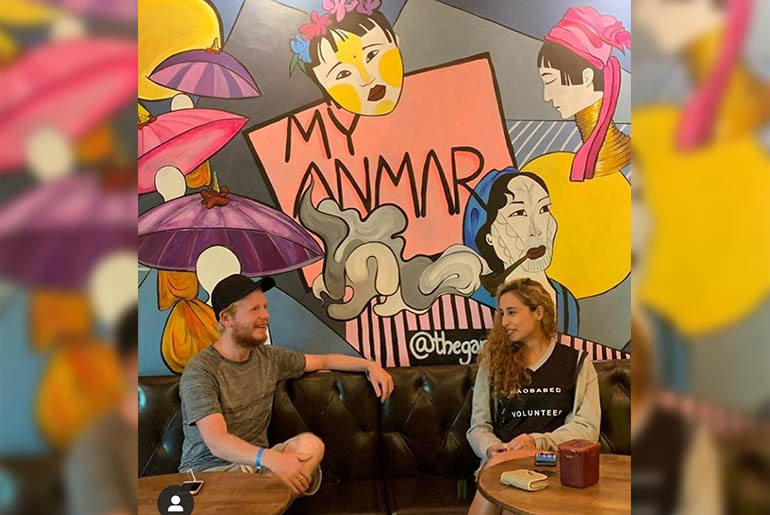 In Myanmar, we made videos and wall murals for a hostel chain and in turn, we got a free stay at Bagan, Inle Lake and Yangon! I made a video at Inle Lake for the hostel about all the things you can do there, which they will be using on their website. Gargi made 2 wall murals at Bagan and Inle Lake and had the time of her life! Plan a trip to Myanmar As It Grants Visa On Arrival For Indians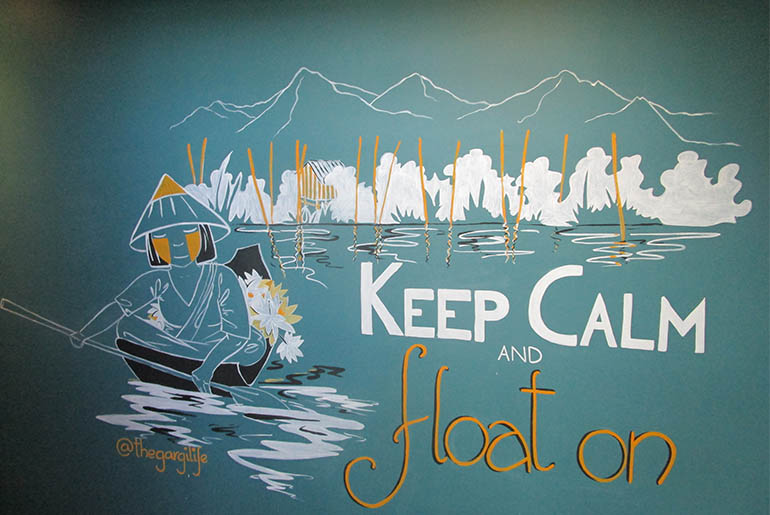 The next important, adventurous, easy and super-duper fun travel hack we'd like to give you will be hitchhiking! In Myanmar we always booked buses but inspired by a solo travelling girl from Brazil who hitchhiked all the time, we gave it our first shot in Krabi province of Thailand. I can't tell you how very exciting, exhilarating and humbling that experience is! Everyone should try it! Well maybe not in our country, but who knows! I made a video on how to hitch rides and our experience which my friends loved! Maybe you'd like it too?
Other than this, what we did to reduce costs was to eat local eat cheap, cook our own food wherever we could! If you miss your home food, this helps a lot. Make sure you wash your clothes, take overnight buses to save 2 days of hotel rooms and most of all, walk walk walk.
Tips For People Wanting To Travel Pune To Thailand By Road
Get your Myanmar e-visa easily from the official government website. It costs around Rs. 3600 and will be processed within 3 days via email. For Thailand Visa you will have to apply at the embassy in person since the Visa on arrival is valid only for arrival by air. Therefore, you will have to get this beforehand. Once you have the Visas for both the countries you can get to Moreh-Tamu Border in Manipur. Cross the Indo-Myanmar friendship bridge and take a bus from Tamu border town to wherever you are planning to get to in Myanmar. 
For crossing over from Myanmar to Thailand, take a bus from Yangon to the border town of Myawaddy. Get done with the immigration formalities and then cross the bridge to enter into Mae sot, the border town in Thailand. From here, you just have to take a bus to the destination of your choice. Another very important piece of information is to carry $15 (₹1074  approx) with you, as they also charge processing fees. They only accept dollars or Thai Baht at the immigration check post.
Learnings From Our Trip
Aaah. There is so much I have learned and still so much to learn. But one thing that I have learned is that you can be so many things when you travel. While travelling you can totally be a different person. You can break the barriers of behaving in a certain way because that's how everyone knows me back home.
But when you travel you can become anything. It's magical. I love it. And I think everyone should travel to have their own experiences and learn from them.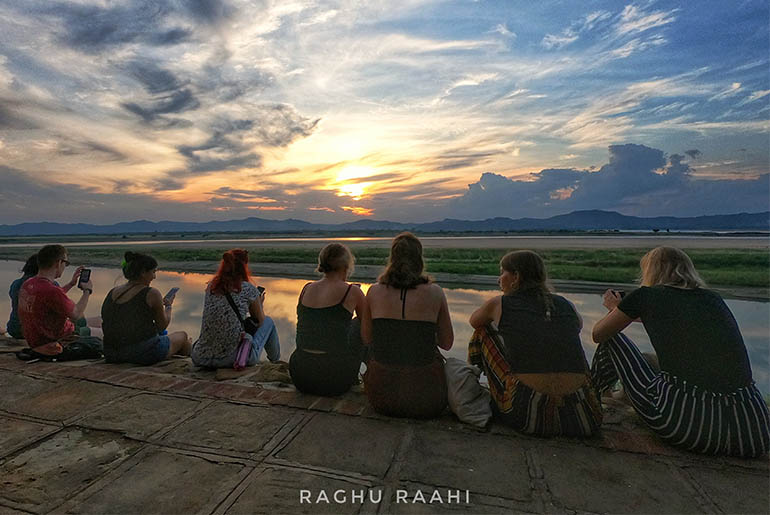 Because while travelling, with different people, different places and different experiences,  you are also meeting and discovering new versions of yourself too. And for Gargi, this travel experience has been about rediscovering hidden versions of herself that were slowly stifled over the years of growing up and trying to fit into society.
She learnt and fell in love again with Yoga for the mind, body and soul. She broke boundaries that she herself had created.  Gargi met so many women that empowered her with their own journeys.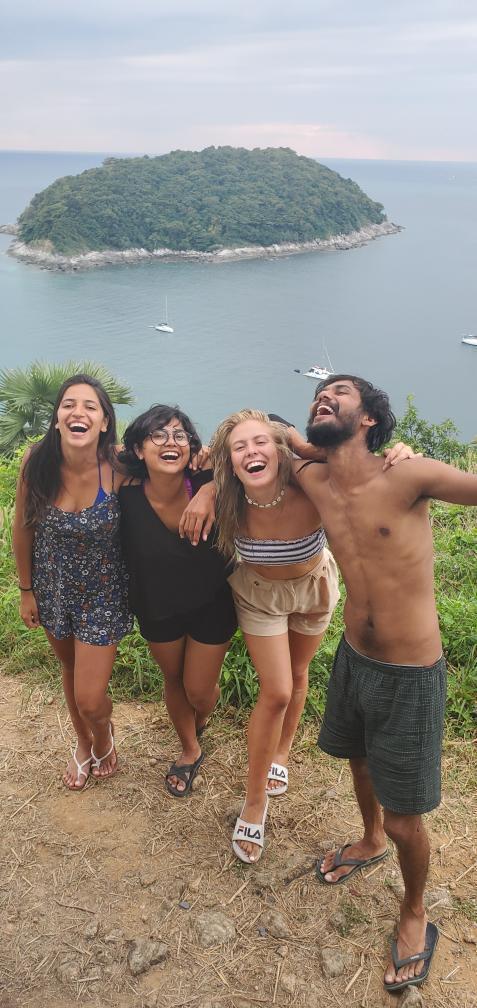 This trip for her has been about being able to express herself better, through people, words, art, body and meditation. We recommend everyone to visit South East Asia on a budget and experience the rich culture and gorgeous natural beauty for yourself. Trust us, its worth it! 
To know more about Raghu Raahi's adventures click here 
This article was contributed to Curly Tales by Raghu Raahi. If you have an article or similar experience to share, do write to us on hey@curlytales.com
Meanwhile, check out the top ten things you can do in Bangkok, in this video below.