Oman's best-kept secret or a lesser-known fact of Oman is its local chips industry. Many know and love the blue-red gradient packet of chips called Chips Oman for its unique flavour and versatility but the local chips industry has many more chips you need to try.
Who wants lays and Doritos when the local chips variety is that vast and that flavourful? 
Here Are 10 Chips From Oman You Need To Try
1. Sohar Chips
Everybody in Oman has definitely had a conversation on whether they prefer Chips Oman or Sohar chips. Sohar chips have a unique flavour and texture. It's made from potatoes and is somewhere between a crisp and a pofak texture. And it sure does have a crunch.  
Also Read: 7 Best Chips Oman Dishes You Must Try In Dubai Right NOW
2. Pofak Oman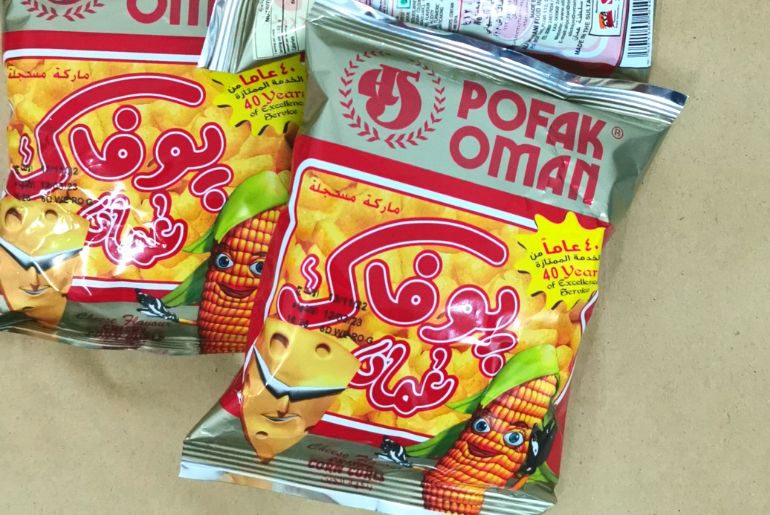 There is precisely nothing to compare to Pofak Oman's texture. It is made of corn grits and is soft yet crunchy. It has a strong aroma of cheese and butter and is definitely a packet you ought to gobble up if you come across it. 
3. Zaaky Crispstix
Imagine French fries dipped in ketchup and fried until crisp and crunchy. That's precisely how these french fries-shaped chips taste like. The Maroon packet has tomato flavour written on it and it's pretty easy to spot in the chips aisle. 
4. Tortilla Chips
Tortilla and pizza? Sounds like a weird combination right? Wrong. These triangle-shaped chips are a refreshing break from the usual salt and vinegar chips or the hot spiced ones with their unique set of flavours that leaves you swiping the packet clean. 
Also Read: Try Chips Oman Sushi & Chicken Cheetos Sushi At This Place In Dubai
5. Ripple Crunch
Who doesn't like some classic chips flavours? Ripples Crunch, just like the simplicity of its name come in 4 different flavours: sour cream and onion, cheese, spicy chilli and hot sauce flavour. The basics are often the best and these crunchy, ripple-textured, potato chips from Oman prove just that. 
6. Salad Chips
It is a chip with a cult of its own. The salad chips, although nothing like a salad, has a spiced and sour taste. The sourness is not as strong as vinegar chips but hits just right making it a perfect snack to munch on. 
7. Corn Cones
It's one of those chips you can't stop eating once you start. Corn Cones is the perfect combination of cheese and corn. These cone-shaped chips come in a bright orange packet and are definitely, a must-try!
Also Read: Bite Into Chips Oman Pancakes, Rainbow Waffles, & Freezing Desserts At This Cute Ice Cream Joint In Dubai
8. Majid Crispy
Ah, these crispy corn curls are hard to miss in supermarkets. They are chicken flavoured and have a distinct aroma as soon as you open the packet. The texture and shape is quite similar to Pofak Oman but it is a taste journey of its own. 
9. RINGS
These ring-shaped potato chips are every child's favourite! Putting these chips on as rings and eating them off your fingers is what every child does. And if Kourtney Kardashian can have her very own way of eating a KitKat, we can have our way of eating RINGS too. 
10. Mazoon 
Mazoon took the crowds by storm when it first came. The glossy black-coloured packet had some finger-licking crunchies. These angled potato and chilli chips have a delicious blend of herbs and spices. Not too spicy nor too cheesy. Just perfect. 
Also Read: Bite Into Crispy, Chips Oman Doughnut At Donuts Time In Al Khawaneej, Dubai
There are quite a few chips not featured on this list but worth a try nevertheless. Next time you walk through the chips aisle, make sure to grab some of these yummy chips from Oman.
Cover Image Courtesy: Pexels/Nothing Ahead and Pixabay/Thomas