Under 140 Characters
The Madpackers hostel in Pushkar has been voted the best in India by Hostelworld.
What Is It?
This vibrant hostel is located in the quaint and holy city of Pushkar in Rajasthan. The hostel truly dignifies the stay here as 'Travel meets Art meets Culture meets Yoga meets Music meets Emotion meets Madness' which is also their motto. This hostel is an ideal location for avid travellers who are looking to find some respite in the vibrant hues, and the breathtaking views of the city from their terrace.
Accommodation
The hostel features a beautiful terrace and a shared lounge along with various accommodation options for every kind of traveller. They have 6-bed mixed dormitory rooms, 8-bed mixed dormitory rooms, 10-bed dormitory rooms and 4-bed mixed dormitory rooms for solo travellers or groups.
Their Deluxe Double Rooms and Superior Double Rooms are perfect for couples. They even have 6-bed female dormitory rooms. The rooms come with attached bathroom and wardrobe. some rooms even have a seating area. You can also indulge in unlimited breakfast that includes continental and vegetarian breakfast.
There are 3 terraces divided into a lounge area, a rooftop cafe and a yoga/camping terrace for guests to enjoy morning yoga sessions amidst the serene environment of the hostel.
Activities
You can indulge in cycling as there's plenty of area in the surrounding region and breathtaking terrains to explore on a bike. Bike hire is available at Madpackers hostel.
There is Pushkar Fort which is located 8 km from the hostel, ideal for a hiking trail. Pushkar Lake is the most serene and peaceful lake where you can just sit for hours and witness the most quintessential sunset in Pushkar.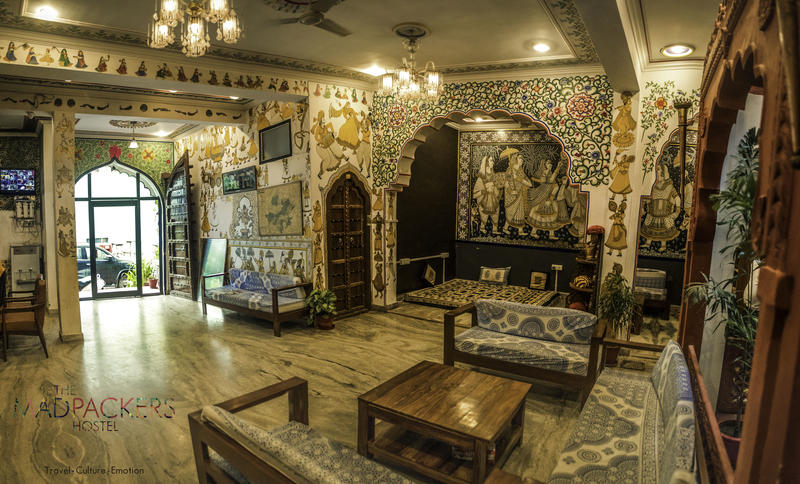 Please inform Madpackers hostel in advance of your expected arrival time.
Deets
Address: Madpackers Hostel, Kishan Palace, Choti Basti, Panch Kund Road, Pushkar, Rajasthan 305022
Phone: 095497 95545
Cost: starting from ₹449 for one bed (10-bed dormitory room)
Book here