Under 140 Characters
After AB Celestial, Mumbai gets another gorgeous floating restaurant, Ark Deck Bar, anchored in the middle of the sea offering a spectacular view of the city skyline. 
What Is It?
Welcome to a new concept of dining! Ark Deck Bar in Bandra has firmly anchored itself into the Arabian Sea and will give you a wonderful experience of floating on the Mumbai waters while you enjoy delicious food. With an extraordinary food and lounge vibe, Ark Deck and Bar boasts of an ambiance that is futuristic, vibrant, intriguing and inviting.
Also read: Exclusive Video: Mumbai's First Floating Restaurant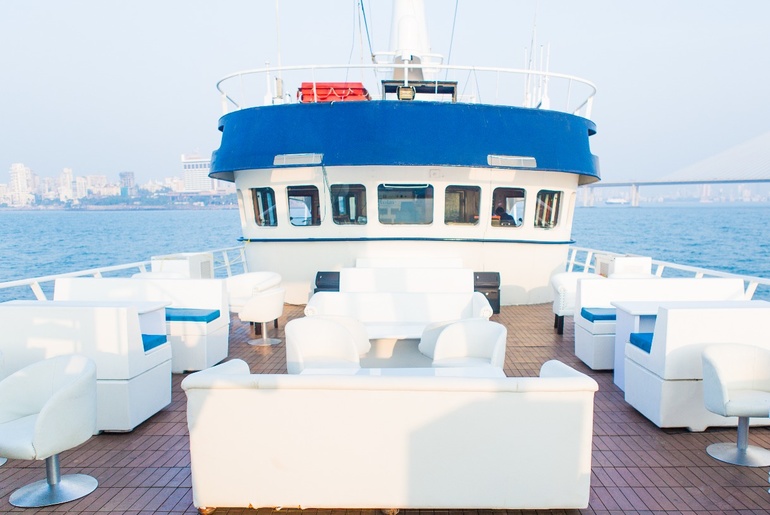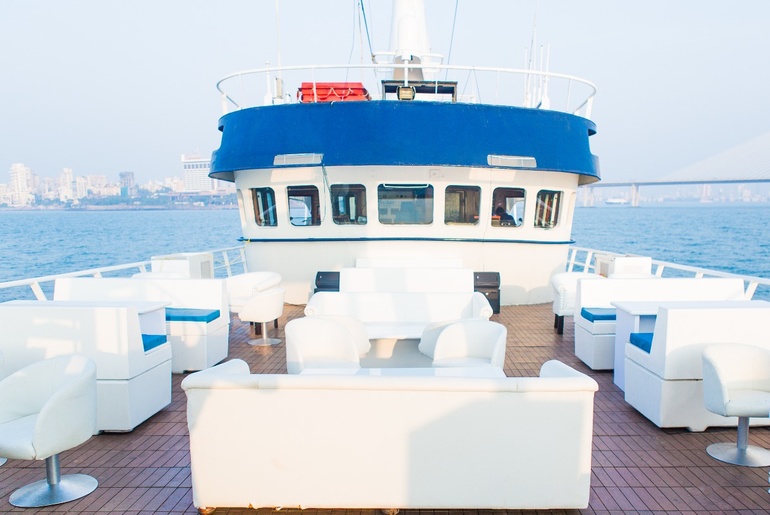 What's In It?
Spread over three levels, and docked in the middle of the Arabian Sea, the floating restaurant, comprises an open air bar deck, a sit-down restaurant, private dining areas and three suites. The cosy blue and white interiors echo both its Mediterranean vibe and its ocean-centric experience. One can expect contemporary fusion cuisine with hints of European, Indian and modern Asian flavours as the gastronomical delights.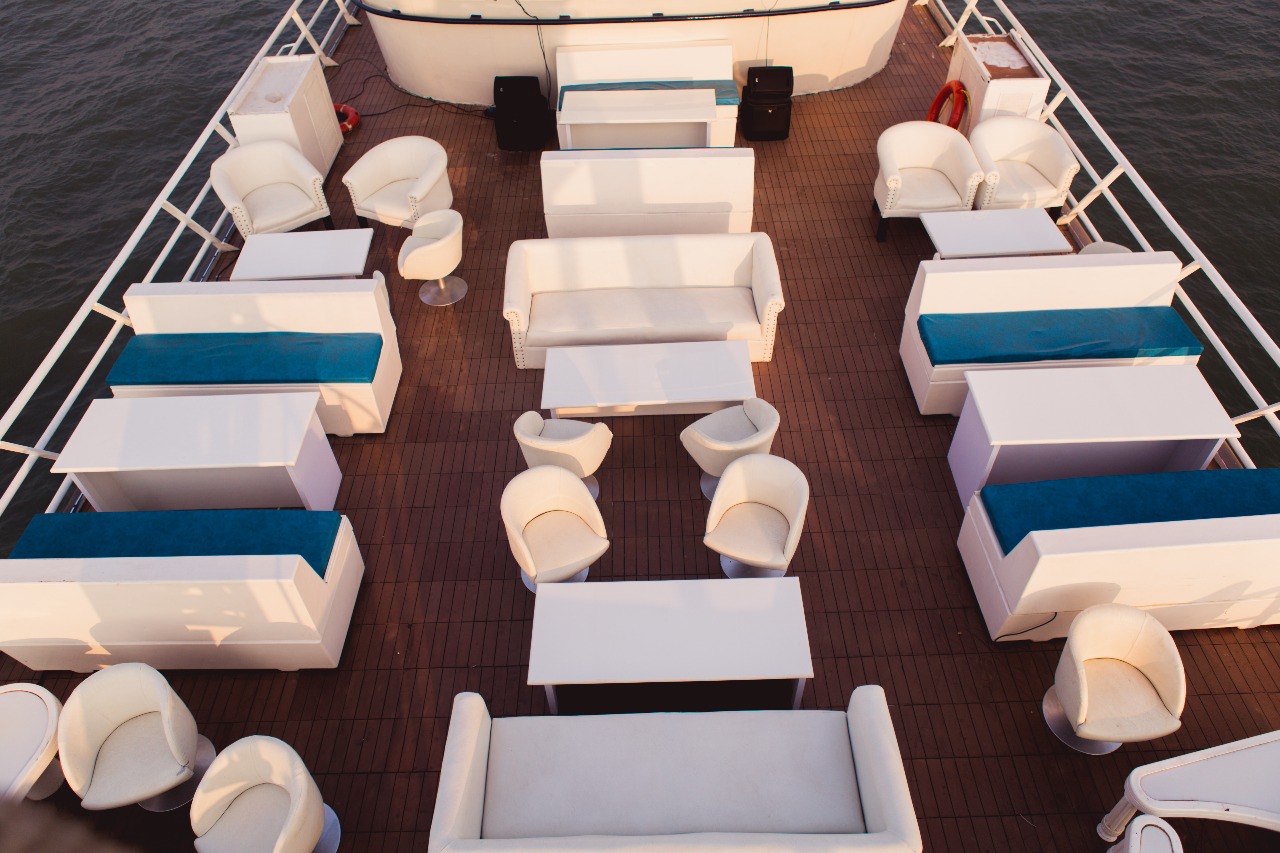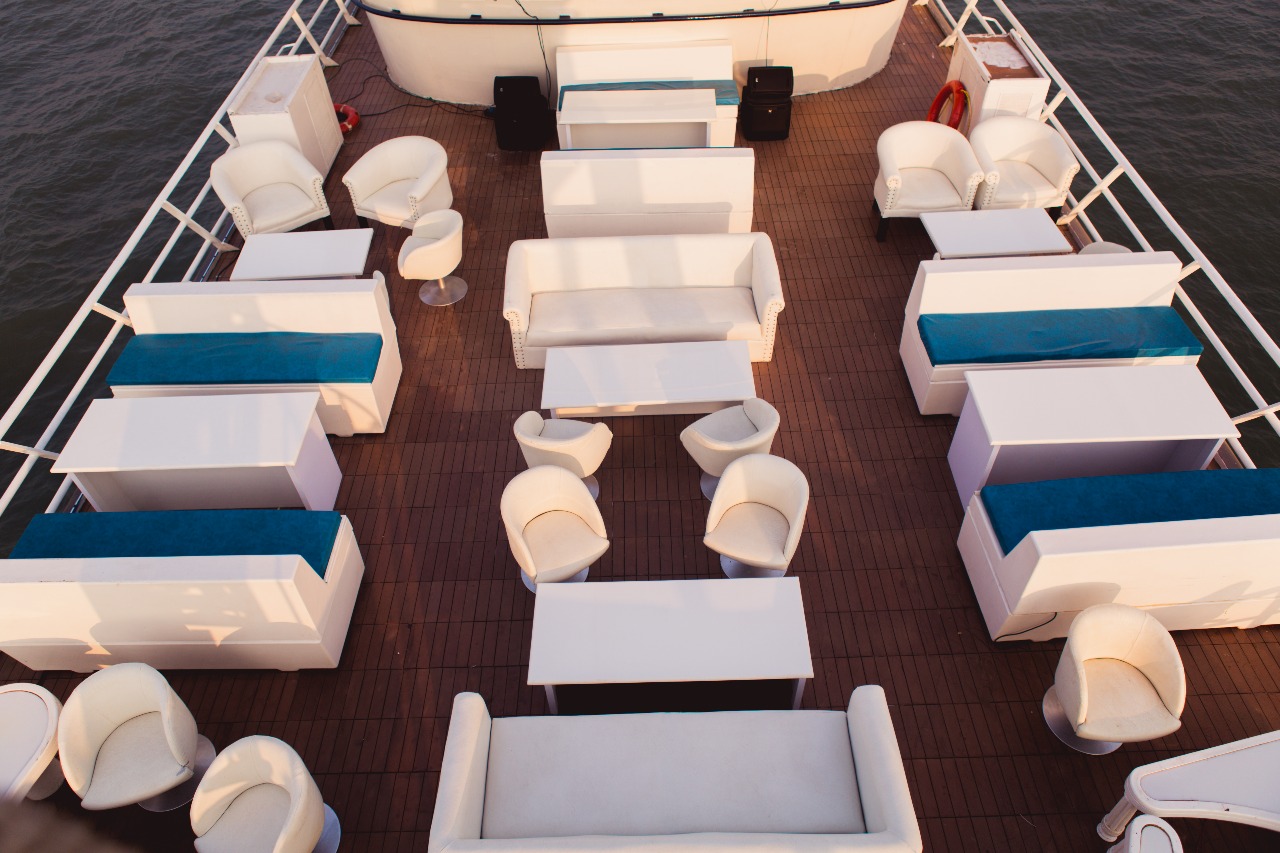 How To Get There?
Getting here can be a bit tricky. The not-so-popular Bandra Sealink Jetty is 100 meters before the bandra-worli sealink toll, same entrance as AB Celestial. You will have to take a 12-minute speed boat to get to Ark Deck Bar. Hopping on to the big ship from the speed boat is a bit uncomfortable as there is no ramp. You have to physically jump onto the big ship with the help of staff. Ladies, give your dress and high heels some rest for this day's outing. However, what lies ahead makes up for every bit of discomfort. The view is gorgeous and the food is delicious. Its an experience like no other.
How Much?
 The speed boat has a capacity of only 30 people however, the Ark Deck Bar can seat 150 people. It is important to make a reservation in advance to avoid any disappointment. There is a cover charge of ₹2000 per person (5 pm to 8 pm) & ₹3000 (8 pm to 1 pm), you can choose to order food & drinks worth that amount.
Deets
Address:  Bandra-Worli Sealink, Mumbai, Maharashtra 400050
Phone: 079755 82052
Approx cost: ₹2000 per person (5 pm to 8 pm) & ₹3000 (8 pm to 1 pm)
Bandra sea link jetty, before the sealink toll.
Guests will be ferried to Ark Deck Bar on speed boats. Do make reservations before arriving.