Ice cream is the ultimate comfort food when the temperature is climbing to crazy levels in Delhi, and the weather turns stifling. Isn't it time to change from vanilla, chocolate, strawberry, and mango to try something new? Just imagine trying out Maggi and momos ice cream roll. What if you can eat the aroma of roses as well? Outrageous right? Here are the 5 Outrageous Ice creams you should definitely eat this summer only in Delhi. 
Here are the 5 Outrageous Ice Creams You Can Try Only In Delhi:
1.
Rainbow Icecream Tacos At Eyes on ICE 
If you're not one for the standard ice cream cone or cup, give this outrageous ice cream a try since you can have your own ice cream taco here! They feature a tremendous array of tastes, varying from Roasted Peanut and Tiramisu to something as weird as Rum Paan. The ice creams have great tastes, and the sweet and crunchy flavour will undoubtedly make you fall in love with this parlour!
Location: Eyes On ICE – SF 55, First Floor, Galleria Market, DLF Phase IV, Gurgaon
Price: ₹ 120 onwards.
View this post on Instagram
Also read: Finish This 3 Kg Samosa In Delhi And Take Home ₹11,000
2. Cookie Monster Eyes Ice Cream At Creme Borne 
Creme Borne was the first dessert parlour in Delhi to begin offering black ice cream. One of our absolute favourites here is their Activated Charcoal Super Hyped Black ice cream, which you can top with exploding candy eyes, caramelized popcorn, fruit loops, and a variety of other toppings. In addition to being sinfully delicious, this dish is very Instagrammable!
Location: Creme Borne – 57, Municipal Market, Connaught Circle, CP
Price: ₹150 onwards
View this post on Instagram
3. Paan Bahar Ice Cream At Niti Shakes 
Paan has been a mood raiser and a taste changer for us for years. You must try this ice cream at Niti Shakes if you're on the same page! Two scoops of Paan Bahar Ice Cream with paan leaf and rose flavour in this ice cream have a taste that will have you coming back for more. Your heart will melt after seeing the presentation of this ice cream, and it definitely merits a spot on our list of Outrageous ice creams in Delhi! 
Location: Niti Shakes – NSP & Ashok Vihar Phase III
Price: ₹140 
Also Read: This Delhi Eatery Is Serving Brownie Shake Topped With Ice Cream In Edible Cups And We're Drooling!
4. Rum Baba Ice Cream at Oh So Stoned
This one's for you, Old Monk fans everywhere. Oh So Stoned offers Rum Baba in a crispy waffle cup with chocolate rum fudge and rum balls. Chikki Chikki Bang Bang and Boozy Banoffee are just a few of their other outrageous ice creams flavours. So, now in summers also you can have Old monk in the best flavour. 
Location: Oh So Stoned – DLF Cyber Hub, DLF Mall Of India, Ardee Mall & Other Outlets
Price: ₹ 219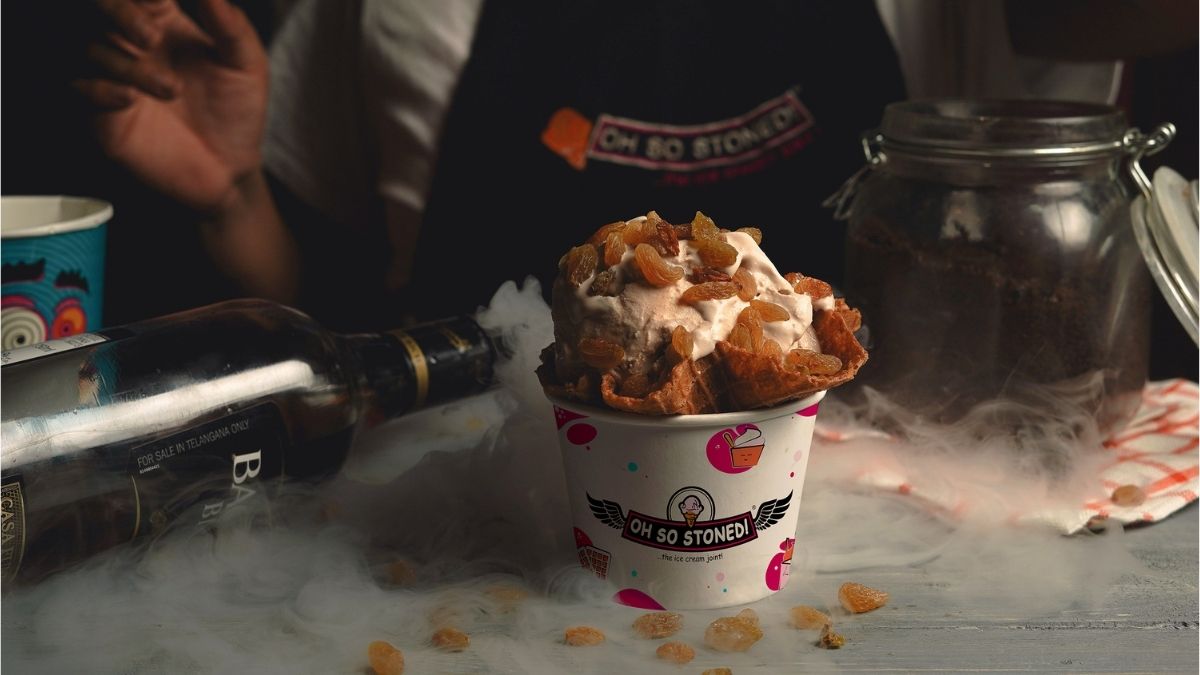 5. Masala Dosa Ice Cream Roll
This South Indian delicacy hasn't been spared from the strange experiments of culinary fans, who chose to create ice cream out of masala dosa. As an added bonus, this masala dosa ice cream is decorated with chopped masala potatoes and served with coconut chutney! This new outrageous ice cream idea has gone viral on the Internet! 
Location: Delhi Vendor 
So, which one will you try these outrageous ice creams in Delhi these summers?