Can you ever really go wrong with butter chicken? That's a rhetoric question because you can't. Loved by everyone, there's just something about indulging in the creamy and mildly spicy dish. A Punjabi invention and a desi obsession, it has been a part of our life since life itself. And when it comes to finding the best butter chicken in Mumbai, we have got your back. 
1. Punjab Grill, Multiple Outlets
Can a restaurant call itself Punjab Grill and not serve some crazy good Butter Chicken? That would be a crime. Jokes aside, this restaurant – specifically the Lower Parel branch – serves one of the yummiest Butter Chicken you would have ever tasted. Although known for Butter Chicken, you should try out the Dal Makhani, the kebabs here as well. Planning a family outing yet?
Address – Multiple Outlets
Cost of Butter Chicken – ₹425 (Exclusive of taxes)
2. Pritam Da Dhaba, Dadar
What looks like a roadside dhaba, is actually a place that has the ability to surprise people with its ambience and decor. With Persian elements thrown into the mix, this place seems interesting from the moment you walk through the door. Khatiyas lay all around in the non-AC section and an atmosphere like that just calls for you to order a plate of Butter Chicken, Sarso Da Saag, Roti and a tall glass of Lassi. Although there is an AC section, the khatiyas are where the fun lies.
Address – Hotel Midtown Pritam, Pritam Estates, Dadar East, Mumbai
Contact – 022 2414 3311
Cost of Butter Chicken –  ₹355 (Exclusive of taxes)
3. Shalimar, Multiple Outlets
A simple and no-nonsense restaurant where your entire attention would be on your food and only that. An unassuming little place on Mohammed Ali Road – what it lacks in style, it makes up in the quality of the food. Butter Chicken is one of the crowd favourites in this joint. If you are a fan of Ramadan food and have been to Mohammad Ali road you would know what kind of restaurant you can probably expect. This isn't a place for the fussy eaters, only foodies.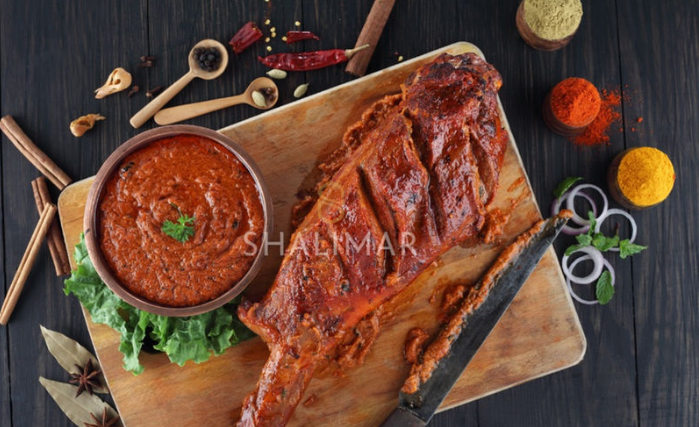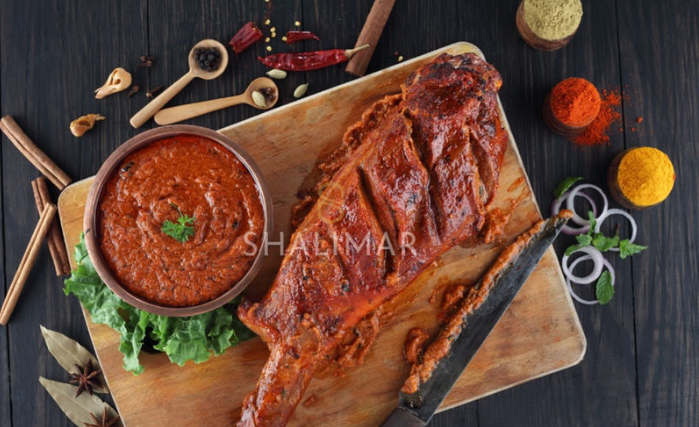 Address – Multiple Outlets
Cost of Butter Chicken –  ₹230 (Exclusive of taxes)
4. Khyber, Fort & Malad
The iconic Khyber just had to make its way into our list. Although it is present at two locations, we recommend going to the original one in Fort. Extremely unassuming and very easy to miss. It has an Afghan theme and the walls are adorned with paintings by MF Hussain.
Once you step inside the restaurant, you realize the size and the scale of it. And it all comes full circle when you sample their delicious butter chicken. 
Address – 145, MG Road, Kala Ghoda, Fort, Mumbai
Cost of Butter Chicken –  ₹615 (Exclusive of taxes)
5. Zaffran, Multiple Outlets
Zaffran is one of the oldest chains in the city to offer their lip-smackingly delicious Butter Chicken to hungry patrons. The butter chicken is a must-try in here, but you should also try out the cheesy kebabs that they have recently introduced into the menu. Besides this, they have a floor dedicated to Sheesha. So if you are in town and want a place to hang out and eat some good food, you should drop in.
Address – B, Sitaram Building, DN Road, Crawford Market, Mumbai CST Area, Mumbai
Cost of Butter Chicken –  ₹265 (Exclusive of taxes)
6. Goila Butter Chicken, Multiple Outlets
Started off by Chef Saransh Goila, Goila Butter Chicken has garnered quite a few accolades. The biggest one being the episode on everyone's favourite food show, MasterChef Australia where it was the pièce de résistance during one of the famous Pressure tests. A home-recipe which Goila honed before launching it in the market, the butter chicken has a smooth smokey flavour that sets it apart from the other butter chickens around.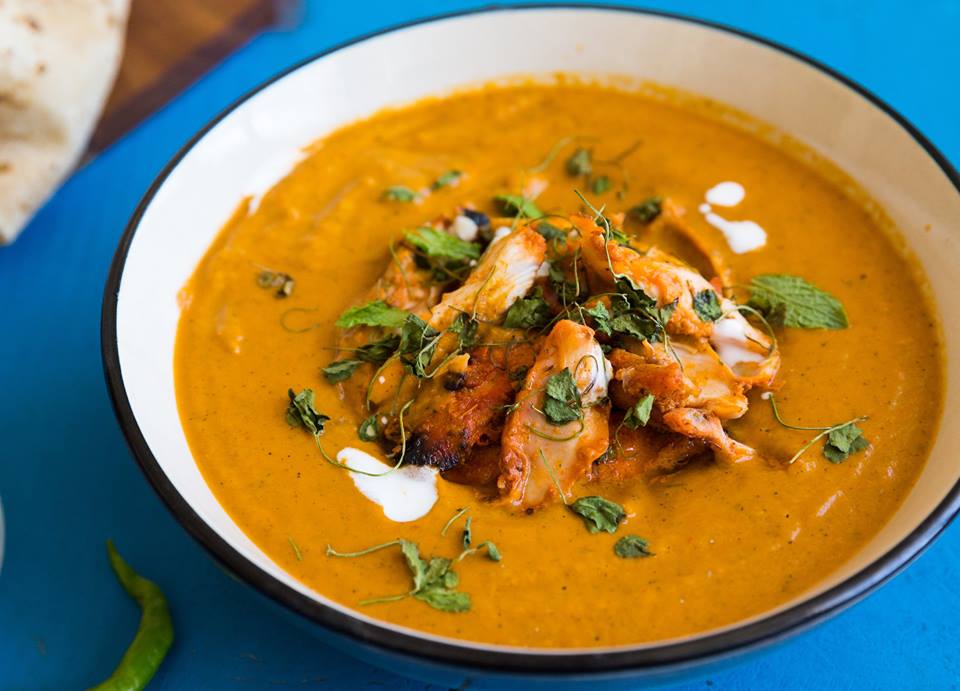 Address – Multiple Outlets
Cost of Butter Chicken – ₹330 (exclusive of taxes)
7. Copper Chimney, Multiple Outlets
If you are on the lookout for the classic butter chicken that is the perfect ratio of sweet and creamy then you don't need to look beyond Copper Chimney. Tandoori chicken coated in a tomato and buttery gravy with mild spices is what Copper Chimney is famously known for. We know what we are having for dinner tonight.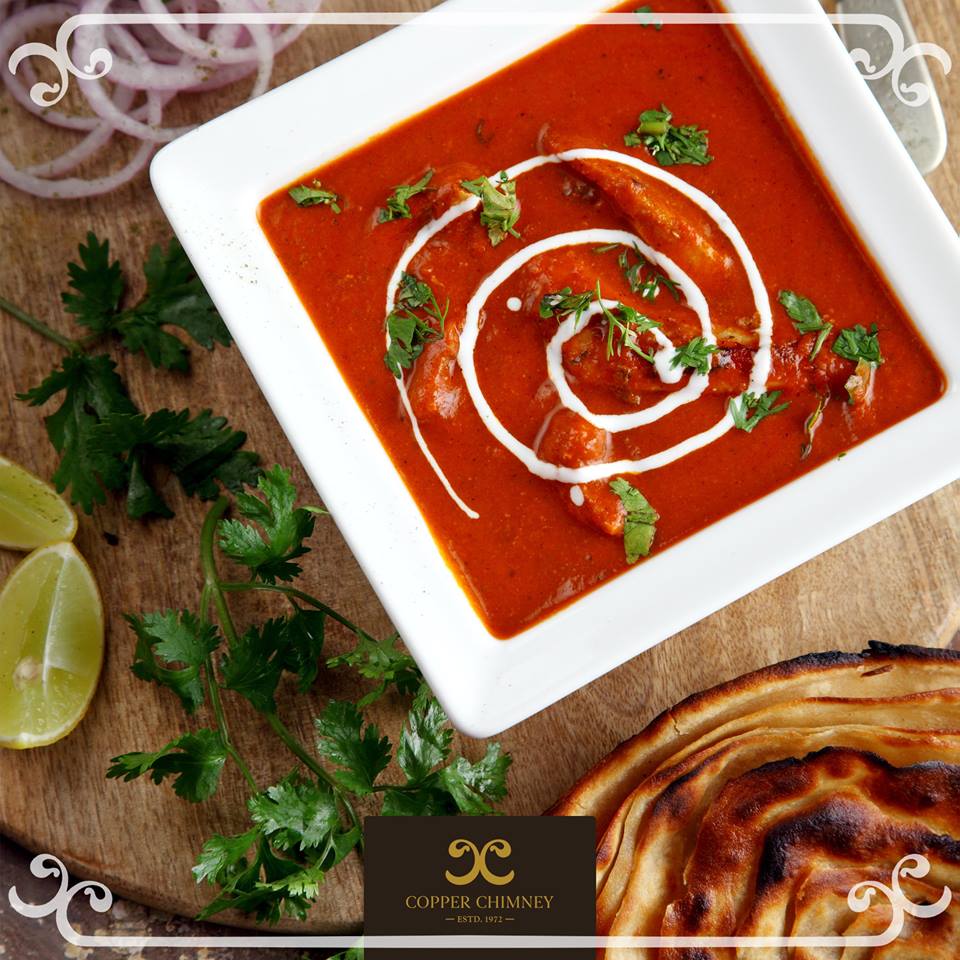 Address – Multiple Outlets
Cost of Butter Chicken – Price on request
8. Masala Library by Jiggs Kalra, Bandra Kurla Complex
Innovative gastronomical delights is what Masala Library is all about. The forerunner in molecular gastronomy, the restaurant which is named after famed restaurateur, Jiggs Kalra and run by his son Zoravar has always held food in the highest regard. So, they don't disappoint when it comes to maintaining the integrity of butter chicken. pair it with their Four Cheese Kulcha and trust us, you'll be dreaming about it for days on end.
Address – Masala Library By Jiggs Kalra, Ground Floor, First International Financial Centre, BKC Rd, G Block, Opposite Sofitel Hotel, Bandra East, Mumbai, Maharashtra 400050
Contact – 084529 00900
Cost of Butter Chicken – Price on request
9. Pali Bhavan, Bandra
If you aren't going to Pali Bhavan to be spell-bound by its gorgeous interiors, then go for the butter chicken. And, you will have absolutely no complaints. Pair it with their Garlic Cheese Naan or with just plain steamed rice, there's no fixed way to enjoy this delicacy.
Address – Pali Bhavan, 10, Pali Mala Rd, Adarsh Nagar, Bandra West, Mumbai, Maharashtra 400050
Contact – 022 2651 9400
Cost of Butter Chicken – ₹750 (Exclusive of taxes)
10. Butter Chickenwala, Powai
When a place has Butter Chicken in its name, can it really mess it up? We think not and Butter Chickenwala does justice to the dish and how. BRB, we got to go and get ourselves some butter chicken lovin'.
Address – Butter Chickenwala, 1, Tulsi Kunj Chawl, Opposite Mukteshwar Ashram, Near IIT Market, Powai, Mumbai
Contact – +91 9152094563
Cost of Butter Chicken – ₹320 (Exclusive of taxes)
11. Tanatan, Juhu & Shivaji Park
The quirky interiors of Tanatan go just perfectly with the dining experience. And with a wide array of cocktails that you can sip on as you dig into piping hot butter chicken, you really can't go wrong.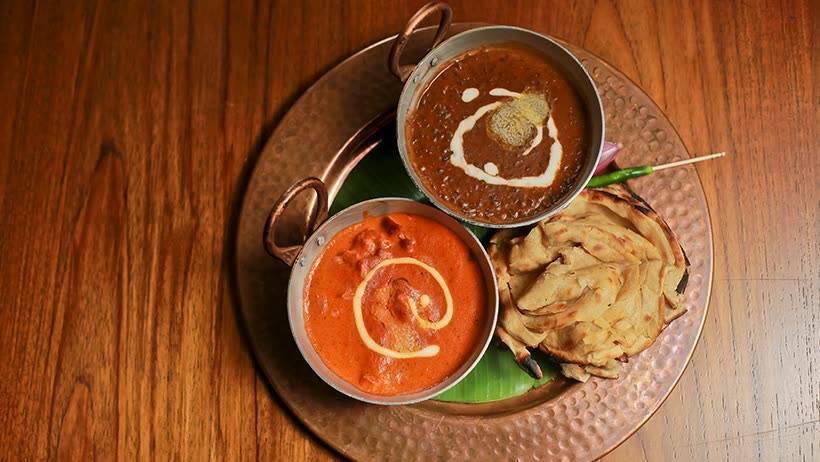 Address – Tanatan has 2 outlets
Juhu: Ramee Guestline Hotel, 462, A.B. Nair Road, Juhu, Mumbai
Shivaji Park: Shop 8 to 13, Vidya Bhavan, Near Sena Bhavan, Shivaji Nagar, Dadar Shivaji Park, Mumbai
Cost of Butter Chicken – ₹560 (Exclusive of taxes)
12. SardaarJi, Multiple Outlets
If you are not a stickler for traditions then you need to hit up SardaarJi ASAP! And we say that because they make insane Butter Chicken Sliders. Confused? Think of a Cheese Naan that is stuffed to its limits with spicy butter chicken. Do you really want to miss out on something as cool as that?
Address – Multiple Outlets
Cost of Butter Chicken Sliders – ₹159 (Exclusive of taxes)
13. Butter Chicken Factory, Multiple Outlets
Think of it as a factory that produces butter chicken on the daily. What's not to love about that? Besides their amazing version of it, they also make some lip-smacking kebabs.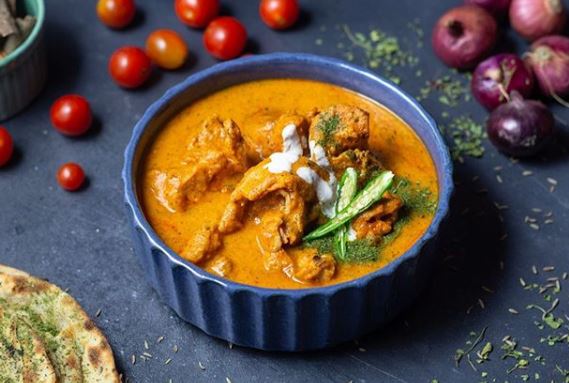 Address – Multiple Outlets
Cost of Butter Chicken Sliders – ₹450 (Exclusive of taxes)
We know where we're going this weekend! We're going to get fat!