Amidst COVID-19 outbreak, Curly Tales encourages you to stay indoors. We take you around the world from the comfort of your home. #SpreadPositivity #ArmchairTravel
The thick black clouds of coronavirus have enveloped every part of the world, spreading its aura of terror. And until we wait for the clouds to clear and the bright yellow sun rays to touch our lives, we must look for the silver lining. In this case, there is alot of positivity around us, despite the panic and loss through COVID-19. From dolphins swimming across waters, people coming together to sing, families spending quality time together at the comfort of their homes and nature recuperating from the clutches of pollution. Earth is repairing,#EarthIsHealing. So here are 7 positive things amidst the COVID-19 outbreak.
1. Mumbai's Marine Drive Witness A School Of Dolphins Playing In The Water
There is a popular meme doing the rounds of social media that states 'Coronavirus is the vaccine to humans that are the virus'. Ever since people have been on self-quarantine, nature and all its elements have been thriving. There has been a decrease in water traffic and pollution in Mumbai's Marine drive, making it easier to spot dolphins. The reduced water traffic in the Arabian Sea has led to people spotting dolphins playfully jumping in waters. If this isn't a little dose of positivity for the day, then what is right?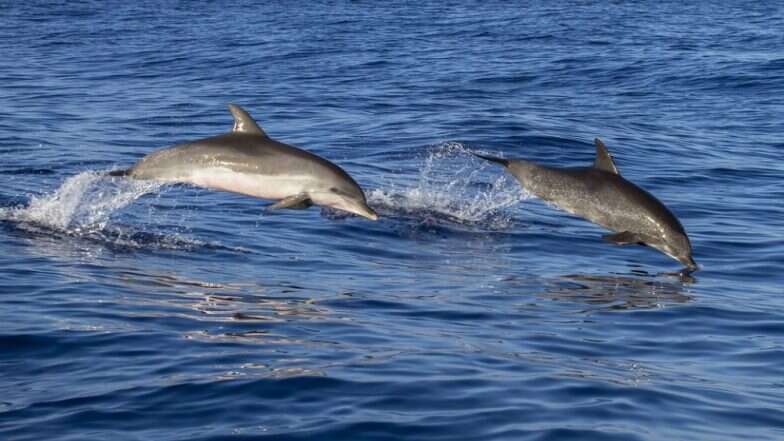 2. Delhi's Air Pollution Drops As AQI Drops To 129
One of the most polluted cities in India, Delhi is now witnessing a drop in its air pollution. According to the India Meteorological Department, the maximum temperature during the day in Delhi is just around 29 degrees Celsius. With most of the places shut in the capital, there are fewer vehicles on the road and the air is clearer. After a record AQI High of 1000, the partial lockdown is indeed helping the environment of Delhi.
3. Dolphins Have Returned To The Canals Of Venice
The sad bad news is that Italy has been declared as the epicentre of coronavirus, but the good news is that dolphins, swans and fishes are witnessed swimming around in the clean canals of the city. The lockdown in Venice might have filled the air with gloom, but with nature's mystical creatures making its way to the waters of Venice, there is a lovely sprinkle of positivity in Europe.
*National geographic is contesting this story saying it may be fake news.*
https://twitter.com/Cosodelirante/status/1239203236927680512?ref_src=twsrc%5Etfw%7Ctwcamp%5Etweetembed%7Ctwterm%5E1239203236927680512&ref_url=https%3A%2F%2Fcurlytales.com%2Fdolphins-return-to-clean-venice-canals-as-italy-enters-second-week-of-lockdown%2F
4. China Reports Significant Decrease In Air Pollution
The air pollution from nitrogen, gas emitted by cars, power plants and factories dropped by 40% over Chinese cities due to the restriction put to prevent the rapid spread of coronavirus. The European Space Agency observed a decrease of fine particulate matter which is a major air pollutant this Februrary as compared to the past three years. Studies also showed that particulate matter fell by around 20-30% over large parts of China. The significant decrease of air pollution in China is testimony to the fact that the earth is healing.
Also Read: Manali Stays 'Open' And Welcomes All Tourists While Other Places Close Doors Due To Coronavirus Scare
5. All Countries Globally Are Working Together To Curb The Pandemic
During times of crisis, we just realise that National Boundaries are artificial. What really matters is the need to be there for each other irrespective, of one's nationality, religion, gender, caste or creed. So it's heartwarming to see that global leaders are joining hands, adopting customs, like the Indian way of greeting, namaste, to combat the deadly virus. China sent its medical experts and supplies to Italy to help them battle the virus. India sent a team of doctors to Iran, and these are just a few of the heartwarming ways countries are globally working on to curb the pandemic. It's interesting to know that WHO Lauds India For Prompt Actions To Combat Coronavirus
6. Humanity Is Coming Together As People Sing In Unison
'Poetry, Beauty, Romance, Love, these are what we stay alive for', this iconic Robin William's quote from Dead Poets Society, is a reminder to us that during times of crisis, humanity is coming together as people to sing in unison. Coronavirus might have led to people locked up in their homes, but art and culture is what binds people and brings them together at this time. Italy found a novel way to keep positivity alive. People come out on their balconies, sing and play instruments and embrace each other through the power of music. The streets might be empty but the hearts of people in Italy are full of warmth and joy. Did you know Louvre Museum And Other Tourists Sites In Italy And France Have Been Shut Down Due To Coronavirus?
https://twitter.com/romepix/status/1238658126087442432?ref_src=twsrc%5Etfw%7Ctwcamp%5Etweetembed%7Ctwterm%5E1238658126087442432&ref_url=https%3A%2F%2Fwww.commondreams.org%2Fnews%2F2020%2F03%2F16%2Fkind-triumph-spirit-locked-down-italians-singing-balconies-inspire-hope-across-world
7. Brands Like Louis Vuitton Are Offering Free Masks & Sanitizers To Hospitals
Coronavirus has affected the lives of celebrities, the rich, middle class and the poor. The virus doesn't distinguish anyone on the basis of their economic status. Anyone and everyone is prone to it, which makes it all the more necessary for humanity from all walks of life to come together to combat this. Brands like Louis Vuitton, the French luxury goods company are producing hand sanitizers and masks to distribute it free of cost across 39 hospitals in France. The owner of the luxury apparel brand Zara, Inditex will also be donating masks to coronavirus patients and health workers across Spain. And this is indeed a lovely dose of positivity that we can notice during times of coronavirus.
The coronavirus pandemic is definitely uniting the globe and making us better human beings. So find your silver lining amidst the dark clouds of coronavirus, stay at home, spend time with your family, learn a new hobby, read a book, and live every moment to the fullest, while you let the earth heal.