In a far-flung corner of Goa, lies a 20-acre dense jungle sweeping over the dramatic Western Ghats. Not many people live here, but the lush green treasure trove is inhabited by majestic creatures like black panthers, great pied hornbills, giant squirrels and more. While partying on the beaches in Goa is quite mainstream, not everyone will tell you about this experience in proximity to the shoreline. Right within this jungle, lies the breathtaking, luxurious yet rustic resort, The Postcard Hideaway.
Also Read: Goa Gets An Ibiza-Style Lounge With Rustic Vibes & Lip-Smacking Mediterranean Cuisine
Ditch The Crowd Of Goa And Enjoy The Lush Green Nature
The Postcard Hideaway by The Postcard Hotel is in South Goa's Netravali. It unfolds a living in absolute seclusion, for someone who wants to ditch the crowd and enjoy nature. At this hideaway, you can wake up to the song of birds and be treated with a delish a la carte breakfast. Step out to the patio of your cottage to catch uninterrupted views of the splendid mountains. The property has twenty opulent rooms amid the pristine wilderness. Not far from the resort, lie some mesmerising waterfalls too.
Also Read: India Gets Its First-Ever Alcohol Museum In Goa Dedicated To Local Delight Feni
An Open-Air Hot Tub In The Heart Of The Jungle
At Postcard Hideaway, you can indulge in a plethora of experiences. Take nature trails from your cottage to connect with the purity of the picturesque surroundings and the rich flora and fauna. Keep your binoculars handy, who knows, you might end up spotting a black panther just at a distance. Lend your ears to the symphonies of the streams, the birds, the whistling breeze and the leaves. The resort has an open-air hot tub too. For rejuvenating your mind, body and soul, you can also take part in spa therapies and yoga sessions here.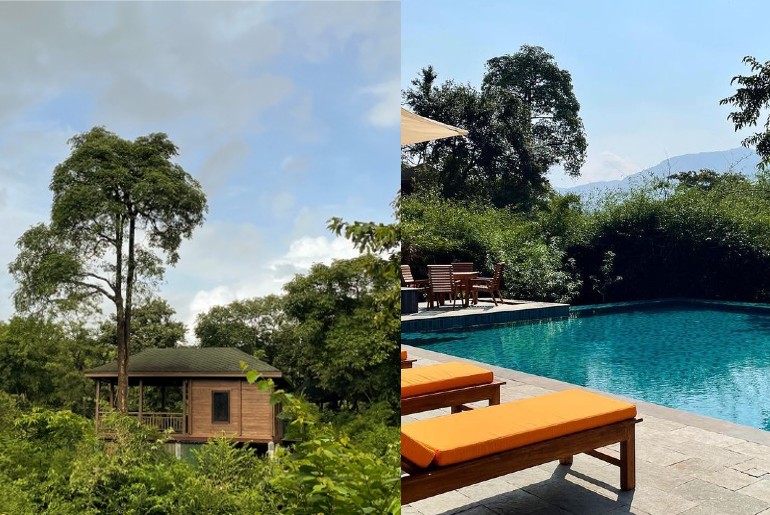 Also Read: Swapnagandha Is A Hidden Gem Near Goa With A Gorgeous Infinity Pool Overlooking A Waterfall
So, nature enthusiasts, are you ready to take a postcard-perfect escape? To know more about the resort, click here.
On that note, here is a list of 7 Local Drinks From Goa You Must Try In Your Next Trip.