Let's face it, we've all at some point sat for a job interview, with twitching eyes, shaking feet, and crisp formal attire, hoping to put our best foot forward and bag that job offer. While this seems to be a been there, done that scenario, have you ever faced a situation where your prospective employer asks you to change your dietary habits while you're at work? A vegan employer had an unusual office request, here's what happened.
Vegan Employer Tells Candidate To Eat Vegan Lunch In Office
Recently, a Reddit user shared a story on the platform, asking the Internet for its opinion on an unusual request put forth by a prospective employer. In a screenshot, you come across an email where the company thanks the person for their application. To shortlist candidates, the company asks the candidate to answer a few questions.
Next, it goes on to state that the workplace is "strictly vegan". So, while employees don't need to turn vegan outside work, during work hours, they are required to bring vegan lunch and have plant milk to consume on-site or off-site. Further, the company asks the Redditor to confirm if they are fine with this. Sharing this screenshot, the perplexed Redditor asks if a company can really force this upon them or not hire based on this.
Also Read: These Are The World's Best Traditional Vegan Dishes 2023
Bizarre Request Leaves Internet Divided
This bizarre vegan lunch request by the employer has left Reddit divided. Some Netizens dissed this rule completely. One commented that they'd never work in this company. Another commented that 'no job is worth this kind of nonsense'. Yet others took the mid-ground and dished out some hard truths — private companies can do whatever they'd like.
Also Read: 6 Vegan Places In Delhi-NCR That Serve Soul-Nourishing Food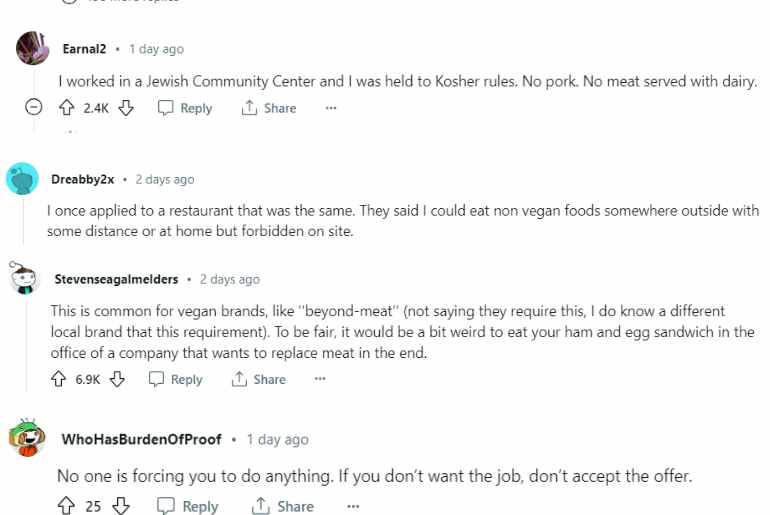 The Redditor goes on to add that the company is actually a dog rescue centre. But goes on to add that they won't eat dogs though. Some Netizens even threw light on similar situations they're facing where at a Jewish Community Centre pork and meat with dairy aren't served.
Meanwhile, would you ever take up a job where you need to change your dietary habits on the office premises?
Cover Image Courtesy: Canva