Durga Puja Is West Bengal's biggest festival and the preparations are in full swing. The Durga Pujo time is when you will only feel enthusiasm and devotion in the air. The pandals have been decorated and await to welcome Goddess Durga. Kolkata's Sreebhumi Puja Pandal, a famous pandal is known for its innovative theme every year. This year they have decided to turn the cultural capital of India into Vatican City's St. Peter's Basilica.
Kolkata's Sreebhumi Pandal Transforms Into Vatican City
The Sreebhumi Puja Pandal in Bidhannagar, Kolkata, is a well-known pandal that annually chooses the most creative theme. They have replicated the Vatican City's St. Peter's Basilica in Kolkata this year as the theme of their well-known Puja. This year in addition, they are commemorating the Golden Jubilee of the Sreebhumi Sporting club which doubles the celebration. Sujit Bose, West Bengal Fire and Emergency Services Minister and Sreebhumi Sporting Club president, said that people's wish to visit Vatican city will be fulfilled through their pandal this year. He also informed that this pandal was designed in 60 days with the help of 100 artisans. The pictures of the Pandal are simply breathtaking and seem surreal to the eyes. As soon as one walks in, they will surely feel teleported to Rome.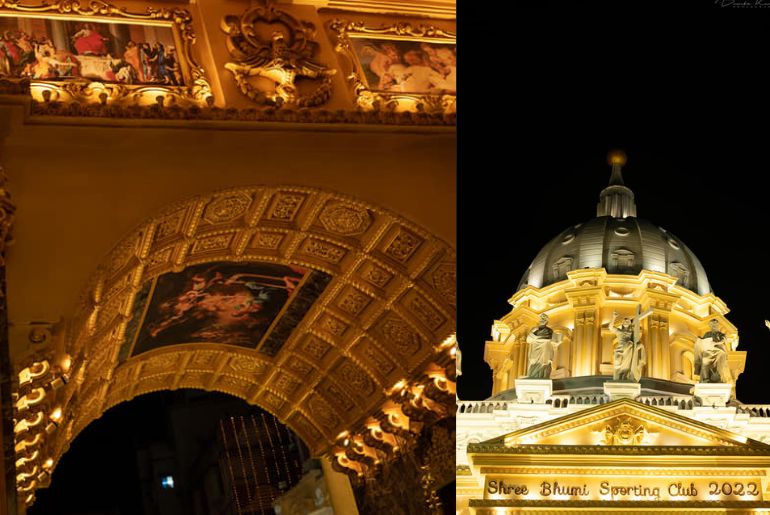 Also Read:Kolkata Gets A Replica Of Dubai's Burj Khalifa For Durga Puja
Durga Puja And Kolkata
Last year, Kolkata's Sreebhumi Pandal had come up with the theme of the tallest building in the world, Burj Khalifa. The Pandals are known for their grandeur and attention to details in every theme they design for the Pujo. People from all over India flock down to witness this grandeur of the pandal. They also had once designed the Bahubali theme which looked like coming straight out of the movie. The members of the pandal know the importance of the festival and believe in giving their audience an unforgettable experience every year. Durga puja or also known as Navratri is one of the most loved and celebrated festivals in India. It is celebrated to commemorate Goddess Durga's win over the devil Mahishasura. Garba night is also one of the biggest attractions during this festival especially in Gujarat and Mumbai. 
View this post on Instagram
Also Read: Durga Puja 2022: 15 Kolkata Pandals You Need To Visit 
Do not miss visiting this beautiful pandal in Kolkata and then do let us know your experience below.
Cover Image Courtesy: Facebook/SreeBhumi Sporting Club Durga Pujo