Under 140 Characters
As a report submitted by Ease of Living Index last week, Pune was ranked as the most liveable city in India owing to its charming lifestyle, rich culture and wonderful nightlife.
What Is It?
The lovely city of the Pune has accomplished the #1 spot for living in India. In a recent report, Pune was qualified in the category because of its historical attractions, easy life and an exciting nightlife. Pune city's vibe is relaxing and yet fun, and the people are generally easy-going as well. Apart from that, Pune has also attracted a lot of tourists in the past few years.
The city is booming with cafes, night clubs, and yet remains intimate and cozy with its architecture and heritage monuments. So whether you're looking for a trip to enrich yourself with its culture, or indulge in urban affairs, Pune is the city to be!
Heritage Monuments
Aga Khan Palace – Considered as one of the greatest marvels of the world, the Aga Khan Palace in Pune still stands tall after 126 years. The Aga Khan Palace in Yerwada was built by Sultan Muhammed Shah as an act of charity  to help the poor who were hit by famine. It is 126 years old and still stands stall after so many years. It also served as a prison for Mahatma Gandhi, his wife Kasturba and Sarojini Naidu. Kasturba Gandhi died during her captivity and the complex houses her Samadhi. 
Also read:  Aga Khan Palace In Pune Was Built 126 Years Ago And Still Stands Beautiful
Yashwantrao Chavan Udyan – The Yashwantrao Chavan Udyan in Pune will let you visit all the seven wonders of the world at one destination. Missed out on that Rome trip last year? Now you're worried you might never be able to see the Colosseum? Don't worry because Pune's Yashwantrao Chavan Udyan at Parvati Paytha has got 'em all! So whether you wanna pose with the grand Statue of Liberty or probably take a selfie standing underneath the Eiffel Tower, Pune's park makes it all possible.It might take you a lot of time to strike off every wonder of the world from your bucket list, but why not visit this park where you can view the exact mini replicas?
Also read: Check Out All Seven Wonders Of The World At The Yashwantrao Chavan Udyan In Pune
Shaniwar Wada – Once Bajirao-Kashibai's love nest, Shaniwar Wada now stands as one of the most haunted monuments in Pune. The grand and glorious Shaniwar Wada in Pune was once a fort and the famous ruler Bajirao and Kashibai's love nest. But today, it has become a haunted monument. The locals believe that the fort is haunted by the ghost of Bajirao's grandson, Narayanrao. The murder was so brutal that it was impossible to find all pieces of his body. Even today, people sit by the banks of the river at night listening to the wailing cry for help. Although, the monument has met with many unexplained fires, it still stands tall as an attraction for tourists even today
Also read: Shaniwar Wada Was Once Bajirao and Kashibai's Love Nest, But Now Is One Of The Most Haunted Places Of Pune
To Have A Smashing Saturday Night
Looking to party this weekend but don't know where to go? We've got you covered! Here's a list of all the happening pubs in Pune to sort your Saturday nights –
1. House Of Medici, Koregaon Park
If your partner loves to party then Westin's House Of Medici will be perfect! The Westin in Koregaon Park, Pune launches their new night club which has the longest bar in the country along with classy furniture and a deluxe cigar room. Tune into House Of Medici on a Saturday night and enjoy a range of their signature cocktails and contemporary menu options. The elegant interiors along with foot-tapping music will make you come back for more and more. With International DJs playing and talented mime experts putting on a show, House Of Medici gears up to give you an evening you won't forget.
Also read: 5 Places In Pune For The Perfect Date Night
Address: The Westin, N Main Rd, Koregaon Park Annexe, Mundhwa, Pune, Maharashtra 411001
Phone: +91 91588 89305
Approx cost: ₹3000 for two people
2. Effingut Brewerkz, 3 Outlets
Beer lovers from all over the city are gathering at Effingut Brewerkz every weekend to taste some craft beer. Currently, they have an amazing variety of beer and food laid on the platter to serve the guests.If you're into light beer, try out the Mango Chili Cider with its Mango-berry flavor or the sweet Apple Cider. You can even opt for the Caramel Ale or Honey Head. Moving to the darker side is the Ginger Ale, English Bitter, Hefeweizen and last but definitely the one that tops the list, IPA. 
Also read: Fan Of Craft Beer? Try Effingut Brewerkz In Pune To Enjoy A Legendary Brewed Beer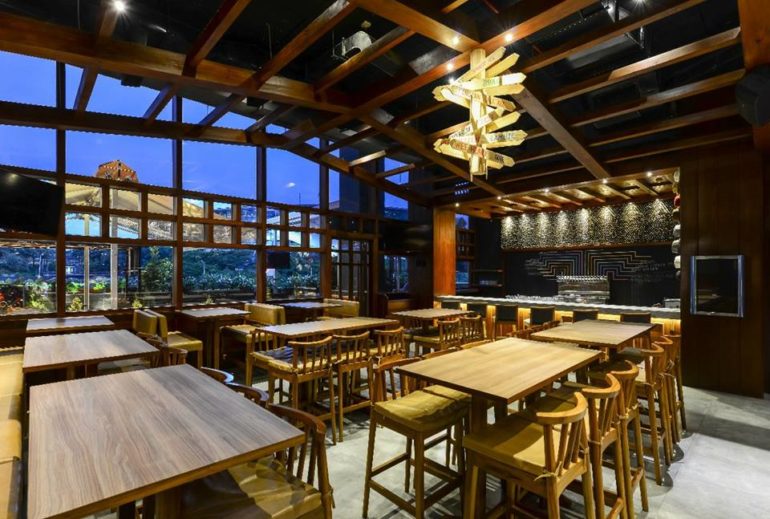 Address:
Baner – 4, Deron Heights, Next to Ranka Jewellers, Baner, Pune
Koregaon Park – End of Lane Number 6, Koregaon Park, Pune
Kharadi – City Hub @ WTC Kharadi, World Trade Center, Kharadi, Pune
Approx cost: ₹1,500 for two people
3. Playboy Beer Garden, Baner
The PB beer garden is the best when it comes to lovely alcohol, beautiful music and the chillest vibe. If you're a fan of craft beer, this is the place to be. You can't leave without trying the yummy paneer tikkas out there! So get your funk on at the Playboy Beer Garden.
Also read: 5 Interesting Gastropubs In Pune To Visit With Your Girl Gang
Address: 26/27 Balewadi High Street, Baner Balewadi Link Road, Pune, Maharashtra 411045
Approx cost:  ₹1,800 for two people
LIKE Curly Tales on Facebook | Instagram| Twitter
You can subscribe to our newsletters