Us homesick Indian expats are constantly in search of anything even remotely homely, aren't we? Luckily we live in the UAE, home to a myriad of Indian restaurants. That said, India is synonymous with street food and one such food we simply love is Chaat. The hot spicy bhaji served with crunchy onions, slivers of lime and buttery pavs can just make anyone's mouth water. And, the best bit- a small cafe in Dubai's Meena Bazaar serves not just one or two, but 10 different varieties of pav bhajis. Drooling already? 
Also Read: Restaurants That Serve The Best Biryani In Dubai
Binge On Masala Pav, Khada Pav, Tawa Garlic Pav & Other Different Versions Of Pav Bhaji
Nestled in the buzzing bylanes of Meena Bazaar, Al Rajwah is a tiny restaurant, that caters to hungry shoppers. Well, while Meena Bazaar is flooded with eateries that satiate every foodie, this one's a must-go if you are a Pav Bhaji lover. Wondering why? We'll tell you.
Al Rajwah is famous for their Pav Bhajis and rightly so because the cafe serves 10 different varieties of the favourite street food. From ones loaded with cheese to a Tawa version and garlic-y Pav Bhaji, the cafe has taken the humble pav a notch higher and we simply cannot complain. Spice lovers can opt for Masala Pav, while those who like their pav soaked in cheese can dig into one of their Amul-cheese versions. And the best bit- the bhaiya here will also serve you extra pav, so that's a win-win!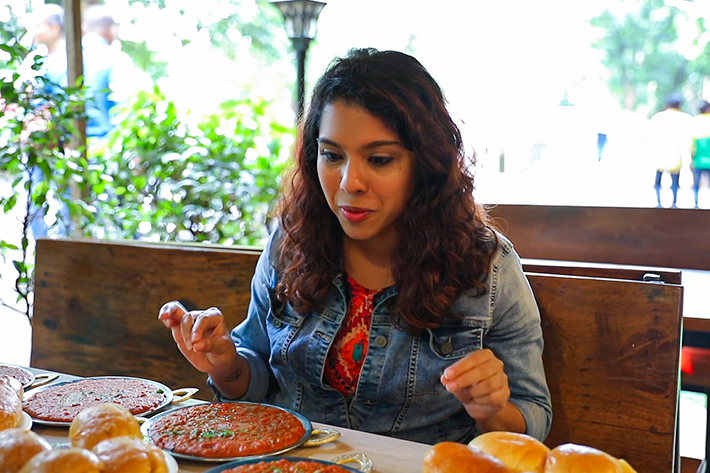 Apart from pav bhaji, the cafe also serves a whole lot of other chaat items. From the humble butter toast to Bombay's favourite vada pav, samosa pav, chilli cheese toast, batata poha, and khandvi, the cafe will instantly transport you to Bombay's tiny chaat galis.
And, you can also head here for a sumptuous breakfast. The breakfast menu includes a mix of South and North Indian dishes like Vada Pav, samosa pav, idli, upma, dhokla, misal pav, khadi khichdi and much more.
Well, in a nutshell, this is just where you need to head if you want to enjoy an authentic Bombay-style feast! So, when. are you going?
Deets
Where: Shop 14-16, Al Baharna Street, Meena Bazaar, Dubai
Timings: 7 am – 1 pm, 5 pm – 10:30 pm
Contact: +97143484747