We all love a good old sheesha right. But there is something about having it with a good view. Not only does it make for a perfect date spot but be it a dinner restaurant or a simple café, everything has its experience maxed out with a good view. So what are the best spots for a Shisha hangout in Dubai with a view? Here's a list:
1. The Rooftop Lounge
In mood for some shisha after a long week and all you want to do is relax to the beats of Bollywood? Then the Rooftop Lounge at the Royal Ascot Hotel is where you need to be. This casual shisha hangout spot is away from the usual bustle of Business Bay in Bur Dubai and serves for a perfect spot with the view of the city from its roof.
Where: Royal Ascot Hotel
When: 6 PM- 3 AM
Contact: 04 508 8478

2. Smoky Beach
Imagine smoking shisha as you sink into a comfy bean bag with your feet tucked in the sandy grains of the breezy Dubai Beach. An incredible feeling isn't it? Experience this very relaxing and serene Shisha experience at Jumeirah Beach Residence as well as La Mer. You know this is the perfect way to unwind after a long day.
Where: JBR, La Mer
When: 10 AM- 4:30 AM
Contact: 04 270 3222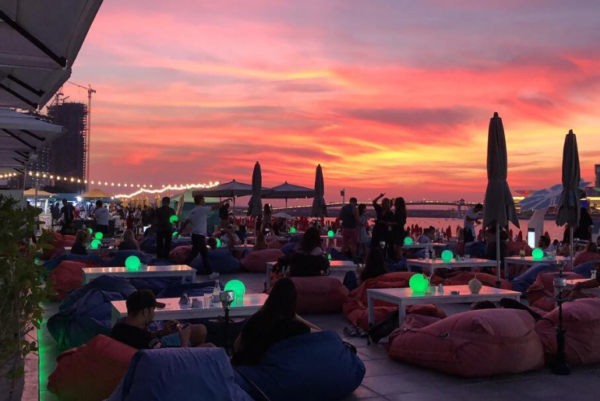 3. Buhayra Lounge
Have shisha by the pool in a luxury hotel amidst the towering skyscrapers of Dubai's downtown. This is a perfect shisha spot for luxury and fine taste seekers. With palm trees and plush sofas around you under Arabian tents, this one ensures you get only the finest of Arabian experience over here. The Shisha flavors start from AED 100.
Where: Palace Downtown
When: 8 AM- 2 AM
Contact: 04 428 7888
4. Treehouse
Located in Taj Dubai, this urban chic shisha lounge is a great place if you are in the mood for some modernity and want to ditch the Arabian nights of Shisha. With a resident DJ, Mediterranean music and a licensed lounge, you can have the perfect environment as you are perched amidst Burj Khalida and Dubai's exquisite skyline.
Where: Taj Dubai, Business Bay
When: 7 PM- 2 AM
Contact: 058 927 2763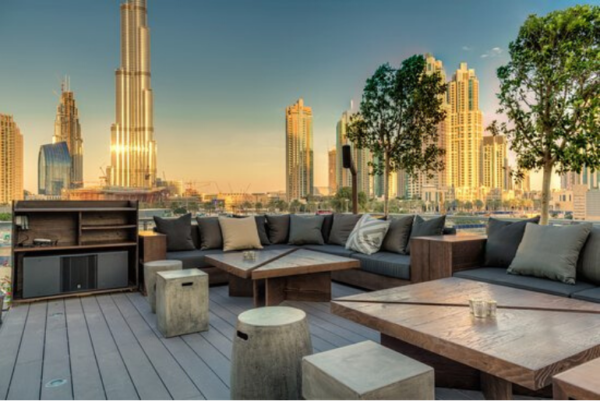 5. Al Hamidieh Restaurant
This one is located in Older Dubai with the picturesque views of Al Seef. Retreat with Shisha as you get the view of Dubai Creek and a glimpse of the historical Dubai as you smoke onto the favorite leisure of traditional Arabs- the Hookah or Shisha. With Levantine dishes under a moonlit night, this is a perfect romantic shisha spot in Dubai.
Where: Al Seef Dubai
When: 10 AM- 2 AM
Contact: 04 379 5004