The process of getting a Visa is quite tiring. Filling out applications, waiting for an interview, waiting for approval, and so much more makes the process endless. But did you know that Indians can explore many foreign lands without a Visa? Well, this is surely confusing but it is the absolute truth. There are infinite places on earth where Indians do not need a visa to explore. Let's take a look at 5 stunning Islands that do not require a visa to enter for the Indians.
1. Grenada
Popularly known as 'The Spice Island', Grenada is a magnificent island in the West Indies. The place has so much history attached to it. Grenada got the name, Spice Island as it is a major source of various kinds of spices such as cinnamon, cloves, ginger, and even top-quality cocoa. The weather conditions of the island make the trip memorable for the travellers as it stays humid in the rainy season and the winters are very relaxing.
Also read: Eid Holiday: Top 5 Destinations You Can Travel To Without A Visa
2. Vanuatu
Vanuatu is not that much explored by the travellers yet but it is a beautiful island. With spectacular landscapes and pristine waters, the surrounding here is mesmerising and the island is full of friendly residents. People love this place to witness active volcanoes here. A significant feature of this place is that Vanuatu is the home to the one and only underwater post office in the entire world. The atmosphere is very eye-catching and travellers can even enjoy the thrill of marine life. For adventure seekers, they can even go for long hikes in the forests. Indians can travel and explore the island without a Visa for maximum 30 days.
3. Samoa, Oceania
If you love to ride bikes, then Samoa is your ideal island destination. Surrounded by pristine waters and trenches, this is a serene island to relax back and rejuvenate. Favourite thing for every traveller to do in Samoa is lying on the beach and just simply unwind and relax. The island is very lively with their love for singing, dancing, and entertaining. the most stunning part here is the way they cook food. They prepare dishes in underground ovens known as umu. The foods reflect the perfect earthy taste that makes it more special.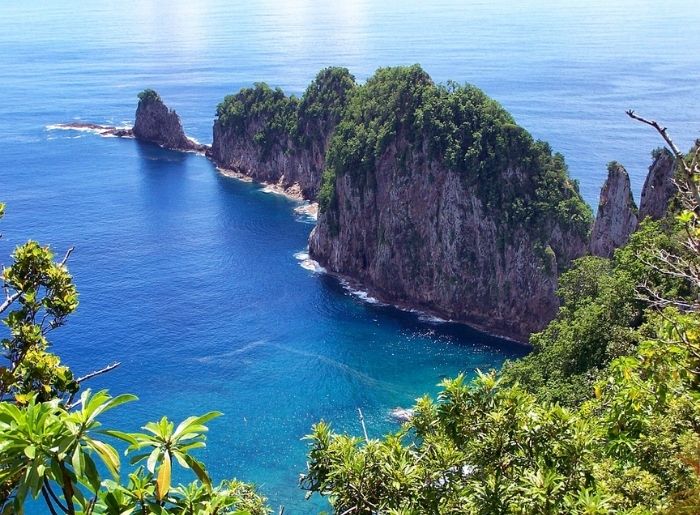 Also read: Everything To Know About Travelling To Kartarpur Gurudwara In Pakistan Without A Visa
4. Trinidad and Tobago
Trinidad and Tobago, the twin-island country of the Southern part of the West Indies is yet another island where Indians can enter and explore without a visa. This island boasts the perfect blend of African and Indian cultures and keeps the atmosphere very happening and lively. The twin islands always have tropical weather that makes the experience of staying there more interesting.
5. Dominica
Dependent on the travel industry and tourists, Dominica is a picturesque island in the Caribbean. Surrounded by breathtaking views of mountains, lakes, rivers, and rainforests, Dominica is home to the world's second-largest hot spring. The land of hot springs is quite adventurous too as travellers can go hiking, go on a jungle safari, or simply cover long distances on beaches by walking. Indians can stay here for a maximum of 90 days without a visa.