When it comes to total laughter and romance on screen, Bollywood stars Sonnalli Seygall and Sunny Singh would definitely come to your mind. Having experienced immense success and love from their Pyaar Ka Punchnama films, the duo is back with their latest venture, Jai Mummy Di. And we got the 2 Punjabis, Sonnalli Seygall and Sunny Singh for a Sunday Brunch with our Chief Editor, Kamiya Jani. The stars get talking about their love for food, their latest film and lots more over a massive Dara Singh Thali. So read on to find out more about this fun Sunday Brunch.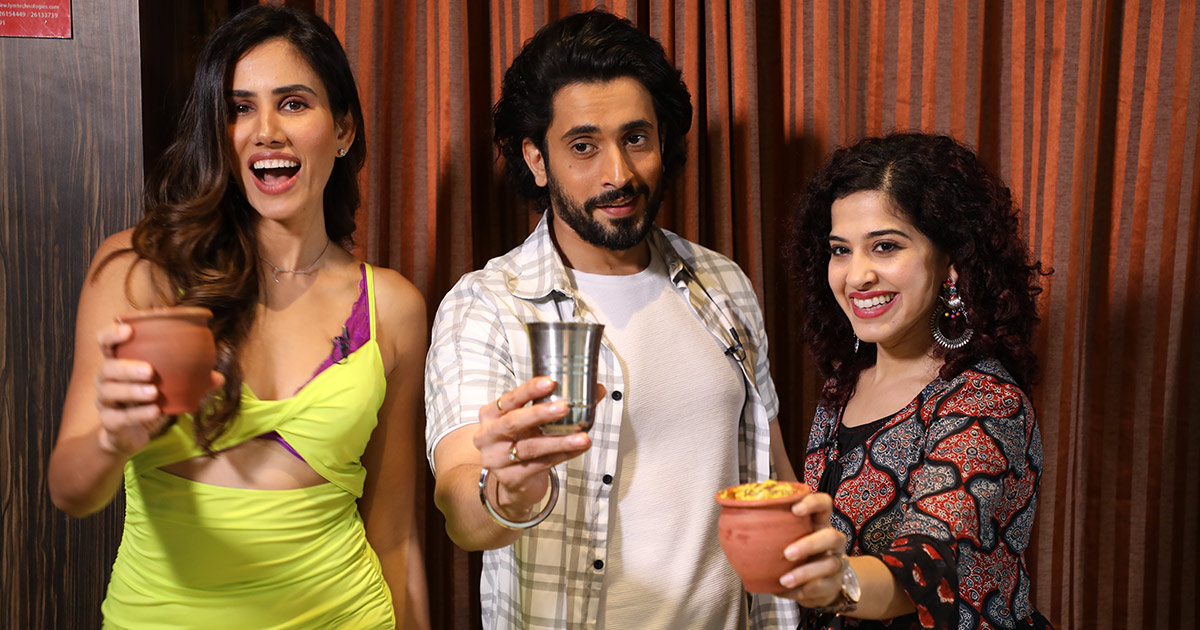 Kamiya Jani (KJ): Sonnalli, you have literally been on an all India tour, right from being born in Bhubaneswar, raised in Kolkata, originally from Delhi to now working in Mumbai. What is it that you like about each of these cities? 
Sonnalli Seygall (SS): The food! I think when I was born, I decided that my stomach will not be satisfied with one city. So I wanted to travel as much as I can to indulge in different kinds of food. If I were to choose between the food in Kolkata and Delhi, I would say its a tie. I think they have the best food.
Sunny Singh (S): Definitely. But I feel the street food in Mumbai is also really good.
KJ: Sunny, you're a Punjabi who is brought up in Mumbai. But with every film of your's I just can't guess you're from Mumbai. You always give me Delhi vibes.  
S: That is because of my family. We are actually Punjabis. My cousins come from abroad and we meet and we speak in Punjabi.
SS: It's a great thing if you don't forget your roots and your language. I'm a Punjabi but my Punjabi is very Tutti Punji ( broken Punjabi).
KJ: Are you'll vegetarians by any chance? 
S: I eat eggs but I'm a vegetarian. You can call me eggetarian.
SS: I'm a wannabe vegetarian. I sometimes eat seafood if I travel to Goa or coastal areas. I respect people who are vegetarians. It's something I have always wanted to do, but my love for food is very strong that it gets difficult for me to become a pure vegetarian. Since one year I'm a wannabe vegetarian on my path to becoming a full vegetarian.
S: My mom and my family is so spiritual like they go to Gurudwaras every day. So I have never tasted non vegetarian food. Paneer Tikka Masala is everything for me. Since I go gymming, I eat eggs. And I like all this.
KJ: Which is the best street food in Mumbai and where do you get it? 
S: Now I have shifted to Juhu, but earlier I used to stay in Andheri East. And in JB Nagar there used to be a shop for samosas and pav. And whenever we were on our way back from college and would watch them used to putting masalas on the dishes, my sister would tell me to pack snacks from there. Instead of one, I used to pack four and take it back home. So that time where we used to eat four to five of these snacks was just amazing.
KJ: Have you watched Sunday Brunch show before? 
S: I have watched it. I watched the Virat Kohli episode.
SS: I have watched it too. I think I have seen one episode of your's which was actually my favourite food too. It was the Taapsee Pannu episode, where you both ate sushi. And my mouth was watering, that's another favourite cuisine of mine.
KJ: We have a Dara Singh Thali for you today. Any guesses how many dishes will be there in this Thali today? 
S: 6
SS: Definitely 8 or 10.
KJ: There are 44 dishes in this Dara Singh Thali. 
S: When I go to my native place in Jalandhar, we eat this kind of food. We sit on the terrace, eat this kind of food and then have a cup of chai. So I remembered this. My parents are from Jalandhar. But now my family and I all live in Mumbai.
KJ: How do they like it? 
S: If you ever come to my place the first thing people will ask you is what kind of paratha you'd like to eat, radish or any other type since we also have farms. So the ingredients are fresh and brought from there.
SS: Parathe is my staple breakfast every day, till today. That's what I eat every day. But now I have made this transition where I don't eat wheat, so I eat paratha made out of Rajgira ( Amaranth). So it's a healthy version of paratha and tastes as good as that.
KJ: All Punjabi boys are Mumma's boys. Do you agree to this Sonnalli? 
SS: Yeah! I agree.
S: Definitely! I am. I keep asking a lot of things to my mother. She always says that no matter what I do, I must visit and pray in the Gurudwara.
KJ: And in your movie Jai Mummy Di, are you a Mumma's boy in that Sunny? 
S: Yes I am, a bit too much actually. In fact, even Sonnalli is a mumma's girl in the film.
SS: Yes, but my character Saanjh is braver than your's Sunny. She still stands up for herself. But she is a little bit of a mumma's girl.
KJ: Do you take your mother's permission for everything you do? 
S: I do somewhere or the other. I am the kind of guy who doesn't socialize much. I finish my work, meet a few close friends and that's it. I make sure I spend time with my mom, dad and sisters every day.
KJ: Do you take your girlfriend to meet your mom? 
S: She would probably know everything.
KJ: Sunny, your father has been an action director, so you must have had a lot of exposure to films since quite some time right? 
S: Yes, a lot! When I was around 2 to 3 years a lot, when I just started speaking, I didn't even have a chance to think I would be a hero. I used to watch Ajay Devgn's films, Akshay Kumar's films and I used to go for trial shows too. So I used to watch the films first, then go to school and try out the stunts shown. So I used to do all these things. I used to act a lot in front of the mirror.
KJ: What about you Sonnalli? You have done modelling, anchoring before becoming an actor. How was your journey like? 
SS: My journey has been very varied. It's also been very unplanned. The only thing I knew was that I wanted to be Miss India and move to Mumbai. Just like I told you earlier that I wanted to try every cuisine in every city. So Mumbai was apart of my target list.
KJ: How many auditions have you done to date? 
SS: Lots! I have many funny audition stories. Like my first audition was for Sri Lankan Airlines advertisement. So I had to wear a saree for that and I borrowed my mumma's saree. My mumma was in Kolkata then, so she packed and couriered the saree to me. I was very young then and I didn't own any sarees. So I wore that saree, gave the audition and I got a call that I had been shortlisted. And little did I know at that point that shortlisted doesn't mean selected. So I called my mom and all my relatives and told them that I got the advertisement through just one audition. Then three days later I got a call, where they told me that they regret to inform, thanks for your support. And I was like I was doing the ad! And they said no you were shortlisted. I felt so silly. And that's when I realised that I had to do a lot of auditions. After my 10th audition, I got my first advertisement. When it comes to films, I did audition a couple of them and amongst the first three was Punchnama.
S: I remember that phase. The first time I got a call it went like 'Hi! Am I talking to Sunny? You are shortlisted for this advertisement.' After such a call, you feel so confident. You can just visualize all the branded creams, Mountain Dew and all the products. When my parents asked me how it went, I would proudly tell them I am shortlisted. Out of the three who are shortlisted, I feel that I am the one. I used to call the person enquiring if I am selected. And they would say that they would let me know. After 10 to 15 auditions, I got to know everything better.
KJ: How many films have you both done together? 
S: This is the second movie.
SS: this is the second movie, but we have a friendship of over 5 years.
KJ: Who likes sweets? 
SS: I love everything.
S: I love Kheer.
KJ: Do you guys like travelling?

S: A lot!
SS: I love travelling!
KJ: Which is your most favourite travel destination in India and abroad? 
SS: I actually love travelling in India. There is so much to explore here. But internationally from the places that I have travelled, my most favourite one would be Kenya. And I love Nairobi as a city and also the safari. I went on to the Masai Mara safari and it was really nice with all the animals, the skies and nature. I was a non-vegetarian then and there were different kinds of meat available like crocodile meat, ox and horse meat, you name it and it's all there. I tried crocodile meat and it tastes a bit like chicken.
S: I like Nainital. I like Manali, Himachal Pradesh and Jalandhar side. I like winters basically and I feel like going out. I really like London for its countryside, its peaceful.