Oman is heaven for camping enthusiasts. Its vast lands and minimal population provide a lot of open areas for pitching tents. Oman doesn't have official camping grounds as such and doesn't need any, to be fair. 
Wild camping is allowed here as long as you follow the rules and guidelines for camping. In fact, it's a common sight to see several tents pitched up in open spaces, near beaches or up in the mountains during the cooler months of the year. 
The locals and ex-pats love camping here, and boy, do they do it well. It is common to see campers making BBQs, playing Oud or Guitars, fishing, lighting up small campfires, and some kind of simple dessert or drink in the making. 
But a vast area of land might make one wonder – which are some of the best camping spots in Oman? Here are our top 5 picks for camping in Oman with a mix of beach and desert camping sites. 
Best Camping Spots In Oman
1. Sifah Beach
Sifah Beach is the easiest and most convenient place to pitch your tent. Located in Muscat city, the drive to Sifah is a joy. It has clear, pristine waters and a promising view of the sunrise. Drive along the shore until you find a perfect quiet spot, and you are all set. 
Also Read: Top 7 Things To Do In Muscat
2. Wadi Tiwi
Wadi Tiwi is a 2-3 hour drive from Muscat. Its deep blue pools and towering ridges are a sight to behold. If you are up for some hiking, you are bound to discover some beautiful lush pools of water and even a tiny waterfall. It is quite calm compared to the adjacent Wadi Shab but requires a will and stamina to traverse through the steep slopes and boulders if you want to discover waterfalls and water caves. 
3. Fins Beach
Have you really been to all the camping areas in Oman if you haven't been to Fins? Fins is often called Pebble Beach and it is the typical white sand (or in this case stones) meeting the crashing waves. The sound of two pebbles touching each other when the waves hit is no less musical. Moreover, the Instagrammable 'lovers cave' spot at Fins is something worth checking out once!
Also Read: All You Need To Know About Marhaba Oman By The Oman Ministry of Heritage and Tourism
4. Jebel Shams 
The grand canyons of Oman deserve a night dedicated to them. It is a favourite among locals. And tourists love it too. Jebel Shams serves glorious sunrise and sunset views, and you ought to see it, especially if you are visiting Oman. 
5. Rakhyut Beach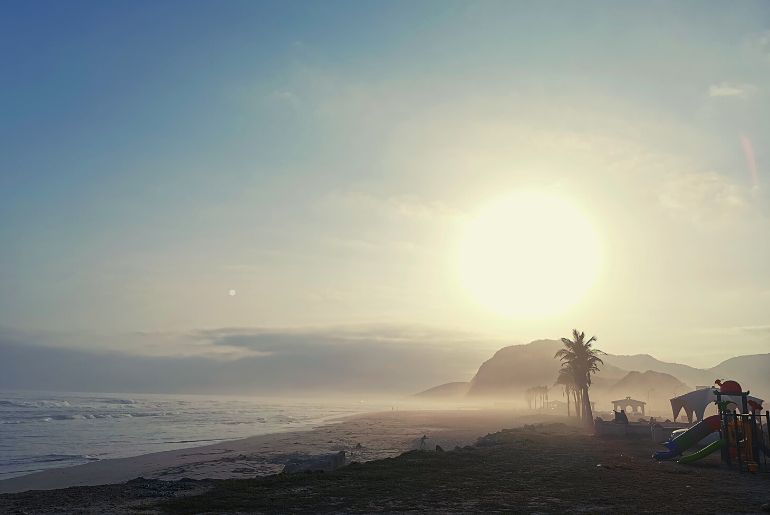 Where lush green mountains meet the turquoise blue sea! Rakhyut is a 2-hour drive from Salalah and an hour away from the Yemen border. The beach is a beauty to wake up to. The best time to visit Rakhyut is during the khareef (monsoon) season but check the weather for rain before your leave. 
6. Barr Al Hikman
Remember, we did warn you about the roads or the lack of them to reach this beautiful place. Barr Al Hikman is a sight to behold, with it being the longest natural sandbar in the Middle East and home to nesting turtles and migratory birds. It is a new spot for wild camping in Oman and is slowly gaining popularity, making it a must-visit. 
Guidelines For Camping In Oman
There are many more places to camp in Oman waiting to be discovered. From islands to mountains, the ground is yours. But there's a catch. 
Firstly, there are no accessible showers and bathrooms since official camping grounds don't exist. It requires planning stops on your end and also carrying portable toilets. Major to-do post camping in the wild involves picking up after your waste, properly disposing trash, and putting out the fire entirely. 
Secondly, you cannot camp in wadis (seasonal river beds) because they tend to flood during rain. The Meteorological Department issues weather warnings along with regions to avoid camping or visiting. You must check the forecast before you plan your destination. Lastly, no camping on private properties or protected sites. 
As long as the skies are clear and you adhere to the rules, Oman is yours. This winter, ditch your worries and pitch your tents.
Cover Image Courtesy: Pexels/Abdelkarim Achtaou