Hi Everyone, Avinash Singh here from (still to find out). It's a tough one as I have spent most of my life in Assam and later hopped around a few cities like Delhi, Mumbai for more than 2 years each. Presently located in Bangalore where I work and save fuel, which provides me with the ability to explore this beautiful world. Lost the count of cities and states I have seen in India but soon I have the goal to see it all. Travelling around India, I also got the bug of finally heading out of the country where I visited Sri Lanka on a solo trip. And there has been nothing stopping me after that and now as I write this article, I have around 15 stamps on my passport from all around Asia and my recent EuroTrip. Here's my story of how I rode 3000 km around Vietnam for 18 days in ₹90,000.
Vietnam In 18 Days On A Bike
Don't know if there's a word called Wowamazing but yeah this trip has been a highlight so far. Maybe because I was scared at first driving in a different country the roads, just everything was not known to me. And 3000 km sounds crazy when I say that I have not even driven 200 km on my own anywhere before it. How even this thought came to my mind that I too can do this? And was it that easy for anyone who wants to do it. But the truth is, yeah it's an easy one excluding the crazy traffic you will meet in Ho Chi Minh City(Saigon) and Hanoi. 
Long back I read this blog where they mentioned how it wasn't a tough ride as the police and people around the country were very chill. Seeing a tourist ride around even when they don't have an international driving license. We got stopped by police but never were fined by them except the Mui Ne police who are famous for stopping tourists and getting some money out of them. So that was the start of the plan to ride all over Vietnam. Our goal was to do the whole stretch from South to North visiting the cities in between from Saigon to Hanoi. And I will share with you everything you need to know about the whole ride and visiting Vietnam.
Things To Know About Vietnam 
Here are some things to keep in mind before you book your flights to the gorgeous country of Vietnam.
It's quite easy for Indians as you just have to get an approval letter online and carry it with you at the immigration. And get the stamp paying some more after showing it to the immigration officer.
Bikes (Buying and Selling)
Now you must be thinking about what I have to buy a bike? Why not rent it? Is it easy to buy a bike in a foreign land. Yes, it's not even a task as tourists are doing this all year long. And there are 100s of Facebook pages and groups and even craigslist which can lead you to buyers and sellers. And if you don't find a tourist doing that you can always head over to these garages or online sellers from Vietnam who buy them and sell them to you. For just 200$-250$, that's cheap right when you think you can always sell it for more or less depending on the buyer you find later and the condition you sell it at.
How much I spent on my bike 
I found a great guy who sold me his bike for $230( ₹16,378 approx) and later even helped me to get it fixed on the way when it broke down, due to my mistake. And spoke with the garage guy in Vietnamese to help us out. When it comes to the total cost of me riding all over the country, let me break it up for you. I bought the bike for $230( ₹16,378 approx). The repairs cost around $100( ₹7121 approx). I sold the bike for $150( ₹10,681 approx). Petrol depends on you but it's cheaper than India.
Things to check before buying
You need to have a symbol of Vietnam government on the number plate. And then the blue card which proves that you own it. You lose the card the bike is worthless no tourist would buy it and garages would pay you pennies for it.
If you are travelling with friends get separate bikes as these are old bikes. Mine was 10 years old which you can see in the blue card. And with two people travelling on one, it won't be an easy task on some roads.
Carry a good helmet from India or you can always buy it there as they have lots of shops selling bike accessories. Bungee cords to hold your luggage, a phone holder for maps to take you to places.
This depends on when you book, we got ours for around ₹23,000 from Bengaluru to Ho Chi Minh City and return from Hanoi to Bengaluru.
₹90,000 seems a lot but exploring a country for 18 days and almost not skipping any activity as that I would never suggest you to save on. And I feel I could have done it for even cheaper staying at hostels, skipping the expensive dinners and maybe having fewer rounds of coffee(But wait you are in Vietnam the second largest coffee producing country in the world – I am not suggesting to take fewer rounds with whole heart).
My 18-Day Journey Around Vietnam 
So here it is my journey around Vietnam for 18 days from 14 December 2019 till the 1st of January 2020. 
Day 1 – Traveling to Ho Chi Minh City
The first day was a chill one as we took our flight in the night and almost reached our hotel in the evening the next day. As we had a layover in Singapore for 6 hours where we explored the Changi Airport as it's huge with so much to see from sunflower gardens, theatres, gaming zone and lots more with the newly opened Jewel wing with an indoor waterfall. And 6 hours just pass in no time.
Day 2 – Cu Chi Tunnels
We started our day visiting the Cu Chi Tunnels, a must-visit place where they show you how they were able to win the war building these tunnels and local techniques to trick the Americans.
Which is an amazing experience we booked a tour for this from the same hotel we stayed in which included transportation, food, and everything.
Except for the gun shooting where we had to pay for the bullets, and it's safe as the activity is supervised by the army. You will be tired by the end of the day so except it and take rest.
Also Read: My 5-Day Solo Backpacking Trip To Vietnam In ₹40,000
Day 3 – Mekong Delta
The third day we took another tour which took us around the Mekong Delta. For those of you don't know, Mekong Delta is a vast maze of rivers, islands, floating markets and Kmer Pagodas. It's a sight to behold. If you too want to go to Vietnam then here's Everything You Need To Know Before You Pack Your Bags for Vietnam
Which is beautiful and a must-visit if you are there as you will see the locals sharing their culture with you. Including how they start their day, the farming and the boat ride with those conical hats to save you from the coconuts falling.
Yeah, that is one of the reasons they wear those if you plan to keep a python around you that is something you can do there too. But be careful as the python scared the shit out of me.You must be thinking how crazy has these two days been with the first one firing an M16 and the other keeping a python on my neck. And yet the ride has not even begun. In the evening we met the guy who I was talking to on Facebook about buying a bike and later he helped us get 2 more as I had 2 more friends with me travelling to Vietnam. Here are 10 Reasons Why Vietnam Is A Backpacker's Paradise
Day 4 – Ho Chi Minh City to Mui Ne
It was time to hit the road the first stretch from Ho Chi Minh city to Mui Ne about 218kms. Which took us 6-7 hours with the stops on the road drinking coffee and food.
If you are a vegetarian I would suggest learning a few words like không có gà(no chicken), không thịt(no meat). As these are your saviour if you don't know what all they can mix in there Mi Xao and the many dishes we tried on our way.
Day 5 – Exploring Mui Ne
It was the day to explore so we started early and went to the white sand and red sand dunes, the beach, and the floating fishing village. At the white sand dunes, you can try the quad biking and as we were three we took the mind-blowing jeep ride.
They even take you to this lake which was just next to the dunes a view you will love. Later at the beach, we saw people kitesurfing which is considered quite famous here in Mui Ne.
With many tourists cutting through the waters, after inquiring we found out it takes time for you to learn it and do it. But you can take a training class if you want for a day. We ended our day at the floating fishing village with the sunset, with all the boats in the water at rest.
Day 6 – Mui Ne to Nha Trang
Today, we had a ride of 220kms from Mui Ne to Nha Trang. It was beautiful, we finally were heading into the mountains. After driving through the White Sand Dunes and the sea just next to us we reached Nha Trang just before the sunset and headed over to the Nha Trang beach. 
Nha Trang was just a stop on our way to Hoi An as from Mui Ne it's more than 700kms and we wanted to take our time and see some cities on our way.
Day 7 – Nha Trang to Quy Nhon
Another ride day in an unknown city maybe it was the city with no tourists visiting but we needed a pitstop so we chose Quy Nhon. We got stares from the locals on who are these guys visiting our city. And everything out there was almost closed at 9 PM, except for this barbeque place where you would hardly find any waiter speaking English. Except for one who made us feel lucky and took our order and served us with good food. Or almost anything he would have served us that time we would have eaten as we were very hungry.
Day 8 – Quy Nhon to Hoi An
After riding for 2 days and including today we reached Hoi An – The Lantern city at the right time.
The evening – when it's all lit up with lanterns all around you, boats around the canal and just a happening time with live music, food and locals out there just chilling and enjoying.
The beauty of this place, If there would be one city I would suggest not to miss it's Hoi An.
Day 9 – Exploring Hoi An and Da Nang
After a warm welcome to Hoi An, it was day 2 we were full of energy to see more of the town and explore around. So we headed over to the My Son Ruins which are abandoned ruins of Hindu temples in central Vietnam.
Managed by the Indian and Vietnamese government, you don't need a tour for this so we drove till there and entered the place.
After My Son Ruins, we were excited to finally see the Golden Bridge or most of you must have heard of this beautiful bridge in Vietnam. With those two hands holding it at the edge of the mountain. We checked the location and reached this amusement park at Ba Na Hills, and got to know that it's a part of the park and to enter you need to buy the tickets which included everything from cable cars, rides.
After thinking for a while we took the tickets and entered as we had half a day in hand and had no other plans as we were expecting a hike to reach this place.After paying the fees, it is a lot/head to just see the golden bridge. But there were lots to it from the crazy cable rides which the whole park is connected with. And to reach almost anywhere on the map you take these cars for free which is just wow. Did you know The Largest Known Cave Passage Is In Vietnam ?
As the views from it are out of your imagination, we even visited a staged French village in the park, took some rides and finally got to see the bridge we were excited about. Ate an amazing buffet with 100s of dishes including it to your ticket as it's totally worth it. And with the park, we ended our day and headed back to Hoi An city.
Day 10 – Hoi An to Hue
Now that we have driven for 1000kms, I had no fears of hitting the road again. As the day started we packed everything and headed towards Hue, it was Christmas night and we thought to visit some pubs as we heard a lot about Hue.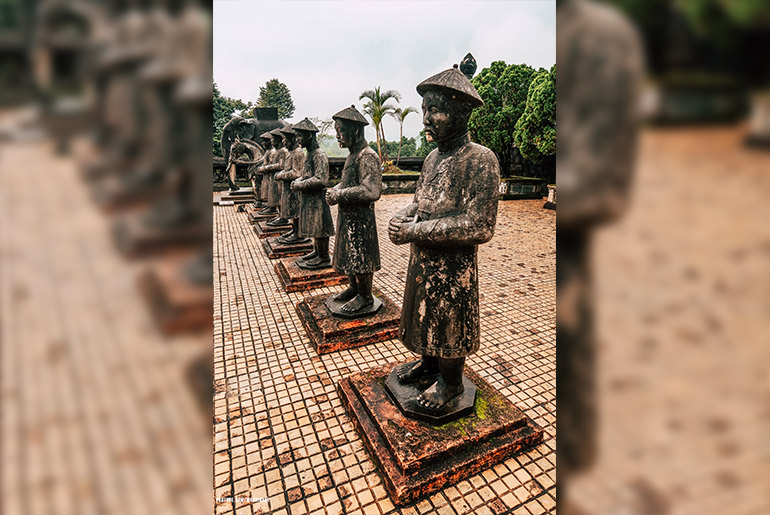 People partied the whole night and many thoughts were in our minds, before reaching Hue which it stood to. It was dark and the roads were closed as the crowd was walking to these amazing restaurants and the city was lit up. We visited 2-3 places and had a great time dancing with the locals and tourists.
Day 11 – Hue – The Historical Capital
Hue has lots more than just parties, it was Vietnam's capital from 1802 to 1945. With the many emperor's tombs and palaces, you will get to see here. We thought to book a tour which included a guide who will take us around and show us the history of the old capital of Vietnam. Did you know The Golden Bridge In Vietnam Looks Straight Out Of A GOT Scene?
We went to the Imperial city and a few tombs including a Kung Fu show later, and a dragon boat ride back to the city. Lot's of walking made us end the day quickly and we visited a barbeque place we had our dinner last night as the food was just amazing.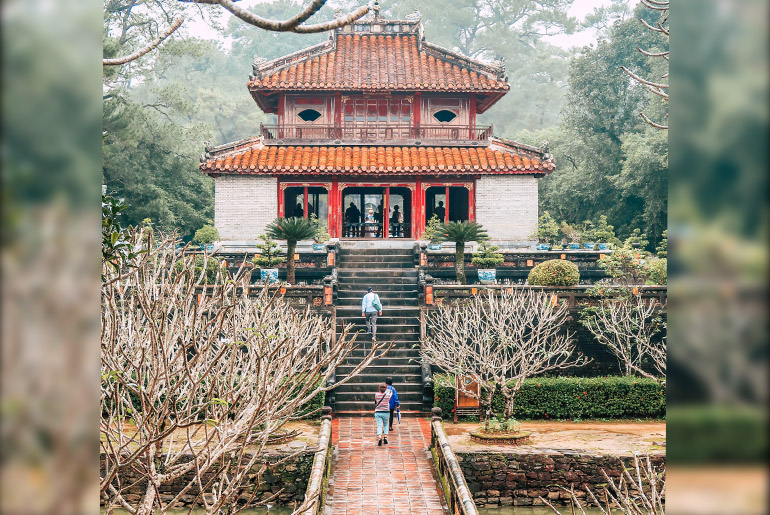 Day 12  to Day 13 – Rode 700 Km In 2 days
After Hue, we decided to drive all over to Hanoi, the capital. It might have been a tiring one but we thought we would decide that night if we want to ride it all the way or take a break in between. And yeah, we did at Vinh about 365kms from Hue. Why the sudden hurry we had a few days we could have explored some caves in Ninh Binh and then headed over to the capital. But the problem was not getting anyone to sell the bikes online which was our plan. So we thought about changing the plan a bit.
And there we were driving to Hanoi, crazy to say but this was 700kms which I never thought I would do in such a short time. I was happy to have seen so much on my way from one end of the country to the other. I just can't express how this ride has just opened a new perspective for me about people who do this regularly. You just can't say how amazing the feeling is to be able to ride so much and see so much of a country. Taking your time, stopping wherever you want to and just making your dream finally possible.
Day 14 – Rest in Hanoi
It was a rest day. Today we did some tasks and not much as we were tired of driving so long the last 2 days. We had to sell our bikes, book a cruise to Ha Long Bay which had so many choices. We thought to just grab a boat and go but it had many categories from party to pirate cruises and most being booked as it was New Year's time.
But we did it all and later just walked around the city, went shopping at the local street markets. I tried some Vietnamese spa which was the best thing we did that day. Tried the Egg Coffee at Cafe Giang, a must try you will be suggested from everyone who has visited Hanoi.
Day 15 – Exploring Hanoi
As we woke up, Hanoi was different. We were walking around in shorts the other day. Now it got crazy cold that we had to get 3 layers out including a raincoat as it was raining too. Bad day to see the city but we had this one day as we were heading towards the cruise for 2 days.
We visited the Ho Chi Minh Mausoleum, Train Street, the Temple of Literature and the night market which happens every Friday.
Day 16 – Party Cruising Ha Long Bay
We left Hanoi, early we had the cruise tour booked so a bus took us to the Ha Long Bay. Where we were taken on a speedboat to the cruise, and the party was just getting started. We were surrounded by these limestone islands with trees all over them, making it a view to remember.
After getting settled into our rooms we were at our first stop where we were taken to try out kayaking. It was a great experience but the cold water and weather were just making it impossible for us to enjoy the place.
The same happened with the party at night where people felt more comfortable in the dining area instead of going out to the dance floor on top of the deck. So we called it a day and headed back to our rooms, sad that we didn't get what was promised but who can fight the weather.
Day 17 – Spending A Day At A Remote Island Resort
It was cold again, and getting out of the bed became an impossible task so early in the morning with few people visiting the oyster farms. Learning how the farming is done at Ha Long Bay we chose to stay in bed, and later woke up to this Island. Where we were taken to trek to the top of it, and the other choice was to stay in the vehicle which we never wanted. It was a good 2 hours climb with some amazing views from the top.
After which they took us on another boat to this remote island resort. With just a few people there, with kayaks, lying around for you. We thought to jump in the cold water, which was a crazy thought as to when we took off our clothes and felt the surroundings.
It was a no-no but we jumped and were there for a while. As the cold vanished, after a while we started enjoying the cold surroundings. It was an experience to be on an island with just 10 to 15 people around you. The dinner at the place was great accompanied by a bonfire with some chats with people from different parts of the world. And an Indian family who was working there in Hanoi and visited the resort for the holidays.
Day 18 – New Year's Eve and End of our Trip
Last day and it was New Year's Eve, we were sad that we had to leave Vietnam. And go back, with so many memories which will be there with us forever. It was another amazing night with different parties happening all around Hanoi, stages crowded with people to see the live performances and count till the clock hit 12.
After which we headed to the party street, the city has just changed to a gem with people doing their stuff around. Dancing, singing on streets, having their dinner and welcoming the New Year with a blast.
This was my journey to Vietnam, seeing it as much as I could. Maybe a few more days and I would have just stayed there forever.
Hope you liked my journey, I have tried to shorten it as much as I could as there's more to Vietnam. And hope you have a great time there when you visit. With that said Tạm biệt(Goodbye).
To Follow My Journeys Click here
This article was contributed to Curly Tales by Avinash Singh. If you have an article or similar experience to share, do write to us on hey@curlytales.com