When you talk about Navratri, pomp and tradition together come to your mind. Now to celebrate this, we thought of bringing someone as pompous yet very much rooted to the ground on board and who is better than Pratik Gandhi? On this episode of Tere Gully Mein, our Editor-in-Chief, Kamiya Jani indulged in some delectable conversations with a platter of authentic Gujarati dishes and the Scam 1992 star Pratik Gandhi. 
Pratik Gandhi On His Love For Food
In this episode of Tere Gully Mein we left no stone unturned when it came to keeping up with the Gujarati vibe that both Navratri and Pratik bring in. So both Kamiya and Pratik were served the most loved Gujarati dishes. While waiting for the dishes to arrive Kamiya asked Pratik to name his favourite Gujarati dishes. Without wasting a minute he answered that the Gujarati menu has a wide range of dishes and he loves them all. But if at all he had to choose, nothing can beat his love for Jalebi fafda, especially on the day of Dussehra. The other dishes which are his absolute favourite are Khaman, Dhokla and Patti Samosa. 
Also Read: Foodie Pratik Gandhi: Gujarat Is A Dry State So People Go High On Food
Pratik Satiates His Authentic Gujarati Food Cravings Nowhere But Home
Our Chief Editor Kamiya asked Pratik about his go-to place every time he craves authentic Gujarati food and pat came his reply- Home. He mentioned that he is from Surat and his mother cooks the most heavenly and authentic Surati food. He also named a few like Undhiyu and Bhagat Muthiya. Pratik did not only name the dishes but also explained their significance in the Gujarati menu and in Gujarati hearts.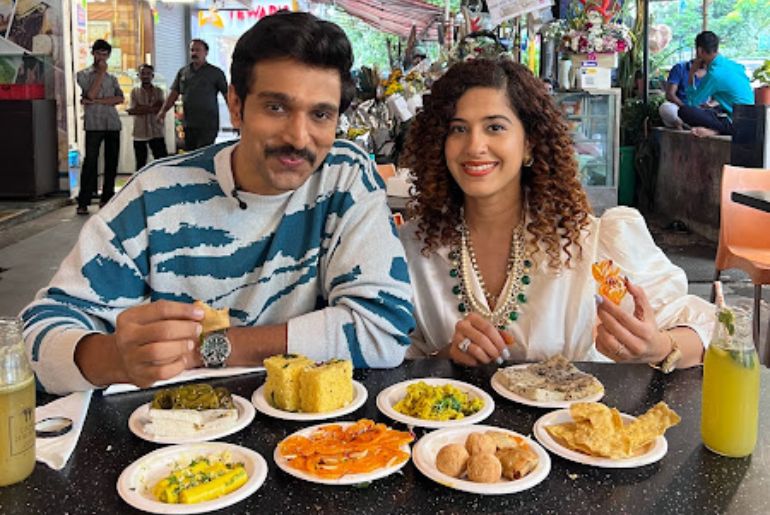 We totally had a blast while hearing Pratik Gandhi as he gorged on his favourite dishes. This was a small spill on his food preferences but if you wish to know more about him, do not miss this episode of Tere Gully Mein with Pratik Gandhi. 
Also Read:  Move Over Thepla & Dhokla  Feast On These 5 Lesser-Known Gujarati Dishes 
Do let us know how was our recent episode with Pratik Gandhi.