It's National French Fries Day this Friday and we are here to give you the 5 best picks for you to binge on the best comfort food ever invented, because, fries before guys eh? Also, no dish is ever complete without the touch of french fries.
1. French Fries Pizza at Cafetorium, Delhi
For a sinful indulgence, the French Fries Pizza at Cafetorium is pure Pizza Goals and will send you straight to heaven with just one bite. Served on wooden pizza, it comes with a topping of diced onions, oodles of cheese and loaded with French Fries. The Pizza is juicy because of the cheese oozing out of everywhere and combined with crunchy elements of french fries. Every bite of this sinful indulgence makes for a foodgasm experience.
Also read: All Black Dishes On The Menu This Summer At SALT
Address: Cafetorium, G9, B&East Market, Chetak Complex, Near Hansraj School, Dilshad Garden, New Delhi
Phone: 011 47512110, +91 9818339232
Cost for two: ₹600 (Approx.)
2. Samosa and Fries Pizza at Waff N Cheese, Delhi
Waff N Cheese in Shalimar Bagh serves the Samosa and Fries Pizza. Giving you an ultimate foodgasm, this dish is loaded with lots of cheese and you'll be full with just one piece. This small cafe is all about fun and quirky dishes with a very youthful ambiance to it.
Address: Waff N Cheese, Shop 09, BP Market, Club Road, Near Goodley Public School, Shalimar Bagh, New Delhi
Phone: 011 40105886, +91 8700228666
Cost for two: ₹350 for two people
3. Death By Chocolate Fries at The Pabulum, Mumbai
What happens when the love of fries and chocolate gets combined into one? Yummy and chocolate-y 'Death By Chocolate' fries are born at The Pabulum in Santacruz. The Death By Chocolate fries (₹149) is no ordinary fries. It contains Nutella, white chocolate shreds, chocolate fudge, and chocolate chips.
Also read: Indulge In Unicorn Cotton Candy Ice Cream In Mumbai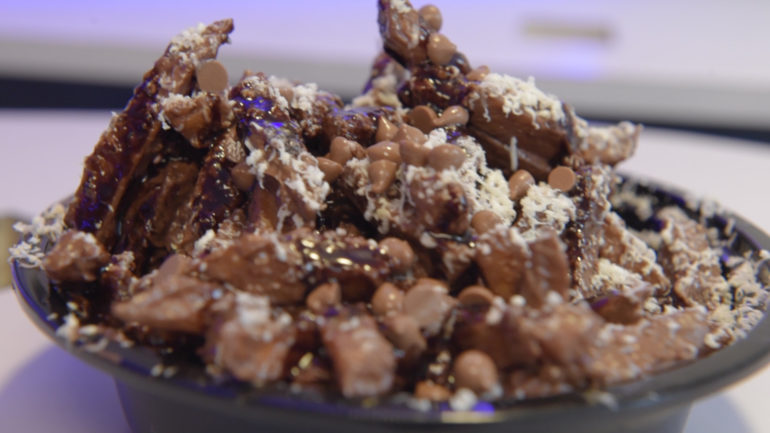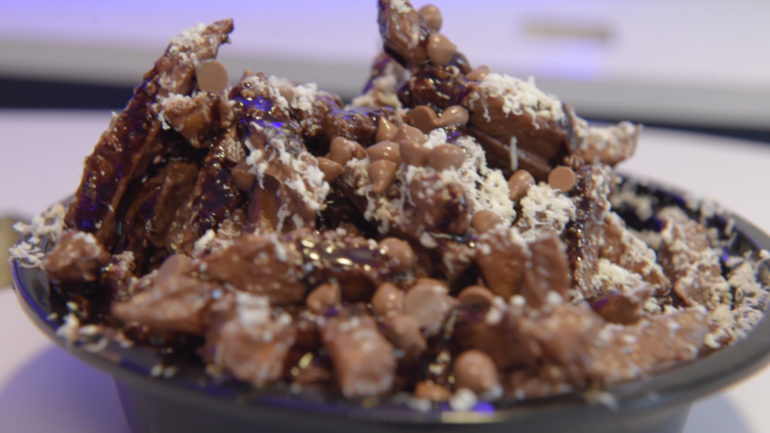 Address: The Pabulum, Shop 2, Tagore Kunj CHS, Near Poddar School, Saraswati Road, Santacruz West, Mumbai
Phone: 022 33956012
Approx cost: ₹200 for two people
4. Tall Blonde French with 30 Varieties of Fries, Bengaluru
How do you eat your fries? Just sprinkled with salt. Not anymore. Try them with melted cheese and a variety of sauces, and sip on a scrumptious shake with it. Fries just became gourmet variety, with TBF's in-house gravies, mayo', sauces and masalas. That is a new level of yum! They range from cheesy- the trippy kind, Maggie mixed to Schezwan style. These can make you 'oooh aah' or send you on a trip to fries heaven. Cake-shakes are your new-age desserts in a jar at TBF, they will drown you in a sumptuous slush of deliciousness. It's time to give up on your diet and head here.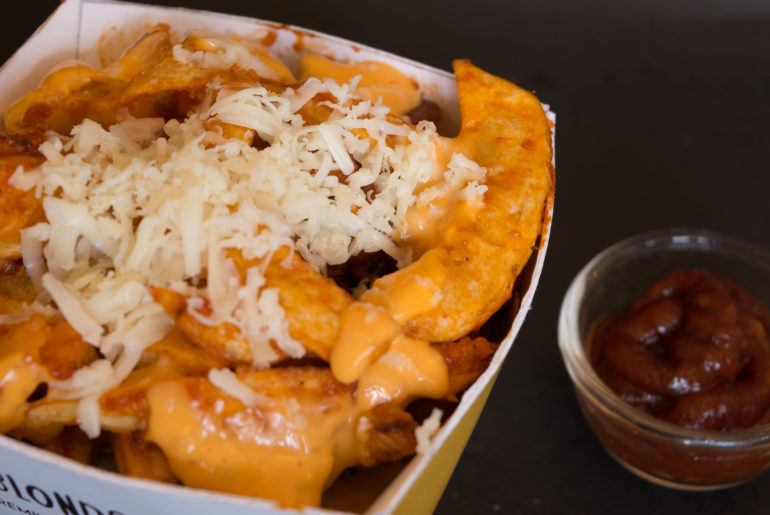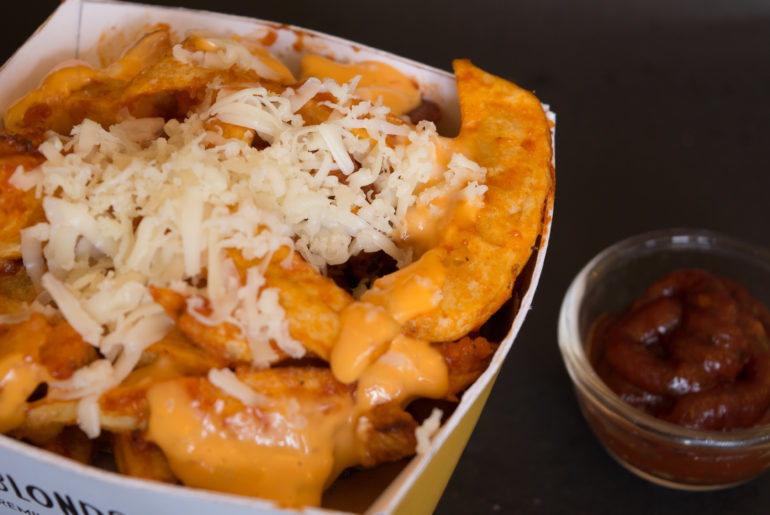 Address: 50/1, Opposite Jyothi Nivas College, Koramangala 5th Block
Phone: +91 9880614444
Approx Cost: ₹ 450 for 2 people
5. UFO Fries & Corn, Pune
Only 25 types of fries that will have your licking your fingers with each bite. Using a variety of sauces and cheese on top of the fries, their recipes that definitely one of a kind. Along with that, they have special preparations of corn that are a must try. When we visited the outlet, we made sure we tried the most popular items on the menu. Out came the UFO Special Fries and the Alien Fries. If you don't mind a bit of spice in your life, try out the Spicy Cheese Burst Fries that comes with yummy mozzarella liquid cheese.
Also read: First Neon Futsal At All Rounder Shots In Pune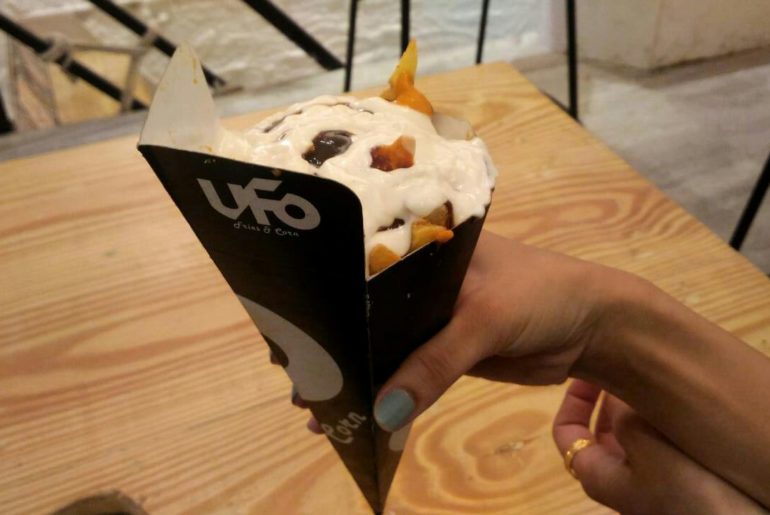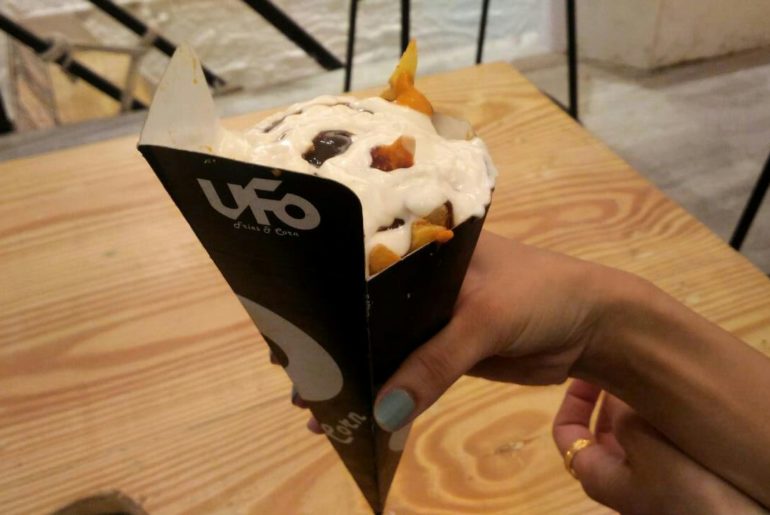 Address: Shop No 3, Dnyaneshwar Paduka Chowk, Fergusson College Rd, Shivajinagar, Pune, Maharashtra 411004
Phone:  099304 81408
Approx cost: ₹150 for two people
LIKE Curly Tales on Facebook | Instagram| Twitter
You can subscribe to our newsletters